Which countries have the best Remote Work Visas in 2021? Because, if you can do your job from home, could your home be anywhere? Countries around the world are responding to the remote work trend with new immigration opportunities – and you could take advantage today! Remote work abroad does have challenges, but it also has amazing benefits for many people.
Our Top 5 Remote work visa countries
We cover twenty countries in detail below, but here are our top five remote work visa countries.
Portugal
Croatia
Argentina
Mauritius
Barbados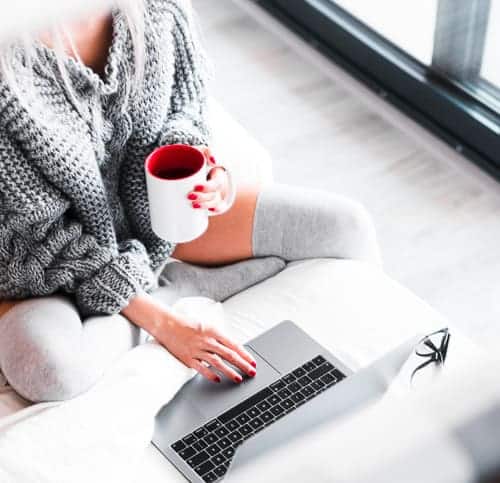 Introducing: The Remote Work Visa
Most tourist visas prohibit all work. And they are often issued for a limited time. Work permits are often complex to get and tied to employment in your new country.
But, there is a perfect solution.
Many countries introduced remote work visas in 2020 in response to the worldwide shift to working-from-home. This has been a way of boosting the economy without compromising job opportunities for their citizens.
What To Look For In A Remote Work Visa
There are many countries that issue visas for remote workers and digital nomads, but the practical aspects vary. When you are looking for a remote work visa, it's a good idea to think about the following questions:
How long does the visa last, and can it be extended? If you plan to stay in one place rather than travel continually, this kind of stability is essential.
How much does it cost?
How much do I need to earn to qualify?
What employment types qualify for the program?
Can my family move with me, and what are their rights?
What are the tax implications?
After my visa expires, is there an exclusion period before I am allowed back?
Is this a country I want to live in?
Can I use the visa as a pathway to permanent residency and even citizenship if I fall in love with my new home?
At the moment, you also must consider the COVID-19 protocol for people entering from overseas. This may include tests before you fly, tests after your arrival, and a stipulated quarantine period at your own expense. These protocols will continue to change in response to the moving landscape of the pandemic. We recommend you check the latest regulations in the countries you are interested in visiting.
Other Visa Options for Remote Workers
Many visa categories suit remote work. As well as the many new visas launched specifically to attract teleworkers, here are some other names to look out for. Not all will suit, but many do.
Remote work visa
Passive income visa
Digital nomad visa
Freelancer visa
Rentista visa
Best Remote Work Visas In Europe
Europe is a dream destination for many people. It offers an incredible range of opportunities and experiences. Remember, an EU or EEA citizen has the right to live and work in any other member country. So, no visa is required for those lucky nationals. And, if your destination is a part of the SCHENGEN region you can freely travel around the area.
Portugal
Portugal allows foreign citizens who can support themselves to live and work in Portugal. And with magical cities, pristine beaches, and welcoming locals, it is a great option. It is also a SCHENGEN member.
There is lots of conflicting information about the financial requirements for the D7 visa. Our information comes directly from our Portugal Immigration Law partner, who handles D7 applications from around the world with outstanding results. Their advice is:
You should show a minimum income of €1,000 per month for the primary applicant. This is more than the €600 figure often published.
There are cases where remote or freelance income is accepted in an application, but this is not guaranteed. Passive income is more likely to be accepted.
The visa suits employees, freelancers, crypto traders, and many more.
The visa is valid for two years (recently increased from one year) and is renewable. It is also a pathway to permanent residency and citizenship.
Fancy keeping your entire pay packet? Your overseas income may be tax-free under the non-habitual resident (NHR) scheme.
Please see our complete guide to Portugal's D7 Passive Income visa, including eligibility requirements, fees, and the application process.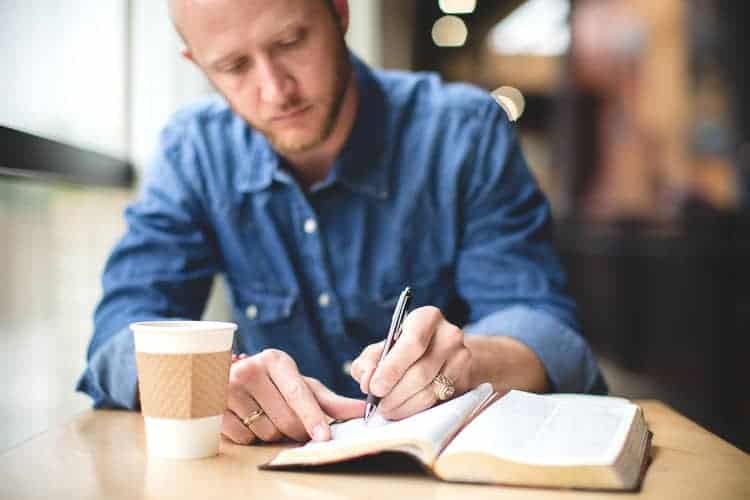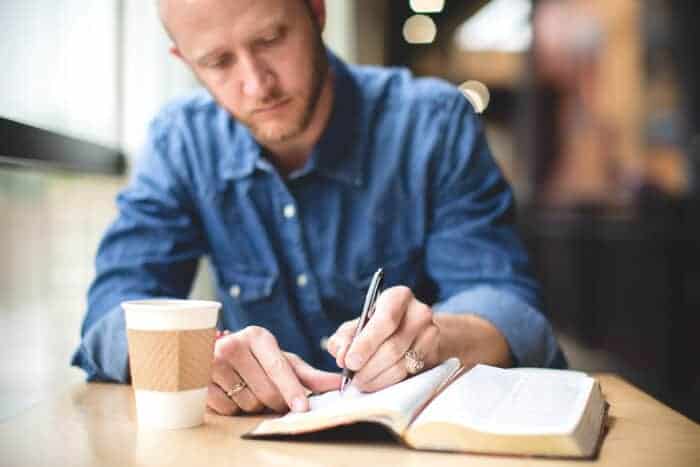 Spain
UPDATE JULY 2021: Our partner has informed us that applications for the NLV including remote work are being rejected by some popular consulates. They have requested clarification from the immigration department and we are waiting on this advice.
Spain has been a favorite Expat destination for many years. And the non-lucrative visa was an excellent option for remote workers, provided the source of your income is not in Spain itself. The visa is for one year and can be renewed every two years. After five years, you apply for permanent residence, and after another five for citizenship.
We've received the latest guidance from our Spain partner and if you are intending to work remotely, then the NLV is not a good option at present. Please sign up for our newsletter for updates to this advice.
See the complete guide to Spain's non-lucrative visa here. There are sections on requirements, the application process, fees, and remote work.
Spain is also a SCHENGEN member state.
Croatia
Launched online in March 2021, the Croatian Digital Nomad Visa is an attractive option for remote workers looking for affordable life. Some would argue there is no better place to set up your remote office with its myriad islands and beautiful weather.
To qualify for the visa, your employer needs to be overseas or own your own business. This may be problematic for informal freelancers. You also need to show an income of at least USD $2,600 per month. If this is too steep, savings of around USD $31,000 are acceptable proof of financial independence. The fee for the visa and biometrics comes to about USD $110.
Overall, Croatia offers one of the most affordable remote work visas, with a moderate monthly income requirement and low fees. That, combined with its great climate, makes it a worthy contender in the remote work visa competition.
Czech Republic
The Czech Republic is a nation rich in culture and scenery. Many cities have a strong Expat presence, while the cost of living is lower than its neighbors.
The government has a long-term residence option that allows remote work. It is commonly called the zivno visa and is a one-year residence permit and trade license issued to foreign nationals.
You can use it to work as a freelancer, contractor, or to run a self-owned business. Depending on your nationality, you may be able to apply for this visa from anywhere in the world. The department can take up to four months to review the application.
Once you have been issued your visa, you have to activate your trade license. You also have to register for income tax and social security.
To qualify you'll need at least €6,000 of savings, health insurance, a place to stay, and police checks.
The Czech Republic is also a part of the SCHENGEN area.
Estonia
Estonia is a great destination for remote workers. The country has a low cost of living but embraces digital transformation with innovative solutions to everyday problems.
Their Digital Nomad Visa, introduced in 2020, offers a one-year stay. It is suitable for anyone who works for an overseas employer or their own registered company abroad. Freelancers with clients based outside of Estonia are also welcome to apply.
As part of the application process, you need to prove a minimum monthly income of €3504, gross of tax. The application form is available online but needs to be signed and submitted to the nearest Estonian Embassy or Consulate. As well as your supporting documents, you need to pay an application fee. This is €80 for a Type C visa (up to 90 days) or €100 for a Type D visa (up to one year). Applications are typically reviewed within 30 days.
Estonia is part of the SCHENGEN Area.
Georgia
Georgia has long been a favorite holiday destination, and now the country is opening its borders for international workers. The government of Georgia launched a remote work program that allows foreigners to live and work in Georgia for a minimum of six months. It is aimed at remote workers whose employers and clients are outside of Georgia.
The remote work visa program is open to the same nationals as the visa-free visit. There are 95 eligible countries listed here. The rules were relaxed in February 2021 to make the process easier for citizens of the US, UK, Australia, and other countries. Citizens from other countries must show a minimum monthly income of USD $2,000 and have proof of health insurance.
Germany
The German Freelancer Visa is an attractive option for remote workers but comes with its fair share of administration. Two options will suit remote workers. The first is the Freiberufler, which is for freelancers and self-employed professionals. It's also suitable for people receiving passive income. The second is the Selbständiger, which is for entrepreneurs and managing directors of companies.
To apply for the residence permit, you first have to enter the country on a freelancer entry visa. You can apply for this at the German Embassy in your country.
Once you are in Germany, you apply for the residence permit, allowing you to stay and work for up to three years. Before applying, there are a number of administrative steps that you must complete. You need to register yourself at a fixed address, register with the Tax Registration Office, and get health insurance.
If you're over 45, you also need to show evidence of a pension plan. Provided you tick all the right boxes, the permit application process can be completed in a few months.
Germany is part of the SCHENGEN area.
Other European Countries with Remote Work Visas
For a full list of European countries welcoming remote workers, digital nomads, and freelancers, visit our guide here.
Best Central and South American Remote Work Visas
Panama
Panama launched an excellent remote work visa in 2021. If you earn over $36,000 you can apply to live in Panama for up to eighteen months (two nine-month periods). The visa has a simple application process and you can transfer to another Panama visa if you fall in love with the country!
Find out more about the Short Stay Visa for Remote Workers in our article.
Argentina
Famous for its natural geography, Argentina could soon become home-from-home for America's remote workers.
Argentina's Rentista Visa is a passive income visa, but you can also work on it so long as you are self-employed. The visa itself lasts for a year, and the total cost is between USD $550 and USD $900, depending on your nationality. That includes the application and immigration fees.
Once your year is up, you can renew the permit. If you decide you like living here, Argentina has the fastest citizenship by naturalization.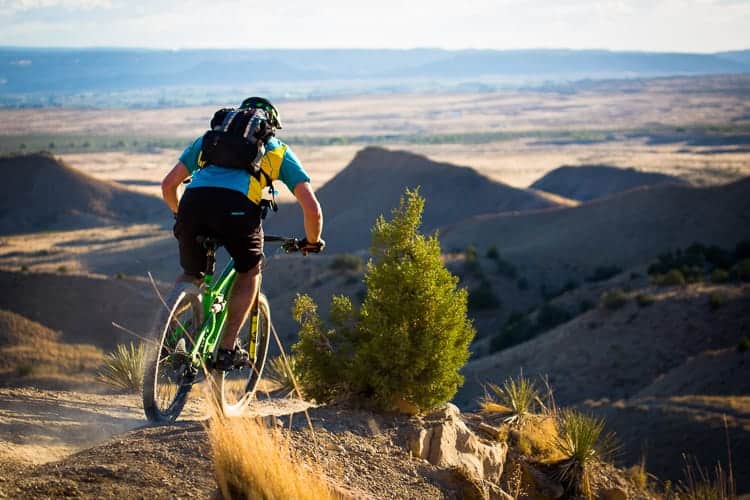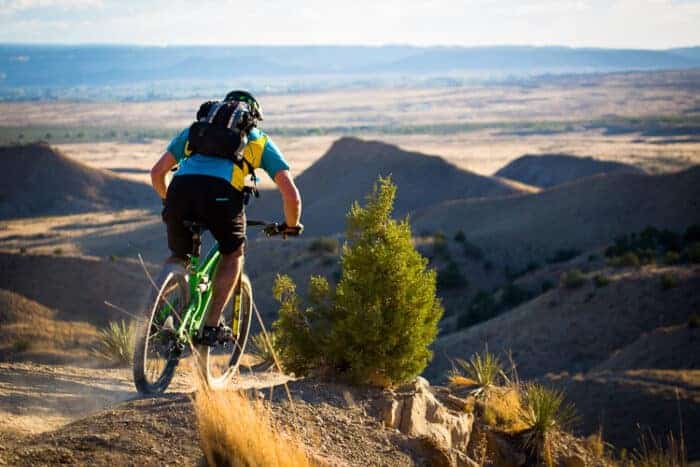 Mexico
Mexico is a great option for Americans who want to head back to the USA for regular visits.
The Mexican temporary resident visa allows foreign nationals to stay in Mexico as temporary residents for between six months and four years. You need to be able to demonstrate financial independence as part of your application. This means a monthly income of USD $2,100 or savings totaling USD $104,000. The visa fee is USD $35.
Costa Rica
Costa Rica is a traveler's paradise, with active volcanoes, cloud forests, protected rainforests, and intricate coastlines.
The country also offers a Rentista visa for foreigners who are self-employed or remote workers. You need to have an income of USD $2,500 per month to qualify. The visa costs USD $250, but you may have to pay for the translation of your documents for your application. The visa is valid for two years.
Best Tropical Paradise Remote Work Visas
Mauritius
The Mauritius Premium Visa allows foreign nationals to base themselves in Mauritius. The government introduced this visa in 2020 to encourage remote workers to the island, and the application process is online and free of charge.
To be eligible for the Premium Visa, the applicant must be a citizen from one of the 114 specified countries. You also have to provide proof of funds, accommodation and travel bookings, and evidence of income from non-Mauritian sources.
The visa lasts for six months to a year. You can apply for it to be renewed at the end of this period.
Anguilla
This British Caribbean island is seeking to attract digital nomads and remote workers to support the economy after the drop in tourism. Their visa lasts for one year, and the application system is all online.
There is one downside: the price. At USD $2,000 for an individual and USD $3,000 for a family, this permit is quite expensive. On the other hand, the price does include the mandatory COVID-19 testing.
Antigua and Barbuda
This Caribbean paradise offers the Nomad Digital Residence for remote workers and the self-employed.
But paradise comes at a price, and compared to remote work visas for other parts of the world, this one is steep. The visa fees are USD $1,500 for an individual and up to USD $3,000 for a family. You also need an annual income of at least USD $50,000 per year. However, the visa lasts for two years, and the scenery can't be beaten!
Aruba
This island nation is offering US nationals the opportunity to work in Aruba for up to 90 days. Dubbed "One Happy Workation", the program is open to employees working remotely or self-employed. There is no visa needed, but you do need to complete a digital travel card.
Three months may not be long enough for some residents of Aruba. But Aruba is a good option for someone who wants to dip their toes in the remote working lifestyle. You can even take your pets!
Barbados
The 12-Month Barbados Welcome stamp is suitable for non-nationals working for companies registered outside of Barbados. This remote work visa is valid for one year, after which you can renew it.
As well as the necessary documentation, you'll have to pay application fees of USD $2,000 for individuals and USD $3,000 for families. The immigration authorities confirm or deny visas within five days.
Book in for a consultation with our immigration partners in Barbados to chat about applying for the Welcome Stamp.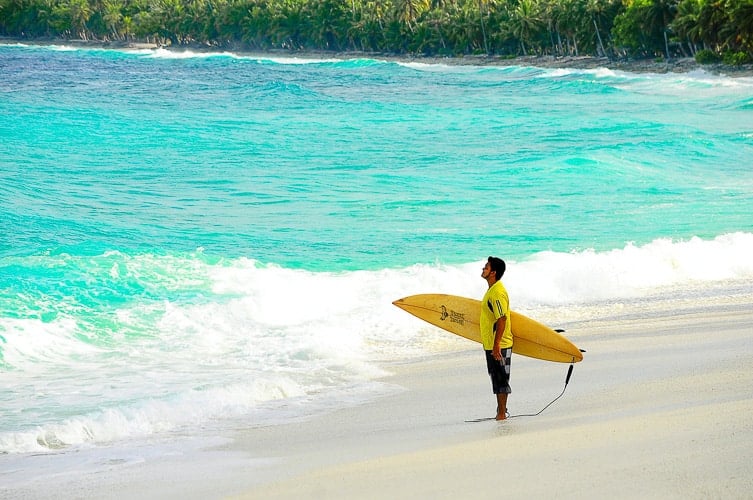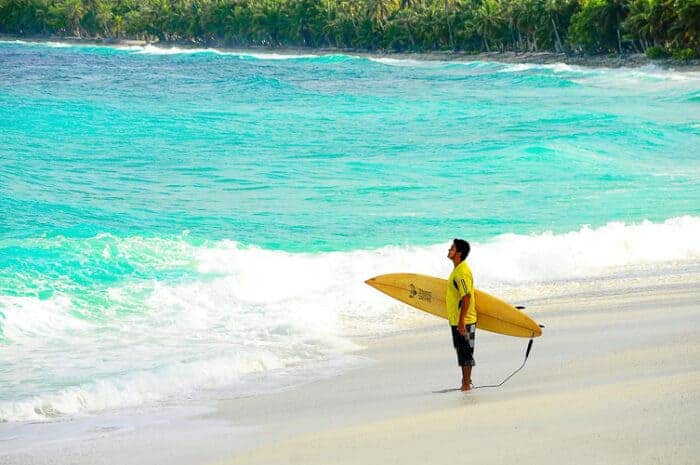 Bermuda
Another Caribbean island issuing remote work visas is Bermuda through its Work from Bermuda Certificate. This allows students, employees, and freelancers to study and work remotely from the island.
Applicants must complete the online application form and submit the supporting documents, which must be in English. They must also provide a color scan of visa information and passport photo page.
Cayman Islands
The Cayman Islands offers the Global Citizen Concierge Program. This allows foreigners to live and work remotely in the islands for up to 2 years. They must have financial independence, and their employer must be based outside the Cayman Islands.
As part of the application requirements, you need to provide proof of the legal status of your company. This makes the program great for remote workers with an employment contract but not as easy for freelancers.
To apply, you have to fill out the application form and provide the necessary documents. You must also pay the required application fee.
Montserrat
In 2021, Montserrat launched their 12-month Remote Workers Stamp, designed for foreigners working remotely for their employers or owning businesses abroad. Freelancers can also apply, provided their clients are not based in Montserrat, and they have contracts with their clients. You also need to show an annual income of USD $70,000.
The permit costs USD $500 for individuals and USD $750 for families of up to four. You can complete the application online. The government promises to process all applications within seven working days and send your permit via email. When the year is up, you can apply to renew the stamp. You will not have to pay income tax in Montserrat.
Other Countries with Remote Work Visas
Dubai (UAE)
If you're looking for a touch of the high life, Dubai might be the destination for you.
The UAE's new virtual working program is aimed at international employees or people who own their own companies. You need to have a minimum monthly salary of USD $5,000, but the visa itself is only USD $290.
The visa lasts for a year, and residents working remotely do not have to pay income tax in Dubai.
Iceland
Iceland offers a long-term visa for remote workers to live and work in Iceland for up to 6 months.
The remote work visa is available to the same nationals as the visa-free visit to Iceland. A permanent contract with a company outside of Iceland can be used to demonstrate that you don't intend to stay in Iceland. You must have a monthly income of at least USD $7,950.
The application process involves a paper form and payment of a USD $62 processing fee. Applications can be sent by mail or delivered in person to the Directorate of Immigration office or a local District Commissioner's office.
Other Countries Offering Long-Stay Visas
Is your chosen paradise not on the list? Don't despair. Take a look at our detailed guide to passive income visas, many of which suit remote workers, freelancers, and digital nomads.
What is Remote Working?
Remote work, also referred to as "telework", has been one of the primary responses of businesses and organizations to COVID-19 restrictions. This response allows an employee to work outside a traditional office. This could be anywhere: at home, in a coworking space, at the library, at coffee shops, or on a beach!
But it is more than the location. For success, organizations and employees need to change their ways of working. Outcomes and deliverables are more important than clocking in at nine and clocking out at five. Employees can organize their day as they see fit, as long as they deliver what they have agreed.
It comes with significant benefits. Remote workers are happier, more productive, and have better mental health. Companies save on expensive office space, and it is much better for the environment.
Clearly, some jobs are not possible to do 100% remotely. And, there are some real challenges for remote workers.
Many companies and employees see the benefits of the new normal. And the next logical step is to ask, "If I can work from home, can my home be anywhere?"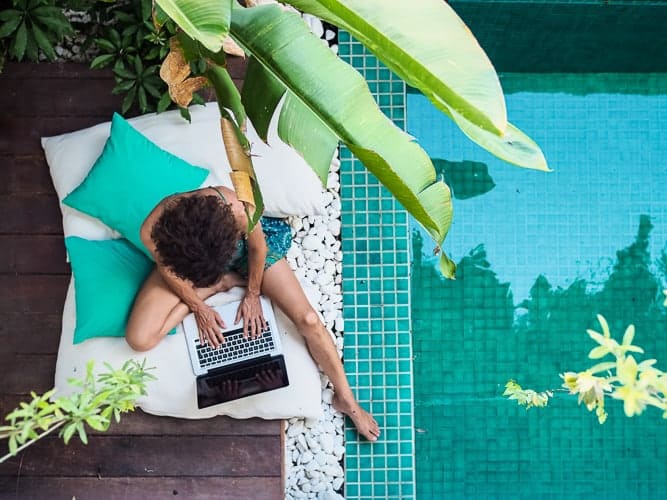 Remote Workers vs. Digital Nomads
People often confuse these two groups, but there is an important distinction. Digital nomads are a sub-set of remote workers: they work online, from any location. But, they conduct their work while traveling, moving from place to place.
A remote worker, in the broader sense, is someone who doesn't work in the office. They may choose not to move around but to live in one place. They may have a permanent home near to their office.
Same Job, New Country?
The boom in this new way of working opens up incredible possibilities.
Why pay a massive rent to live near the office if you never have to commute?
Could you move to a much lower cost-of-living area and keep your current income?
Could you have job security and experience new cultures and places?
How can you use all the time you save from your commute to work?
Today's technology and ways of working make it possible to work from anywhere with decent telecommunication infrastructure. A reliable internet connection is the only thing you have to have.
Benefits of Remote Work from Abroad
There are clear benefits for teleworkers, but those who move abroad have even more.
You can live in amazing places
Some of the best places to live in the world are opening their doors. You can choose from historical European cities, tropical islands, remote wildernesses, and much more. Check out our pick of the best options below.
The world is your oyster!
A better quality of life
Moving abroad can change your life. A cheaper cost of living means your income goes much further. A big house, home help, eating out and doing the things you love all become possible. Healthcare facilities are exceptional, at much lower cost in many countries on the list.
Opportunities for you and your family
A new country means new opportunities. Your kids could get access to high-quality education and support and you could be on a pathway to dual citizenship and a second passport.
You could learn a new language, make new connections, and explore new passions.
Improve your well-being
Research has shown the vast majority of people who move abroad say it has impacted their life positively. They report increased happiness, confidence, productivity, and relaxation.
Increase your productivity
There's a double bonus. There is overwhelming evidence that teleworking increases productivity, as does a move abroad. You get a double benefit, and so does your employer.
Freedom as an employee
You are in charge of your day. Fancy a swim before the first meeting of the day? Take a walk in the forest at lunchtime? Play golf in the afternoon and then work in the evening?
Once you and your boss are clear on expectations, you can arrange the working day to suit you. And, the dead commute time – that is yours to use to enrich your life.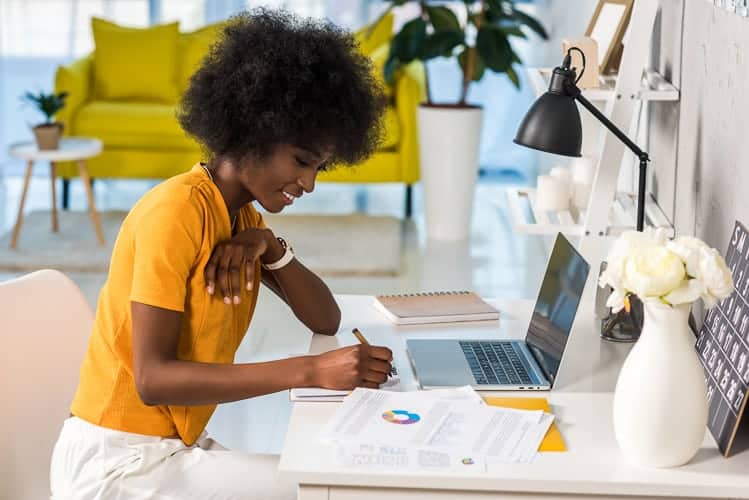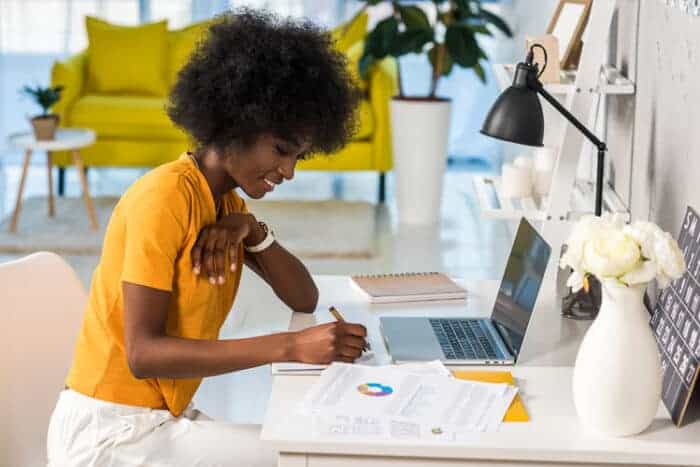 Your tax bill could drop dramatically
Once you are resident in a new country, you can change where you pay your tax. And that can have massive benefits. For example, in Portugal, the non-habitual resident scheme means you pay zero tax on foreign income for ten years. Work for a company outside Portugal, and your income could be tax-free.
American citizens still have to submit an annual tax return even if they pay no tax in the USA. However, they can claim an IRS foreign earned income exclusion saving thousands of dollars in tax.
Most countries in the world are signatories to Double-Taxation Agreements (DTAs). This means that you won't be liable to pay tax on the same income in two countries. And, you'll generally be liable only in the country where you are a tax resident.
You'll need to do your homework on this one. There are many factors to consider that can positively or negatively impact your take-home pay packet.
Each country has a different tax code.
Different visas can have different tax implications.
Your home country's tax rule can impact you even if you live abroad.
Tax residency can be a slightly gray area of international law.
Where and how you earn your income may impact your liability.
Challenges of a Move Abroad
Moving overseas also comes with some challenges. If you're interested in living abroad while working online, there are a few things you should keep in mind.
Some jobs can't be done remotely
Sometimes, it isn't possible to do a job from afar. It is estimated that more than 50% of jobs are location-specific. And, some roles are more effective in person than they are remote.
Logistics
Is it practical to visit the office on occasion? Would once a year be reasonable, or is once a month required?
How will international time zones impact your availability? Does your office need to reach you during your office business day?
How will you handle things like IT support and training?
Where and how will your employer pay you?
Employment rights
You'll need to be clear on your employment rights and the status of your employment contract. Where do you go if you have a dispute with your employer and who has jurisdiction over the relationship? You may not be protected by the laws in a country in which you are not resident. Conversely, the employer may not be bound by rules in a country in which they do not operate.
Agree in advance how you'll handle leave, sick leave, public holidays, attending meetings, and similar items in advance.
For freelancers and non-contract employees, this can be even trickier. Working through a platform like Upwork can give you some protections as a freelancer. However, you need to think through the risks and communicate well with your clients.
You will need to show a contract to demonstrate that your employer is overseas for some remote work visas.
State support and benefits
If you live overseas for a long period, you may lose your residency status in your home country. This could mean that you are not entitled to state benefits, both while you are away and for a period when you return. This can include social security and pensions.
On the other hand, some host countries require long-term residents to subscribe to their own legally mandated benefits. You may find you have to pay for these in addition to the payments you are making for your benefits back home.
Immigration challenges
In almost every country, foreigners need specific permits to work there. Working on the wrong kind of visa poses serious legal implications for both you and your employer. Both you and your employer could be fined, or you could face deportation for violating immigration laws.
If your employer sends you overseas for work, the company will usually advise you on the correct visa, or assist in the process. But as a remote worker, that responsibility falls to you.
You need to be sure you have the correct visa or residency permit for whatever activity you are undertaking.
The Future of Remote Working After COVID-19
What will happen to our working conditions in the future? No one knows for sure, but remote working looks set to be a feature of working life over the coming decades. And, that will mean more countries with remote work visas.
As a response to the pandemic, remote working showed that new work setups aren't impediments to productivity. Employers have seen benefits in flexible working arrangements and many employees intend to work from home more often.
Before the pandemic, only 3.6% of employees worked from home on multiple days. Now as many as 25%-30% of employees will do so by the end of 2021. This increase is due to a number of reasons, including:
Employees are appreciating the benefits of working from home.
Managers and executives have seen that working from home can be increase productivity and engagement.
Employers are using remote work to attract and retain top talent.
Cost-savings for both employer and employee, related to the provision of resources and reduced travel.
Increased awareness of the potential sustainability impact of work-from-home.
The Final Trip
As remote working becomes an established and accepted part of our lives, employees are finding a better work-life balance through traveling.
Traveling abroad can help us rewire our thoughts and can increase our productivity through a change of scenery. Staying on the right side of the law means complying with the immigration laws of the countries we plan to visit.
Fortunately, with an increasing number of countries with remote work visas, there will be something to suit your need.