The Portugal Digital Nomad visa makes it easy for entrepreneurs, remote workers, and freelancers to live and work in Portugal. We'll cover the requirements, features, and application process, so you can decide if it's right for you. We'll also compare the Portuguese Nomad Visa to the Portugal D7 Passive Income Visa.
Who can use the Portugal Digital Nomad Visa?
The visa is open to non-EU/EEA/Swiss citizens over 18 years old. US citizens and Green Card holders use the same process.
The visa is perfect for:
Digital Nomads
Freelancers
Remote Workers
Entrepreneurs
The official title of the visa is "Residence (or temporary) visa for the exercise of professional activity provided remotely outside the national territory." Although the government only ratified the new program on the 30th of October 2022, it is already proving popular. Our partners are assisting American, British, Australian, and other citizens from around the globe.
Note: You must have no disqualifying criminal convictions and show a police record when you apply.
Portugal Digital Nomad Visa 2023 Financial Requirements
You'll need to show an income of 4 x the Portuguese minimum wage. The 2023 monthly minimum wage is €760, so the monthly income requirement is €3,040. This is an increase from 2022, which was 4 x €705 = €2,820 per month.
You should show six months of consistent income around this level. The income should come from a remote employer, freelance clients, or a location-independent business.
Supporting documentation you could use includes:
A remote worker contract from your foreign employer.
Statements from a company bank account.
Certificate of Business registration.
Proof of income from global clients.
Tax residency and payment statements.
Proof of self-employment.
If you choose the resident option, you may need to open a Portuguese bank account. You'll need a NIF (Numero de Identificao Fiscal) to do this. Our immigration law partner will advise if you should take this step before you submit your application.
How long is the Portugal Digital Nomad Visa Valid?
There are two categories for this visa with different durations.
Temporary Stay Visa Length = up to one year.
Residence Visa Length = two years and then renewable.
How to Apply for Your Portugal Digital Nomad Visa
The easiest way to ensure a successful application is to use a brilliant Portuguese immigration lawyer to manage the application.
---
---
At present, you must apply for this visa outside Portugal. You'll need to visit the nearest Portuguese embassy or consulate. This requirement applies to both the Temporary Stay Visa and the Residence Visa.
Our Portugal Immigration lawyer partner says that the legislation provides for applications in Portugal for Residence Visas (but not the Temporary Stays). However, SEF (Serviço de Estrangeiros e Fronteiras), the country's Immigration and Border Service, is not yet accepting these appointments.
What work types are covered by the visa?
There is no doubt that there are three types of work that are covered by the legislation. This visa is an excellent option if you:
Work Remotely for a non-Portuguese employer.
Freelance for non-Portuguese clients.
Own a location-independent business that is not registered in Portugal.
But can you work in Portugal for a Portuguese employer or clients?
We asked Ana Clara, our Portuguese Immigration Lawyer partner, to clarify, as it is not clear in the legislation.
You cannot use income from a Portuguese source when applying for the Visa – the employer must always be foreign. However, it's not yet clear if that will prohibit you from working for a Portuguese employer following your arrival in Portugal, especially for those who apply for the Residence Visa option. The Residence Permits, valid for two years, usually allow working in Portugal. That's the case for clients that applied for the D7 Visa, also for remote work and received their Residence Permits. They all clearly mention the possibility of working in PT after the residency is established. We believe that will still be possible for those living for more than 12 months."

Ana Clara – Expert Portugal D7 and Digital Nomad Visa Lawyer & Where Can I Live trusted partner.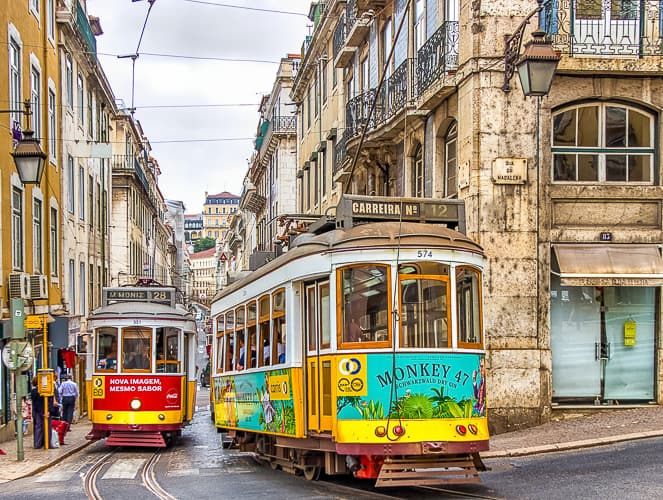 As a remote worker or digital nomad, how do you pay taxes in Portugal?
How and where you pay tax depends on your tax status. If you are a tax resident in Portugal, you could be eligible to pay 0% tax on foreign income. The Portugal Non-Habitual Resident (NHR) program means you can keep 100% of any income you earn outside Portugal. This rate includes a tax-free salary if you work remotely.
---
Other requirements and features of the Digital Nomad Visa
What is the official application fee?
The government application fee for the Portugal Digital Nomad Visa is €90.
Can you include family members on the application?
Yes, you can include direct family members on your application. Family members who qualify include your legally married spouse, your civil union partner (of more than two years), and dependent children under 18. However, you'll need to show additional income to support them.
You should show additional funds for any family members included in your application. Our immigration lawyer will advise you on how much you should have and if having a Portuguese bank account is advisable.
What health insurance coverage is required?
You'll need qualifying cover until your residence permit is approved. This coverage could include travel insurance, Expat Health Insurance, or local health coverage.
Once SEF issues your residence permit, you can access the public healthcare system in Portugal.
Temporary visa holders will need private cover for their entire stay.
Does the Portugal Digital Nomad Visa lead to PR and Citizenship?
Yes, you can qualify for Portuguese citizenship after five years of living in Portugal. You could also apply for Portuguese permanent residency (PR) after five years if you did not want citizenship.
Digital Nomad Visa vs. D7 Visa
The critical difference between these two visas is the financial requirements.
Portugal D7 Passive Income Visa: Passive income (e.g., pensions, annuities, investment income, royalties.) Amount = €760 per month.
Digital Nomad Visa: Active Income earned from working. Amount = €3,000 per month.
The D7 and DNV allow you to freely travel visa-free throughout the SCHENGEN area.
Get Your Portugal Digital Nomad Visa now.
Portugal is famous in digital nomad circles. Excellent infrastructure, a reasonable cost of living, and a buzzing cultural scene are all yours here in Portugal. Lisbon, Porto, the Algarve, and the Madeira Islands offer all you could desire. The only thing missing was an immigration option that suited everyone. Remote workers and freelancers can now use the brilliant new Digital Nomad Visa to stay in Portugal.