The non-lucrative visa is a popular residence visa option for non-EU citizens looking to live in Spain for a year or longer. However, the non-lucrative visa doesn't allow you to work; to qualify you must show that you can financially support yourself. In this article, we'll cover:
What is the Spain non-lucrative visa (NLV)?
What are the NLV requirements?
How to get the NLV?
What are the NLV application process and visa fee?
What are the benefits of the NLV?
Using a quality Spanish Immigration lawyer will improve your chances of a successful application and save you time and effort. You can book a consultation with our expert Spanish Non-Lucrative Visa partner here.
The information in this article was verified by our expert Spanish immigration lawyer partner in November 2021.
What is the Spanish non-lucrative visa?
Who can apply for a Spanish non-lucrative visa?
This program is open to citizens of any non-EU nation. What's more, your family can be a part of the application. Eligible family members include your spouse or civil partner and any dependent children. The NLV is a popular path for United Kingdom (UK) citizens to move to Spain post-BREXIT.
This visa is ideal for:
Retirees who want to live in Spain.
Anyone with a pension, annuity, or endowment.
Those with healthy savings accounts and sufficient economic means.
Beneficiaries of income-producing investments.
Anyone who can afford to live in Spain without working!
Spain's Non-lucrative visa requirements
There are four requirements for a successful application. You'll need to show that you:
We'll cover each requirement in detail.
NEW: 2022 Financial requirements for Spain's non-lucrative visa
Our recommended Spain Immigration lawyer is an expert in NLV applications and has a track record of success for clients worldwide. Their experience and relationships with the Spanish immigration service are the best in the business.
The Spanish Government has announced an increase in the IPREM for 2022 of 2.5% to €579.02 per month.
This means that the NLV financial requirement for 2022 will be:
2022 annual IPREM = €6,948.24
400% x annual IPREM = €27,792.96
The 2022 financial requirement is an annual increase of €677 over the 2021 rate.
What is the amount of money I have to prove I have?
This table shows the minimum total 2022 financial requirements for an application. Please use the new 2022 IPREM – make sure you're not using last year's figures.
| | | |
| --- | --- | --- |
| Who is applying | | 2022 |
| Single Applicant | | €27,792 |
| Applicant + 1 dependent | | €34,731 |
| Applicant + 2 dependents | | €41,689 |
| Applicant + 3 dependents | | €48,638 |
2022 Financial requirements for a NLV application
Applying with the exact amount does raise questions. For this reason, the suggestion is to have €35,000 as a minimum for an Applicant + 1 Dependent. If you include more dependents on your application, add a similar buffer for each one. Discuss this amount with your Spanish immigration lawyer; they'll be able to give you advice specific to your case and application.
Our NLV Immigration Lawyers Advice on 2022 financial requirements
Our expert Spanish Immigration Lawyer advises that the recommended amount will still be sufficient despite the 2.5% increase to the IPREM in 2022. They'll monitor the situation, and we'll update this advice as soon as they think it's necessary.
---
---
---
---
Applying using savings instead of income (or a combination).
The legislation for the NLV talks about income. And embassies and consulates are much more likely to approve applications that show income that exceeds the requirements.
In our Spanish Law partner's experience, there are cases where embassies and consulates will approve applications that don't meet the income requirements. However, in these cases, you'll need to show significant savings.
Please use these as a guideline only. If you don't easily meet the income levels, we strongly suggest getting a good Spanish immigration lawyer to help with a successful visa application.
Applications with these combinations of income and savings (for a single main applicant) may be approved:
Some regular qualifying minimum income and at least €30,000 of savings in your name.
No income but savings of at least €60,000 in your name.
Generally, the savings can be in a bank account in your country. But, for some nationalities, including China and Russia, sufficient funds should be deposited into a local Spanish bank account.
Recent experience is that UK citizens applying in places like London and Manchester may get more flexibility, especially if they own property in Spain.
Health and Medical Insurance requirements for the visa application
You and any dependents on the application must be covered in the case of any health requirements.
There are two options for qualifying insurance.
Spanish private health insurance. This cover is the best choice if Spain will be your home for a while.
Expat health insurance. A good choice if you plan to live abroad in more than one country.
The private medical or health insurance policy for your non-lucrative residency visa application must be:
A valid private health insurance policy from an insurance company authorized by the Spanish government.
Full health insurance coverage in all of Spain.
A policy that is free of co-payments.
Health Insurance cover for the full term of the visa.
Medical certificate
You'll need a medical certificate that is less than 90 days old, saying that you are in good physical and mental health. You must also be free from contagious diseases, including those listed in the 2005 International Health Regulations.
You'll need to provide an official Spanish translation of the certificate. Your Spanish immigration lawyer should provide this service for you.
---
---
Police report
The report should be issued by the Police Department where you have lived for the at least the last year. Consult with your Spain immigration lawyer as the exact periods vary for different embassies. Again, the criminal record certificate must be less than 90 days old.
The report should show that you do not have a criminal record with any convictions that would prevent the visa from being issued. If you have a criminal record, we recommend speaking to a quality Spanish Immigration Lawyer for advice before applying.
This document must be translated into Spanish and must be certified with the Hague Apostille process.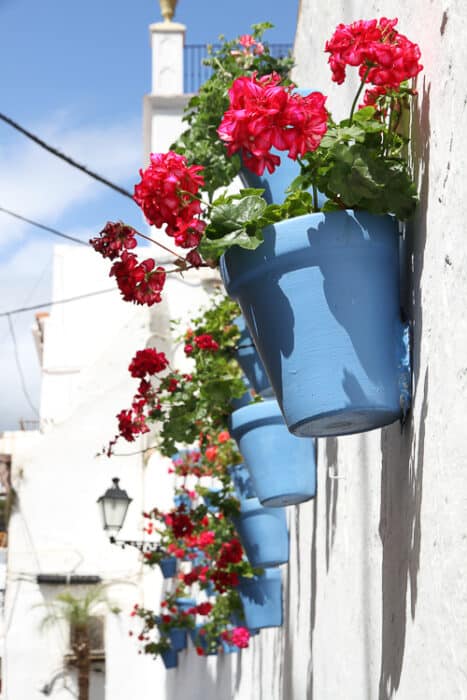 What does non-lucrative mean?
Non-lucrative means that you have sufficient economic means to support yourself without earning an income in Spain. For this, you should show guaranteed passive income, like a trust fund disbursement or pension. Another path is income from investments like dividends, rental income from an investment property, or interest earned. Alternatively, you need to show sufficient savings in a Spanish bank account.
You cannot carry out economic or professional activity in Spain. In short, you can live here as long as you are not a burden to the Spanish people or taking jobs from locals. In Spanish, the visa is called "residencia no lucrativa España."
How remote work for a non-Spanish company is treated is still a gray area. However, our expert partner warns against including any reference to remote work in your application. And, remote work income is definitely not eligible for the financial requirements of the NLV. We've got a dedicated section on Remote Work below with more details.
The non-lucrative visa in Spain is classified as an income visa. To see other options for this type of visa, please see our detailed article.
What are the advantages of a non-lucrative Spain visa?
There is no investment in the Spanish economy required for this visa.
The temporary residence permit is issued for one year and is available to be renewed for 2 x 2-year periods. This means it can meet the 5-year threshold for permanent residency.
It can be a pathway to Spanish citizenship and an EU valid passport.
You only need to spend six months per year in Spain to be able to renew the visa.
The residency allows travel to any of the 26 SCHENGEN member nations without a visa.
You can convert the non-lucrative visa to one of Spain's Work Permits after the first year.
Immediate family members can be included on your visa. Your dependents can attend school or study while on the visa.
You can study in Spain while on a non-lucrative visa. This includes paid internships.
You can make investments. These investments include shares in a business, stocks, and funds in Spain.
You can buy a house in Spain, either as an investment or as your home.
It makes an effective Spain retirement visa.
If you have all your documentation in place and meet the requirements, the visa is almost always approved. In this way, it is an easy visa to get for US citizens and other nationalities.
What doesn't Spain's non-lucrative visa allow?
There are four main restrictions or conditions.
You cannot do any work that generates an income working for a Spanish company or Spanish clients. Remote work was a gray area, but recent advice is that it can be a problem. Please see the section on Remote Work for the latest expert legal advice.
However, paid internships are allowed as they are classified as education.
You don't have access to the public healthcare system. You must have sufficient Spanish Private Health insurance or Expat health insurance.
No benefits are claimable by you or your family members on the visa.
You must spend more than 183 days per year in Spain to renew the visa. This can make you a legal tax resident in Spain.
Spain Retirement Visa
Spain does not have a specific retirement visa. But, the NLV fits the bill perfectly.
As long as you meet the requirements and have the financial means required, you can retire to Spain on this visa and then transition to permanent residency after five years.
As a retiree in Spain, you'll not be working. And, you will be able to show pensions and investments as evidence of your financial security for your retirement.
The application process for the non-lucrative visa in Spain
There are two parts to the process, one in your country of origin and another in Spain.
Part 1: Home country application process
The first thing to note is that your application must be submitted in your home country at the nearest Spanish Consulate or Embassy.
We strongly suggest using an experienced Spanish Immigration lawyer to submit your application.
The documentation, translation, and certification requirements are specific and unbending. Get any of them slightly wrong, and your application will be rejected. Importantly, if your application is rejected, your application fees will not be refunded. You will lose what you have paid.
Also, be aware that the application process can vary slightly for each consulate or embassy. An excellent Spanish immigration lawyer will help to ensure that your application succeeds the first time around.
Standard required documents for all non-lucrative residence visa applications also include:
Your valid passport and certified copies of each page.
Your visa fees (see below for full details of the visa fees.)
Two copies of the completed visa application form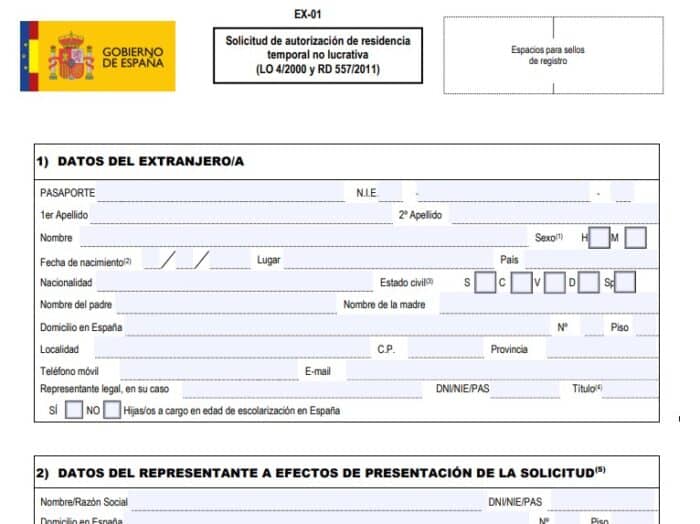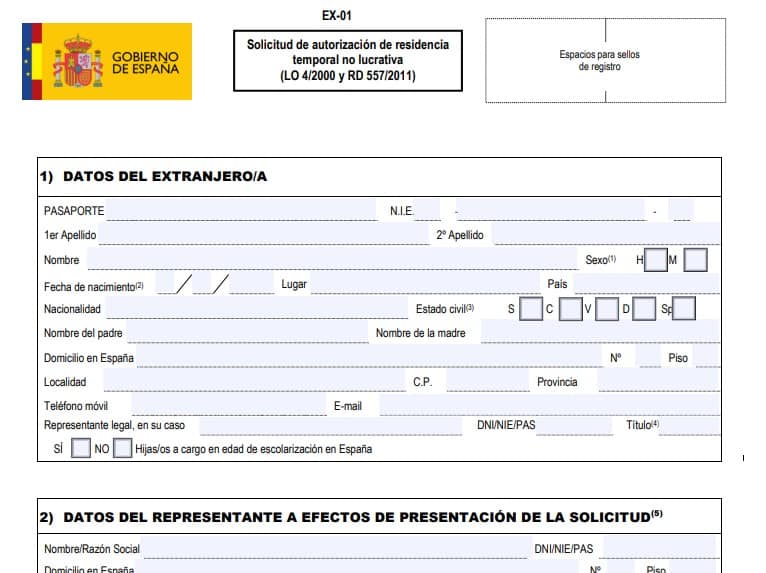 Part 2: On arrival in Spain
You'll need to apply for a residence card within 30 days of arrival when you enter Spain. There is no specific non-lucrative residence permit. You'll receive a TIE, the name of your foreigner's identity card.
How much does the non-lucrative visa cost?
Visa fees for the non-lucrative visa vary by the country of the main applicant due to reciprocity treaties. The fees must be paid in the local currency, usually by bank order. Here are some standard country fees in Euros for comparison.
USA – €123
Canada – €507
Most others – €80
How long does the non-lucrative visa application take to process?
Application processing times will vary depending on where you apply. Most applications are processed between 2 and 5 weeks, but in some countries can take up to 3 months. Applications in the UK and USA can vary depending on with consulate you use to apply. Applying with all your documentation in perfect order will speed up the processing time.
Once the visa is granted, you have four weeks to collect your document, or the visa can be canceled.
How long do you have to enter Spain after the visa is granted?
You have 90 days to arrive in Spain after your local consulate or embassy issues your visa.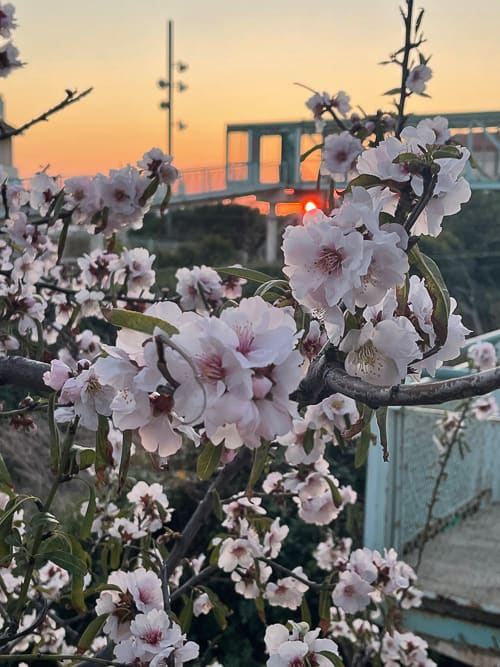 What is the renewal process for the non-lucrative residence visa in Spain?
The non-lucrative residence visa is renewable for two additional two-year periods. This gives you a total of five years as a NLV holder.
Initial non-Lucrative Visa > 1 year
Renewal 1 > 2 years
Renewal 2 > 2 Years
The renewal process will follow a similar process to the application, with a couple of crucial differences.
You must have lived more than 183 days in Spain for each year of the visa. This requirement can have tax implications.
You can apply in Spain.
The financial requirement is 800% of the IPREM (to cover the full two years).
If you have kids of school-going age, you'll need to show they attended school.
After five years of living in Spain, you are eligible for Spanish permanent residency.
Remote work on the non-lucrative residence visa in Spain
There is a difference between your application and the reality of living in Spain on a NLV. There is no legal restriction on working remotely while you are in Spain on a non-lucrative residence visa. However, it is not as simple as that as you need a successful application first!
Remote Work: Advice from our expert Spain Immigration Lawyer
Our partner has recently advised us that embassies in San Francisco and London are rejecting applications that show remote work. The assumption is that other embassies and consulates may follow this example. Our partner has queried this ruling with the Spanish Immigration office and is awaiting a response.
Remember, you submit your initial NLV application to your nearest embassy or consulate. And, different consulates treat remote work in different ways. There is no provision for remote work in the legislation, but it does fit the intent of not being a burden on the state.
To guarantee success, you should look to one of the standard ways of showing income for the NLV application.
Our present advice is that you should not include remote work on your application. However, your nearest consult assesses your NLV application, and they don't all agree on one set of rules. Some consulates may still accept income from remote work for non-Spanish companies as part of the income to qualify for the NLV. However, most consulates insist that all income is passive (i.e. pensions, investments, etc.). And, some consulates may ask you to declare that you will not work remotely.
Some embassies and consulates are checking bank statements for evidence of a paid salary. If there is historical evidence that you have a salary, you may have a problem. The consulate may insist on a letter from your employer stating that they have terminated your employment.
Once you have been granted a non-lucrative residence permit and live in Spain, there is no legal restriction on remote work for non-Spanish companies. It does not matter which embassy or consulate processed your initial visa application.
If you are living in Spain on a non-lucrative residence permit, you will normally be resident in Spain for taxation. So, if you declare remote work income in your Spanish tax return, it won't stop the Spanish immigration office from renewing your NLV. This is true regardless of where the visa was first issued.
If you are looking to work remotely, we strongly suggest speaking to our partner. They will ensure your application has the best possible chance of success. Click here to book a consultation today.
Other immigration options for remote workers in Spain
For those who need to work remotely from Spain, there is one other option. There is a Spain Self-Employed Work Permit. Our partner is confident that in certain circumstances, this could be a reasonable option. You'll need to be very careful in how you frame the work and how you manage the application, but it is a possible pathway. Our partner will be happy to help you to ensure your best chance of success.
Portugal's D7 Passive Income visa is another excellent option for remote workers. It has no restrictions on remote work.
Freelancers, digital nomads, and contractors
You can't legally work on this Spanish visa (unlike a student visa) if your clients are in Spain. But, like the remote work above, if all your clients are outside Spain, you may be fine with your application. If you are in this category, it is best to seek advice on your specific circumstances.
If your business can be done from Spain, then the self-employed Spain work permit (autonomo) may be a better fit.
Again, many freelancers and digital nomads who can show an income other than their location-independent business use this visa.
Spain Non-Lucrative Visa for UK citizens after BREXIT
UK citizens who were officially resident in Spain before 31st December 2020 can stay in Spain. The Withdrawal Agreement sets out your right to remain and the conditions. You'll need proof of your residence from before BREXIT, and you should apply for your TIE card.
Anyone who was not legally resident in Spain from 1st January 2021 will be covered under the Legal Regime for Foreigners. This means you'll need a visa or residence permit.
British citizens must now follow the NLV application process like any other non-EU, EEA, or Swiss citizen. This means that British citizens must apply at the nearest Spanish embassy or Spanish Consulate in the UK.
The rest of the NLV information in this article is applicable to UK citizens.
For more information, please see our guide for UK citizens moving to Spain after BREXIT.
Can I transfer my Spain non-lucrative visa for another visa or permit?
You can transfer from a NLV to another visa or work permit. However, you can only transfer after the first year. This includes transferring to one of Spain's ten available work permits. The employment can be either as an employee of a Spanish company or as a self-employed individual.
If the new visa or permit requires you to apply in your home country, you must return home and apply. An example of this is Spain's student visa.
You cannot transfer from another visa or permit to the NLV. You'll need to complete a new immigration application.
Tax implications of the Spanish non-lucrative visa
Please note – this advice is general in nature and is not specific to your circumstances.
To meet the renewal criteria, you must live in Spain for 183 days per year or just over six months. If you live in Spain for more than six months of a year, you could be liable for registration as a Spanish tax resident meaning you will have to pay income tax and capital gains tax.
This classification means that all your worldwide income may be liable to Spanish taxation rates, payable in Spain. Be aware that different countries have tax treaties with Spain, avoiding double taxation, but it is worth investigating the implications of this ruling. You will pay capital gains tax on all your investments in companies in Spain.
You can book a consultation with our expert Spanish Tax Partner here to explore how you will be impacted.
Spain Non-Lucrative Visa vs. Spain Golden Visa
The Spain Golden Visa may offer some key advantages for anyone looking to buy a house or invest in Spain.
The main differences between the Spain non-lucrative visa and the Golden visa are:
You can work in Spain (self-employed or for a company) on the Golden Visa.
There is no minimum stay requirement, so you do not have to live in Spain.
You only need to visit Spain once per year.
You do not have to be a Spanish tax resident.
The application process and requirements are simple and clear.
You don't have to visit Spain while applying; a designated layer can do it all for you.
You can apply while living in Spain.
Please see our detailed article to see if the Spain Golden Visa is the right one for you and your family.
The easy way to get your Spain non-lucrative visa.
Can you do it yourself?
Yes, you can manage the application yourself. If you have the time, and patience, and are confident you can get everything 100% correct the first time, then there is no legal impediment. The NLV makes Spain one of the easiest countries to move to in Europe. However, the process is anything but easy!
How will a good Spanish Immigration Lawyer help with your NLV application?
They understand Spanish Immigration Law and are experts with NLV applications.
They'll listen to your needs and understand your goals.
Let you know if this is the right visa for you (and be honest if it is not).
List and explain all the documents that you will need and any translations that are required.
Fill in the forms for you in Spanish.
Draft a motivation letter that will be accepted.
Review all the documents and the application to ensure first-time success.
Organize the translations of required documents into Spanish.
And what will a bad lawyer do?
Offer a "free consultation" that is a quick call with a non-lawyer to hook you in.
Push visas that don't suit your needs.
Make you do all the administration and paperwork yourself.
Submit applications that get rejected but still claim fees.
Why use the WCIL Trusted Partner?
We chose our Spanish immigration partner because they deliver outstanding value and service. In fact, we're so sure of their service that we offer a 100% money-back guarantee for the cost of your initial consultation. If you are unhappy for any reason, at any time, we'll refund you, no questions asked.
"My consultation went very well. The lawyer was very pleasant and helpful. I am just starting the process of a non-lucrative visa for Spain, and I had a lot of questions which he answered quite clearly for me. I was also pleased to see how much they will help me and the low cost of their services."

Victoria M. March 2021
We guarantee you'll have a clear and realistic immigration plan after your first consultation.
You'll receive a clear and binding quote for the work you agree with our lawyer, with no ugly surprises.
The €57 initial consultation fee is discounted from future costs if you engage our partner to help you move to Spain.
Your initial consultation has no obligation or risk. You decide how you want to proceed.
Why do we charge for the first consultation? Our qualified lawyers give targeted, actionable advice that is tailored to you. No copy/paste solutions and no wasting your time.
And, once you have your visa, our partners can help you to settle in easily. They can help with getting your residence card and much more.
Securing the right appointments with local Spanish authorities.
Completing all relevant documentation and translations.
Sort out day-to-day administration. This can include setting up a bank account, insurance, utilities, and more.
If you would like help from our trusted Spain Immigration lawyers, please click here to book a consultation.
Non-Lucrative Visa Spain FAQ from Where Can I Live