Many freelancers around the world have taken to the Digital Nomad lifestyle. And what a great lifestyle it is! Travel the world while you work. This tribe can go where they please, as long as they have a laptop and decent internet access. Something that they all share is that they face challenges with immigration law. If you are looking for a freelancer visa or a digital nomad visa we have you covered. We'll look at a number of visa programs and highlight our top seven picks for you.
What visa choices do you have to travel as a freelancer or digital nomad?
Immigration law varies across the world, it follows that these are generalisations. As a freelancer or digital nomad, you will often have the following visa options to consider.
Visit a country on a tourist visa and stay as long as you are allowed (in general less than 90 days). This is not legal but many people do it.
If you are tired of hopping around from country to country or doing visa runs, you can get a long-stay visa. These are called many different things and the requirements vary by country. We have written blogs about different regions to allow you to compare and decide on the best visa option for you. Have a look at these to find the long-stay visa that suits you:
Passive income visas exist in many countries. If you receive a regular income then you may qualify for a passive income visa. The income could be from, for example, rental properties, annuities, or investments such as dividends. See our section on passive income visas here.
If you are between 18 and 30 years old a Working Holiday Visa may be perfect for you.
Freelancer vs Digital Nomad
Not all freelancers are digital nomads. Equally, not all digital nomads are freelancers.
A freelancer is self-employed and generally is not committed to one long-term employer. Freelancers are often represented by an agency. Alternatively, they may use websites like Upwork, TopTal, or PeoplePerHour to source work. Independent contractor is another label that fits here.
A digital nomad uses technology to allow a location-independent lifestyle. This means that they can work from anywhere that has an internet connection. Working as a digital nomad is a form of telecommuting. They can work as easily from a cafe, a hotel, or a beach bar.
The classic digital nomad is constantly on the move. However, many people spend long periods of time in one place and still consider themselves digital nomads. A digital nomad could be a permanent employee of a company or have just one long-term client. These digital nomads would not be classic freelancers. Obviously, there is a huge overlap. The freelancer system lends itself to the digital nomad lifestyle. You're more likely to be allowed to work from a beach bar if you are your own boss! People can get hung up on definitions. Regardless, there are visas to suit classic freelancers, classic digital nomads, and all the mixtures of the two.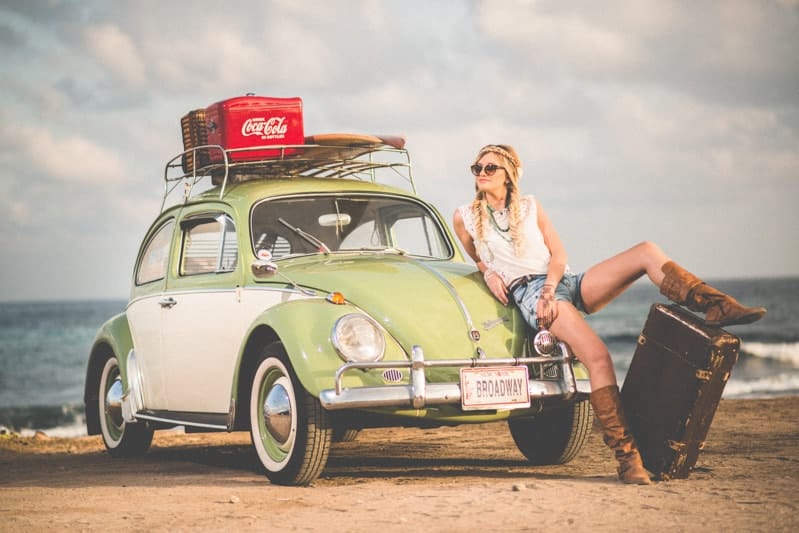 Working as a Freelancer on a tourist visa
One way that freelancers and digital nomads work and travel is to get a tourist visa. They must leave before the tourist visa expires. They often come back in a short while later and get another tourist visa to stay longer. Is it legal? Well not really, but many countries want the income from freelancers and digital nomads, and they turn a blind eye. This is common in Asia.
In countries like Thailand and Cambodia, many freelancers and digital nomads simply do a border run for a new visa. They make a day trip across the closest border to get a new tourist visa. You can read more about it on our blog. In Europe, though it is a different story. You can stay in the Schengen Area for a maximum of 90 days within a 180 day period. You are not allowed another Schengen visa until after another three month period. Given the range of regulations, you need to do your homework on travel visas before you leave.
Where do you need a tourist visa?
The passport you have has a huge impact on how easy it is to travel and work in other countries. For example, if you want to work as a freelancer or digital nomad and travel through Europe. Wouldn't it be great if you could get an EU passport? But not everyone has this luxury. Have a look at this website to see which countries you can travel to visa-free. Currently, Japan is the most powerful passport in the world allowing you to travel visa-free to more than 190 countries in the world! If you are unsure about which travel visas you need you can use this little tool from iVisa below. Type in your citizenship and then the country you want to travel to. The tool will tell you if you need a visa or not.
How can you legally work and travel as a freelancer or digital nomad?
Location-independent freelancers and digital nomads have been around for decades. In spite of this, most governments have not come up with a workable visa solution for them.
There are a number of ways that you can work legally in a country as a freelancer or digital nomad. Here are our top 6 visas that suit freelancers and digital nomads. If you would like more options, have a read of our deep dive blogs into specific regions. Visas for Freelancers and Digital Nomads in Europe and Visas for Freelancers and Digital Nomads in South East Asia.
Our Top Six Long Term Visas for Freelancers and Digital Nomads
Estonia Digital Nomad Visa
After a long wait, Estonia announced its Digital Nomad Visa in June 2020. In keeping with Estonia's ambition to be the world's leading digital society, this is an addition to Estonia's e-residency program.
The digital nomad visa is for you if:
You have a location independent business.
You can do you work digitally and remotely using telecommunications technology.
Your employment must meet one of three possibilities. You have a valid employment contract with a company registered outside of Estonia. Or, you work through your own foreign registered company. Alternatively, you work as a freelancer for clients mainly outside Estonia.
You'll also need to prove an income of €3504 per month (before tax) over the last 6 months.
See our Estonia Visa guide for more information on the Estonia Digital Nomad Visa. The cost of the visa is €80 for a short-stay visa (Type C) and €100 for a long-stay (Type D).
You may also have to take supporting documentation to your nearest Estonian embassy or consulate.
Panama Short Stay Visa for Remote Workers
Don't be fooled by the name of this visa program launched in 2021. This is an excellent option for freelancers, digital nomads, and location-independent business owners. Just show that you'll earn $36,000 in the coming year, and you qualify.
The application is only $300 and the visa is valid for nine months. You can renew your residency for an additional nine months after that.
Please see our article for more information on the Panama Remote Worker Visa.
Germany Freelancer Visa
Germany offers a visa for freelances to cater for those who are self-employed. This visa is open to those in a wide range of fields including technology, artists, writers, marketers, engineers, architects and self-employed doctors. If they can see that your work will have a positive impact on the economy you may be eligible.
Prerequisites
Apart from the form, passports and documents that you need to provide, you will need to have:
Proof of address in Berlin.
Your CV
Proof of freelancer employment
Financing plan
Revenue forecast
Regarding artists and language teachers: Proof of other regular income
Professional permit if that is applicable such as if you are a practicing lawyer
Pension plan if you are over 45 years of age
You will also need to attend an appointment. See this page for more information German Freelancer Visa (Freiberufler).
Spain Non-Lucrative Visa
This visa is perfect for those who do not have an EU passport and don't intend on working for a Spanish company. So you can be a freelancer however your clients need to be outside of Spain.
You need to show that you can support yourself and your dependents for the duration of the visa. At the time of writing, you needed to show that you had approx €26,000 in available savings or guaranteed annual income. You also need to get health insurance and meet a few other requirements.
This is a hugely popular option for those wanting to live in Spain. It is a one-year visa but you can renew it for an additional two years at a time.
We cover this visa in great detail in our article on Spain's Non-Lucrative Visa. If you are interested in knowing more then head over to that article.
For a Spain Digital nomad Visa, you can also look at the self-employed work visa.
If you would like to have a personal consultation with our Spanish immigration partner where they review your personal situation and outline all of the steps to be followed to get this visa then book your consultation with them here.
Costa Rica: Rentista Visa
This is a visa for those that can prove a regular income of at least US$2,500 per month. Can you show, for example, contracts with clients and a past history of earning over this amount? Do you have a steady, verifiable income from another source? If so you could be eligible for this visa as a freelancer or digital nomad. We will be writing a detailed blog soon about this visa so watch this space.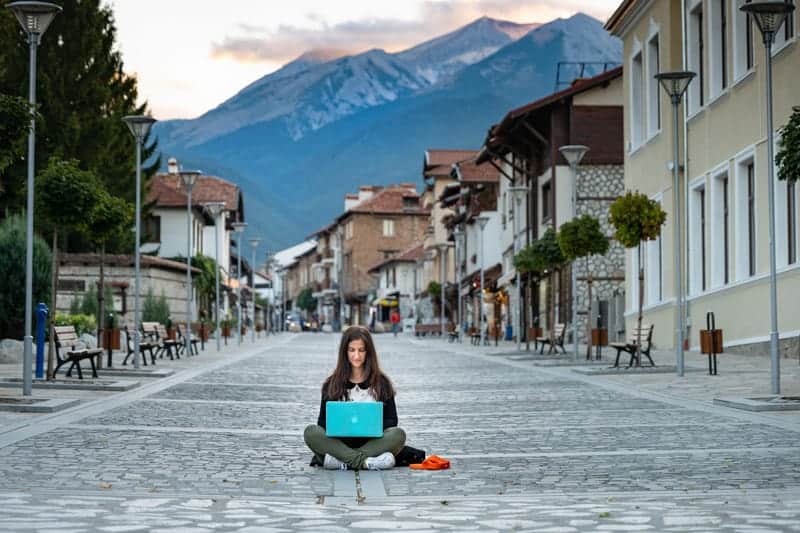 Mexico Temporary Resident Visa
To be eligible for this visa you need to show that you have enough funds to support yourself while you are in Mexico. The official government website says that you need to show a minimum saving balance. At present that is an average monthly balance of $27,654.00 Canadian dollars over the past twelve months. Alternatively, you can show a monthly tax-free income greater than $1,106.00 Canadian dollars during the past six months. There is flexibility on the source of this income, as long as it is steady and verifiable. The visa is a 1-year visa and can be renewed for up to 4 years. After that, you need to apply for a permanent residency visa.
Thailand Education Visa and Self Defence Visa
Many people are taking advantage of the education visa in Thailand. This allows you to stay in Thailand while you attend many courses from self-defence to scuba diving to university level courses. One interesting option for the education visa is at a self-defence school. For around USD 1000 you can sign up for a twelve-months of self-defence classes. Read more about this and visa options for freelancers and digital nomads in other South-East Asian countries on our blog.
Where can you find job as a freelancer?
In order to get a lot of these visas you first need to show that you have a job as a freelancer of course. Many freelancers use contacts in their industry to get work or use freelance websites such as Upwork, Fiverr or Freelancer.com. You can also find freelance jobs on Jooble.
Freelancer Visa and Digital Nomad Visa Options Around the World
Freelancer and digital nomad numbers are growing. Countries that welcome them within the legal framework will benefit from having them inside their economy. The freelancer and digital nomad communities are strong, and sharing of information and experience is common. The best countries for digital nomads will have access to more of this exciting group. We have no doubt that there will be more and more freelancer visas and digital nomad visas that cater more directly to the market. Until then, these visas and permits in this article let you live and work around the globe.