Why live in Germany?
When people think of Germany, a few things come to mind: beer and sausages, forests and mountains, and big cities like Berlin and Munich. And they'd be right too! Also, like most developed nations, it offers a rich and diverse array of cultural, educational, and vocational opportunities. So, what is living in Germany really like. We've got the real story.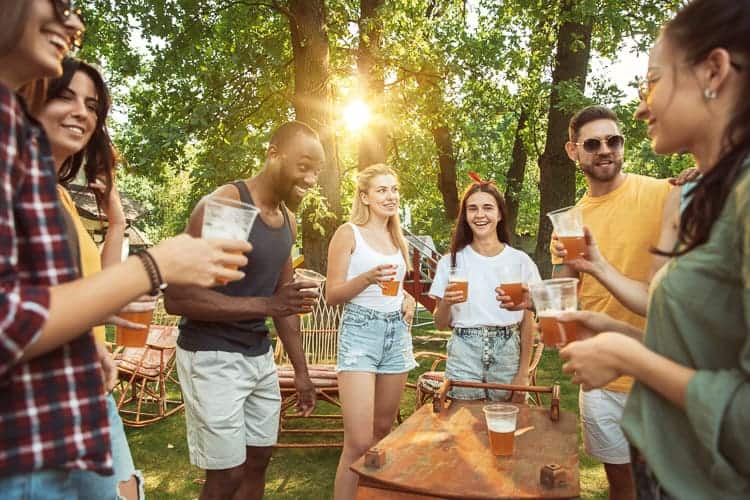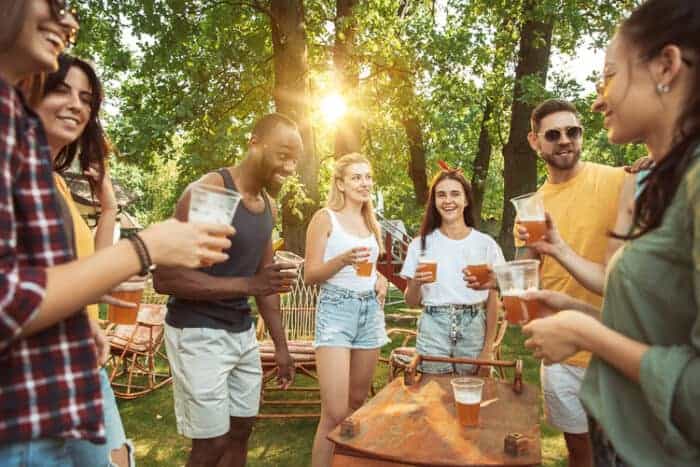 What's life like in Germany?
Germany's people
First off, 83 million people call this huge country home. And, the country covers many cultures, racial groups, and ethnicities. And, as in all groups, there are examples of all sorts of personalities to be found.
The fact that Germany is home to many immigrants from around the world has added to the mixing pot.
However, there are some common stereotypes.
German citizens are often unfairly characterized as being unfriendly and cold. This is simply not true, but many Expats (especially from the USA) can hold this interpretation. Germans do tend to be more reserved at first with new people and may not be as outwardly friendly as Americans. However, they are generally very welcoming people who put a high value on family and community relationships. Once you get to know them, they will open up more and welcome you into their culture.
Germans are also known as rule followers, and this stereotype is often true. Germans in general like order and efficiency and if you wish to live here you'll have to follow the rules too. This includes things like recycling correctly, keeping quiet at night for your neighbors, and being on time for appointments.
Geography
Germany has a very diverse geographical makeup. In the North you'll find vast plains that stretch up to the Berlin and North Sea. The central and southern regions feature dense forests with mountains and rivers throughout.
Major rivers include the Main, Rhine, and Danube, the longest river in Europe. The southern region of Germany also includes the Alps and Germany's 484 kilometer Alpine Road.
The eastern parts of Germany are more known for their agriculture, but major cities are dotted throughout the country.
Germany's climate
Germany's climate is most similar to that of the Pacific Northwest in the US, or the British Columbia province of Canada. Its overall climate is temperate and marine, with chilly, overcast winters and warm, sunny summers. Expect four distinct seasons each year.
There are some mountain climates in the alpine areas of the south.
Living in Germany as an American
Germany is a good option for American Expats wishing to live abroad. In general, there's not a lot of anti-American sentiment, and you'll find many fellow Expats to connect with. You can make the transition easier by seeking out Expat communities online, in-person through German-American Cultural Centers, or reading about their stories.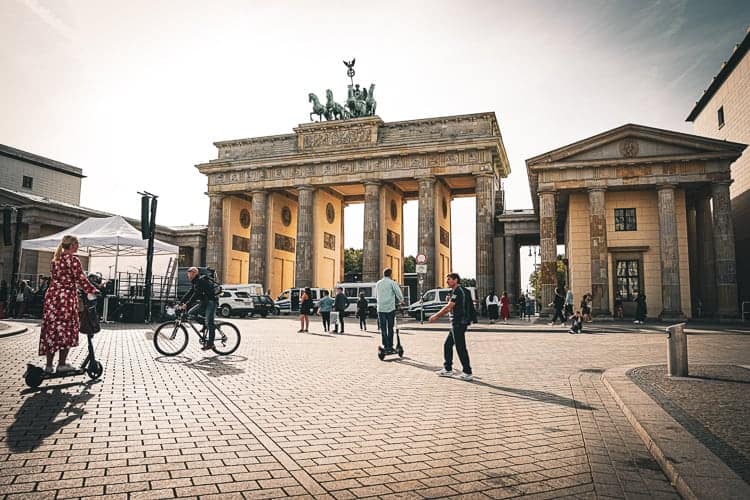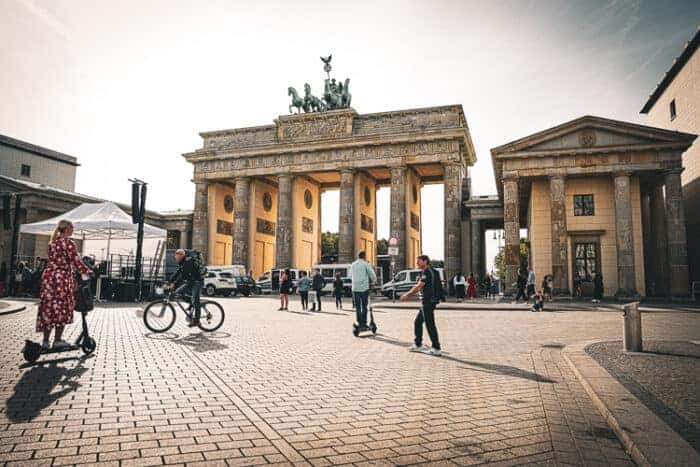 Retiring in Germany
Retiring as an Expat is possible in Germany and can be an excellent choice. There is no specific retirement visa in Germany as there are in other European countries, but that doesn't mean you shouldn't consider it. You will have to apply for a general residence permit to retire in Germany.
See our Germany Visa and residence guide for more information.
If you wish to retire in Germany, you'll have to prove you have a sufficient pension and can take care of yourself financially. Germany is generally happy to welcome immigrants, but they don't want to use their social support networks for Expats if they don't have to. If you choose a smaller city, your cost of living will probably be lower than it would in the US.
Cities in Germany
Best cities in Germany to live
There are many great cities in Germany to live in, with lots to offer in terms of jobs, education, culture, and history.
Berlin is Germany's largest city, at over 3 million people. Berlin tends to attract Expats and younger residents with its vibrant arts and music scene. Compared with other major German cities, rents are more affordable, and it's one of the cheapest capitals in Western Europe. A third of the city is covered in forest, so it's ideal for nature lovers and outdoor enthusiasts.
Munich has the highest cost of living in Germany, but it offers the most job opportunities with its booming tech, automotive, and financial markets. Munich is also home to some of the best universities in the country, like the University of Munich and the Technical University of Munich. Almost a third of Munich's population was born outside of Germany, so it's good for those seeking a welcoming city for Expats. Bonus: it's home to the world's largest Oktoberfest!
Another popular destination for Expats is Frankfurt, especially those wishing to study internationally. Frankfurt is the financial hub of the country, and many of its universities focus on international business. As you might guess, the city goes on to employ many of its graduates. Frankfurt has one of the lowest unemployment rates, and its location makes it easy to explore other countries in Western Europe.
Lastly, if you prefer a slower pace of living, try Nuremberg for its rich history and fun food and beer scene. It's a popular tourist destination which means there are a lot of job opportunities for English speakers. This makes Nuremberg one of the best cities to live in Germany for foreigners.
Languages in Germany
Unsurprisingly, the primary language spoken in Germany is German. That said, most children start learning English in grade school, and you'll find that many Germans in big cities speak English. Germany is rated the eighth-best country for English second-language capability.
You'll also hear other European languages including French, Italian, and Russian. In some areas, Turkish and Kurdish are common too.
Do you need to speak German to live in Germany?
Some Expats get around in Germany without speaking the language, but that doesn't mean you shouldn't make an effort to learn. Language classes are available, and using a few basic phrases will go a long way in ingratiating yourself with the locals.
Please (bitte)
Thank you (danke)
Excuse me (entschuldigen sie)
If you plan on working in Germany, then you should start on your German lessons as soon as possible. You most likely need it for most employers.
And, if you plan on living long-term in Germany, you'll need to pass a language test for German permanent residency and German citizenship.
Accommodation in Germany
Renting
The cost of living in Germany will pose the same issues as any big country. Rent prices are largely influenced by where you choose to settle. Like the US, the major metropolitan areas are a lot more expensive than smaller towns. Big cities like Stuttgart, Frankfurt, Düsseldorf, and Munich have the highest rental costs. Smaller cities like Nuremberg or Leipzig are more affordable and can offer a lot to Expats. Berlin is actually quite affordable for its size due in part to recent rent control legislation.
In the US it's common to pay first and last month's rent as well as a security deposit when moving into a new apartment. In Germany, however, you may be asked to pay the first three months' rent to begin with. Make sure you're prepared for this upfront cost.
One thing to know is that many apartments will come entirely unfurnished, meaning no light fixtures, curtains, or kitchen appliances in some cases. Before you sign a lease, make sure you know what's included and what's not.
You can also look into flat sharing options, making your transition to a new country a bit easier and less expensive.
Can Expats Living In Germany Buy Houses?
Yes, but you may be asked to pay a larger down payment than a local would. Average down payments in Germany are 20%, but it's common for Expats to pay 30% or 40% since they're considered riskier borrowers by lenders. On average, homes in Germany are smaller than in the states, and they also tend to be better built with more energy-efficient features. This will help your cost of living by keeping your energy bills down.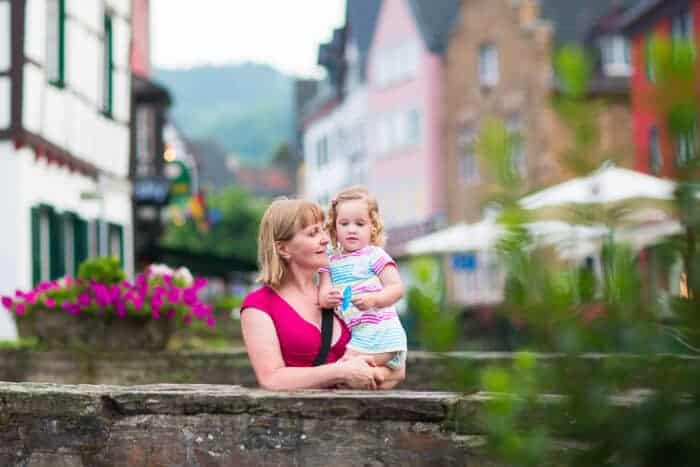 Getting around – transport in Germany
If you live in a major city, it's easy to get around to most places through Germany's outstanding mass transit system. Their trains and buses are clean, prompt, and reasonably priced. Many city dwellers forgo owning cars, or if they do own them, they don't use them for everyday commuting.
Other forms of alternative transportation are popular in Germany, including cycling. You'll find many city streets will have bike lanes to accommodate riders, making this is a good option for commuting.
If you wish to own a car, know that operating it is more expensive than it is in the states. Gas, on average, costs around $6 a gallon USD. Germany (and many European countries) levies high taxes on gas. Because of this, their cars tend to be more energy-efficient, and people tend to drive less.
Owning a car will increase your cost of living in Germany. Also, unlike many European countries, Germany doesn't have toll roads, driving around the country is a breeze in that respect.
Air Travel
Germany is one of Europe's busiest air travel hubs. Frankfurt, Munich, and Düsseldorf all have major international airports.
This means there are many airlines and routes to choose from. You can easily source cheap flights to Europe, the UK, the USA, and beyond any day of the year.
Lufthansa is the primary German airline, and it has a low-cost subsidiary, Eurowings.
Here are the five busiest airports in Germany in 2019.
Frankfurt FRA Rhine-Main Hesse 70 million passengers.
Munich MUC Bavaria 47 million passengers.
Düsseldorf DUS North Rhine-Westphalia 25 million passengers.
Berlin Tegel TXL Potsdam Berlin 24 million passengers (now replaced by Brandenburg Airport BER).
Hamburg HAM Hamburg 17 million passengers.
Health and Healthcare in Germany
Germans, in general, have a high quality of life and rank 20th in the world for life expectancy. This is, in no small part, thanks to the excellent and affordable healthcare available to all its residents. If you'll are working in Germany, you'll be paying into the national healthcare scheme, so you may be able to take advantage of it.
That said, you can choose to pay for private insurance to either supplement or replace their public option. You have lots of choices for Expat Health insurance, and you should take the time to choose the coverage that's best for you. It will depend on how long you'll stay and where you intend on traveling to once in the EU.
Some visas and residence permits will require you to have comprehensive health cover.
Cost of living in Germany
Compared to the USA, the cost of living in Germany is considerably lower. In general, going out to eat and shopping for groceries will cost you much less. In Germany's largest city, Berlin, it could be as little as half of the cost compared to a similar US city.
Like most countries, there is a range of living costs across Germany. If you move from a small town in your home country to Munich, you may not feel a massive saving. Go the other way, and your day-to-day living costs will be much lower.
How much money do you need to live comfortably in Germany?
Your requirements will depend on your choices. Living large in Frankfurt costs considerably more than a quiet life in the country.
The cost of living in Germany vs the USA may not be that different when you factor in taxes. Most daily expenses like a meal or a cup of coffee are roughly equivalent to what you'd pay in the States. The average cost of a meal out in Germany is €7 to €12 ($8 to $15) and around €3 for a beer.
Other costs, such as mass transportation, healthcare, and education, are much more affordable than in the States. If you plan on living in one of the major cities, you can get around by bus or train and won't need a car. If you plan on commuting to and from work, it's worthwhile to invest in a Bahncard that gives fares discounts.
Universities in Germany allow Expats to study for free, or for a few hundred Euros per semester.
Additionally, healthcare is significantly less expensive than it is in the US, even in the private sector. If you use the public system it is radically cheaper.
Both of these benefits are paid for through income tax, so if you're working in Germany, you'll be indirectly paying for them.
The one expense that fluctuates widely is housing. If you choose to live in the city center of Munich or Stuttgart, you'll be spending a lot on rent. On the other hand, if you take advantage of flat-sharing opportunities or live in smaller cities like Nuremberg, you'll save on rent.
Safety in Germany
Germany is safe for Expats and local citizens alike. That said, it's a populous country with big cities, and with that comes risks of petty theft like pickpockets. A little common sense will go a long way toward deterring pickpockets as they tend to target tourists.
Even if you're a German resident, you may be singled out by thieves in crowded spaces like buses, train terminals, or busy markets. Ensure you have your purse or wallet secured to your person, and never leave anything of value unattended. Though no country is 100% safe, Germany ranks highly on the safety index, which makes it a great place to live.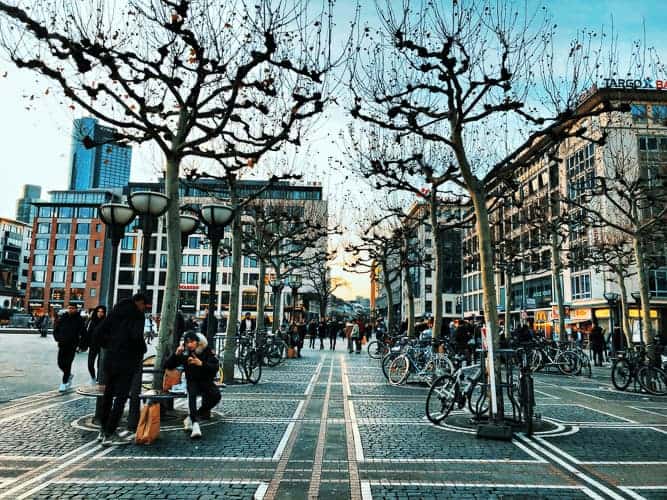 Money, Work, and Education
Currencies used in Germany
Germany is part of the European Union and uses the Euro. Though it fluctuates, one Euro is roughly equal to $1.20 in USD.
If you're living in Germany, you'll notice that Germany still uses cash more than some other countries. So, it's a good idea to have Euros with you and not rely on your credit card or Girocard. This is starting to change, but there are still many restaurants and businesses that only accept cash.
Taxes in Germany
Unlike the US, most European countries include a VAT tax (value-added tax), and in Germany, VAT is 19%. Though this is lower than many of its neighboring countries, it will increase the price of goods.
If you live and work in Germany, you will have to pay income taxes. The tax rates increase depending on your earnings, and top rates can be high. The taxes help pay for public healthcare and higher education but may surprise Expats who are used to taking home more of their paycheck.
In some cases, income tax can be as high as 40%. Even though the cost of living in Germany is cheaper than in the US, you will save money on schooling and health insurance.
Working in Germany
Germany has one of the lowest unemployment rates in the EU, and many Expats choose to live and work in major metropolitan areas. You can either secure a job before moving or obtain a Job Seeker visa and start your search upon arrival.
You'll have better luck securing a job if you speak German, so take the time to start learning before you move. Many locals already speak English, so being bilingual is not as much of a selling point as it would be in the states. Start by looking at Expat job boards, or you can search for openings using the Federal Employment Agency's website, Jobbörse.
Studying in Germany
Studying in Germany is a great option. They have highly-rated universities, and a significant portion of their student body are international (around 13%). Plus, undergraduate classes are free for the most part! However, if you plan on taking advantage of this perk, you'll need to prove your German language proficiency to be admitted. You can take language lessons, but you'll have to pay for them.
With over 300 universities to choose from, your toughest decision might be choosing what city you want to study in. Every large city in Germany has its own vibe, and you'll want to read up about your options to discover the best fit. Take the time to read more about options for studying in Germany.
Pros and Cons of Living in Germany
Pros
Germany is a forward-thinking country with the largest economy in Europe.
Many Expats come to Germany looking for careers due to its thriving economy and low unemployment rate.
The German people are overall accommodating to Expats and many of them speak English.
Germany is a "green" country and puts a high priority on environmental and sustainability policies.
Germany offers a lot of outdoor recreation, from camping in the Black Forest to the 420 km Danube Biking Path.
It's hard to beat the food and beer scene with its globally popular Oktoberfest.
The cities are generally clean and safe.
Public transportation is fast, cheap, reliable, and extensive.
Undergraduate programs are free or low-cost, but you need to speak German to be admitted.
It's centrally located and serves as an ideal spot to travel throughout Europe.
Cons
The overall cost of living in German can be high in major cities, depending on your accommodation and lifestyle choices.
Churches tax their members. So, if you are a practicing Catholic, Protestant, or Jew, you may pay a church tax. This is called the Kirchensteuer or the worship tax,Kultussteuer. The amount is between 8% and 9% of your income tax bill.
On the whole, income taxes are high in Germany, but you do get free healthcare and education out of it
This is a pro for many, but most shops are closed on Sunday so that people can spend time with their families. Essentials, like restaurants, gas stations, bakeries, and convenience stores (Spätkauf or Späti), are open but not much else. Germans are used to this, but many Americans are surprised to hear it.
Again, this is a pro for many, but it can take some getting used to. In general, Germany is a rule-oriented country, and following the rules is expected, even of foreigners. Jaywalking, putting a bottle in the paper recycling, or using a mobile in a silent train carriage will meet with approved!
As a massive generalization, Germans can seem reserved when you first meet them. Emotions are not worn on sleeves here, and people are not as outwardly friendly as many Americans are. Don't take it personally; once you break the ice, you'll see a whole new side.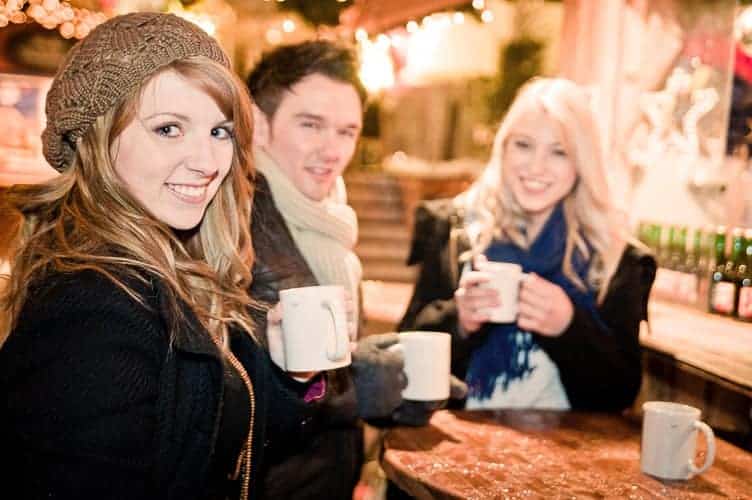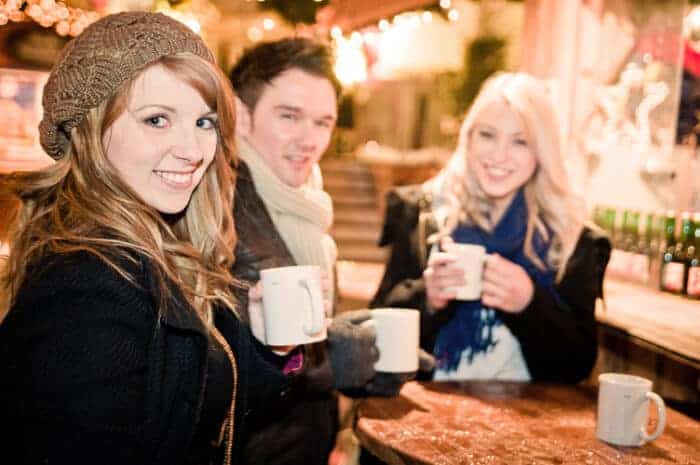 If you dream of living in Germany, get started today
Start researching! You've already taken the first step by reading this post, but there's more to learn. We suggest starting with our article on Germany visa and residence permit options.
Moving abroad can be challenging, and Expats may find the experience of immigrating to Germany even more intimidating due to the rule-focused bureaucracy. Additionally, you won't always be able to find assistance in English, so unless your German is top-notch you may need help along the way.
Don't let this deter you from your dream of living in Germany. There is help available to guide you every step of the way.