Why choose to live in Norway?
Living in Norway offers so much to many people. It is consistently voted one of the best countries in the world to live in. So, what is it that makes it so desirable?
A stunningly beautiful country with fjords, islands, mountains … so many that nobody can count them!
Friendly, open-minded people.
One of the most dynamic job markets in Europe
Top rankings in Human Development Index, Freedom in the World Index, Democracy Index, Freedom Index, Corruption Perceptions Index … you name it.
One of the safest countries on earth.
A modern welfare state ready to step in when life gets in the way.
But, what is living in Norway really like?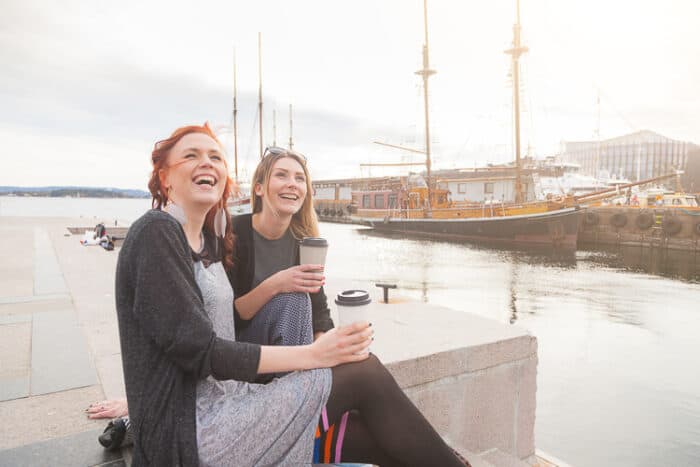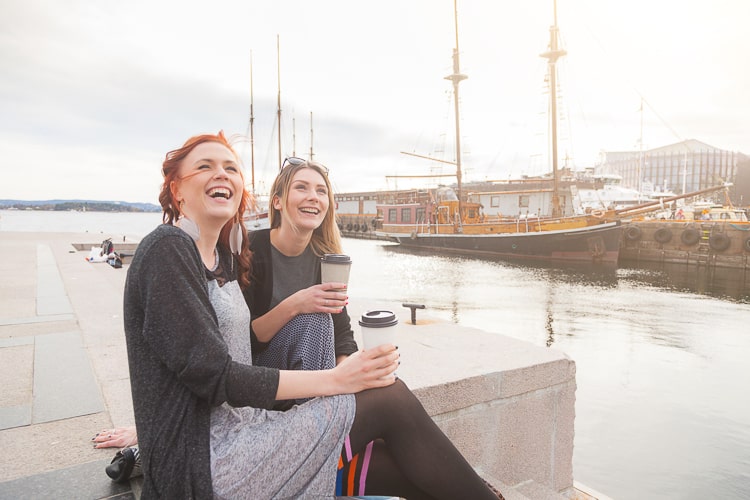 Basic information for living in Norway
Languages in Norway
The official language is Norwegian, a Scandinavian language, belonging to the group of Germanic languages. This means there are a lot of similarities between English, German, and Dutch. Learning Norwegian will not be too difficult for you! The Scandinavian languages are so close to each other that mutual understanding is possible. There is a Norwegian joke explaining the situation: "There is just one Scandinavian language. But in Sweden they don't know how to write it, and in Denmark, they don't know how to pronounce it.". Most Norwegians are proficient in English. But you will have a hard time finding a job without Norwegian language skills, even when they are not formally required for the job.
One thing is odd about the Norwegian language: it has two written forms, bokmål and Nynorsk, as well as a great number of dialects. Fortunately, 90% of Norwegians write in bokmål nowadays, so that is what we recommend you learn.
There is an indigenous population in Northern Norway, the Sámi, who speak their own language. Sámi is completely different from Norwegian, but Sámi people also speak Norwegian.
How to Learn Norwegian
When giving you tips about learning Norwegian, I have to admit I may be biased since I have published story-based online video courses and textbooks for learning Norwegian. We also offer 1:1 lessons through Skype/Zoom. If you'd like to check out the courses, here they are:
Duolingo has a course for Norwegian as well:
Simple material to improve your listening comprehension is Peppa Pig in Norwegian.
What is Norway's Climate like?
Norway is much warmer than what you'd expect after finding it on the map. Of course, since the country is huge, we also see huge regional differences:
There is one particular aspect of Norwegian geography. The country is so far to the North that in the summer the days are extremely long – and in the winter extremely short! North of the polar circle (near the city of Bodø) things get weird. You will have a period of no sun in the winter and no night in the summer. In Tromsø, there is no sun between November 26th and January 17th, and the sun never sets between May 18th and July 25th. This might be something to get used to!
Is this the weirdest part of living in Norway?
For me, the weirdest aspect of the length of the day was the loss of a normal daily rhythm. In the winter whether you get up early or sleep in, it's always dark. And in the summer, the night never falls, so I sometimes missed dinner until 2 am… It is extremely important to keep up a strict daily routine. Otherwise, you become what the Norwegians call døgnvill: your day and night rhythm is messed up.
---
---
Norwegian Currency
1 Norwegian krone (NOK) equals 100 Øre. 1 NOK equals 11 US cents at the time of writing. Norway is a pretty cashless society, so you might not see coins and banknotes often.
But in most shops, cash payments (kontant) are still possible. The NOK has been a pretty stable currency, though its exchange rate depends a bit on the global oil price.
Religion
Norway has had its own state church (Den Norske statskirke) for about 500 years. This followed a Lutheran protestant rite, with the Norwegian king as the formal head of the church. However, in 2012 the Norwegian church lost its affiliation with the state and is now a completely independent organization.
For many decades Norwegians have become less religious. Although about two-thirds of Norwegians still are members of the church, they attend only about one church service per year on average. Norway has seen full religious freedom only since 1964 (quite late, compared to other European countries).
With immigration from all over the world, Norway now has a large variety of other religious groups, mostly in the larger cities. There are still communities with strong and often conservative Christian beliefs in the south (Agder region) and Southwest (Rogaland region), the Norwegian Bible belt (bibelbelte).
Cost of living in Norway
Let's be honest: the cost of living in Norway can be extremely high, and almost nothing is an exception. Some goods and services are very expensive, others are ridiculously expensive. Fortunately, with a Norwegian income, you will be able to afford a very comfortable lifestyle.
Compared to most other countries in the world, this even holds true if you have a relatively low-paid service job. Some examples to scare you:
Studio apartment in Oslo, monthly rent: 10,000 NOK
A glass of beer (half a liter) at a bar in Oslo: 90 NOK
1 whole chicken in the supermarket: 200 NOK
Liter of gasoline: 20 NOK
I have one great tip for saving money. If you'd like to travel the country on a budget, trains are a good choice if you book a long time in advance. Norwegian trains are comfortable, safe, and surprisingly cheap. Good news for you if you're a train enthusiast like me.
Healthcare in Norway
Norway has a comprehensive state-run health care system. It is compulsory to become a member once you are a resident. The procedure starts when you get your Norwegian personnummer (personal ID number) after registering with the police. You are then asked to choose a family doctor (fastlege) who will be your primary contact for any health-related issue. The government finances the system through tax-like compulsory contributions (trygdeavgift) that everybody with an income has to pay. There are also small fees for medicine and doctor's visits that patients have to cover themselves (egenandel). Be aware, that this excludes dental care, which is not part of the system. You will need to pay your dentist for all treatments. Expat Health Insurance may help to cover these costs.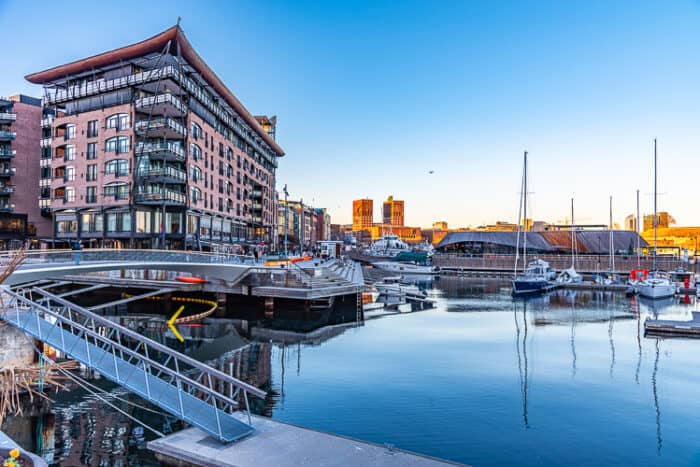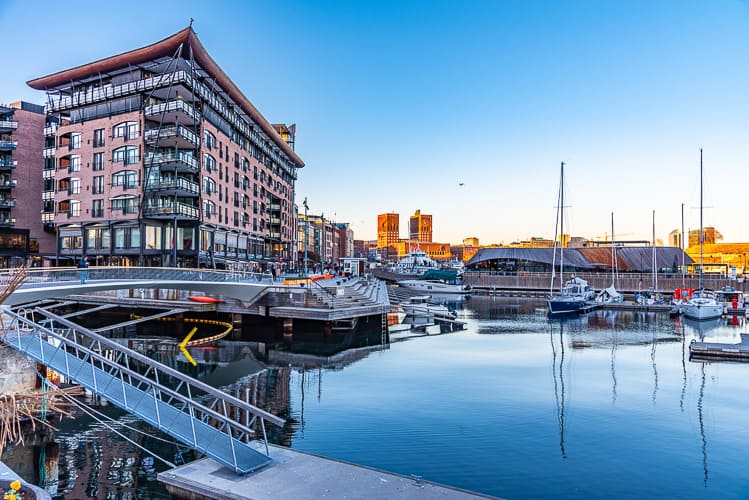 How to get around if you are living in Norway
Air travel in Norway
Norway's long distances make the plane an everyday means of transport. Several daily flights connect the big cities but even many small villages in the North and the West have an airport. Small propeller planes connect these airports with regional hubs like Bergen, Trondheim, and Tromsø. Unfortunately taking these small planes can be pricey. For example, it might cost you more to fly 130 km from Alta to Tromsø than to fly 1100 km from Tromsø to Oslo.
Trains and railways
Taking a train in the spectacular landscape of Norway is an exciting, yet comfortable experience. The Norwegian railroad system is not very dense, but it connects Oslo with Stavanger, Bergen, Trondheim, and some cities in Sweden. Most long-distance lines have 3-4 trains per day. Suburban trains in Oslo and Bergen run very frequently – in these cities, it is absolutely realistic to live without a car. There are a few sidelines in rural areas as well, but with just a few trains per day.
The northernmost point of the Norwegian railroad network is Bodø. Narvik, some 300 km north of Bodø, has a station as well but is only connected to the Swedish railroad network. It has a daily night train to Stockholm, which I can highly recommend. The part between Narvik and Kiruna is spectacular, and you will sleep comfortably during the rest of the journey.
Buses
Buses serve regions without trains. They are comfortable and reliable (even in the winter, when they run on spikes, seemingly unimpressed by ice and snow on the road). Of course, don't forget Norway's low population density. Some bus lines run once a day (or not even that), so you'd better arrive at the bus stop on time.
City & Metro transport
In cities like Oslo and Bergen, there is a well-functioning system of public transport. Expect integrated buses, trains, trams, and metro (in Oslo), on par with big cities further south on the European continent.
Ships, boats, and ferries
Nor-way means "way to the North" (literally). This refers to the waterway between the Norwegian mainland and the uncountable islands along the coast. Merchants and fishermen have been traveling the region by sea for centuries. So it's not a surprise that boats and ships still play a crucial role in public transportation to this day.
Ferries and express boats connect many islands and fjords. Again, depending on the population density, a ferry line might run 3 times per hour or 3 times per week).
Hurtigruten is probably the last scheduled traditional passenger ship service in the world. Every evening one ship sets out on the five-day journey from Bergen to Kirkenes at the Russian border, with 35 stops on the way. Although it is largely a tourist attraction nowadays, the 11 Hurtigruten ships still carry cargo and are subsidized by the Norwegian state. They call at remote, otherwise unprofitable ports, providing an alternative to buses and trains in rural coastal areas. Many of my fellow students at the university in Tromsø used Hurtigruten to visit their parents for the weekend. During the covid pandemic of 2020, when tourism was completely closed down, Hurtigruten would still run an "emergency service" between Bodø and Kirkenes.
---
---
Driving a car in Norway
Driving your own car is easy in Norway. Norwegians are polite drivers, and most of the roads are pretty empty anyway. You can swap some driver's licenses for a Norwegian license. These include all EU, Australia, Canada, Hong Kong, Israel, Monaco, New Zealand, San Marino, UK, South Korea, USA, Switzerland, Greenland, and Japan. Otherwise, you will have to pass a driving test. You can find information about this process here.
As you might have expected, having a car is quite expensive. Not only are gas prices high due to taxation, but some roads have to be paid for when you use them. This money is generally used to pay for the construction of bridges, tunnels, and similar infrastructure projects. The payment process is (typically Norwegian), modern and well-organized. Norwegian cars get equipped with an electronic device that registers the car passing the entry of a paid zone. Foreign cars are photographed when entering the fee zone. They find out the owner through the license plate and then send them an invoice. It is cheaper though if you register your car with the system (AutoPASS). If you rent a car, the agency will pass on the invoice to you (unless you have registered for AutoPASS).
Importing a car into Norway
Importing a car can cause you a bit of a headache. Norway is not part of the EU, so your car will have to go through customs. They will charge you a special tax (engangsavgift). For an old car, this might almost exceed the value of the car. However, you have to pay this fee even when buying a new car in Norway. So the best option might be to give up your old car and buy a used car after arriving in Norway.
Warning: Traffic laws living in Norway
The police enforce traffic laws in an extremely strict way. Speeding 20 km/h will cost you about 10,000 NOK, for more severe violations you might end up in prison surprisingly fast. Amazingly, 5% of all Norwegian prison inmates are sentenced for traffic infringements. So you'd better not drink, use your phone, or speed.
Using a car ferry is an everyday part of Norwegian traffic. It's straightforward: you drive on one of the waiting lines at the dock. The ferries are often numbered, just look for the one that is not full yet. When the ship arrives, the crew will show you where to park your car. You usually pay onboard.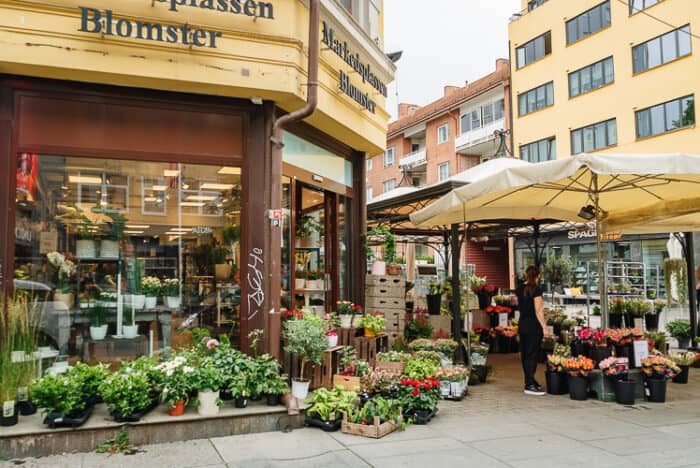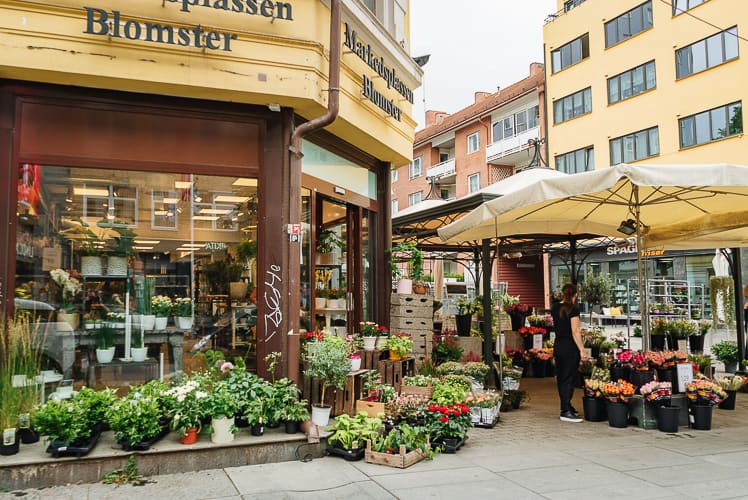 Is Living in Norway Safe?
Norway has no shortage of crime novel writers like Jo Nesbø, Unni Lindell, or Jørn Lier Horst. Given that, you might expect Norway to be a pretty dangerous place. But the opposite is true: Norway is one of the safest countries in the world; even police officers are generally unarmed. The atrocious terrorist attacks by Anders Behring Breivik on July 22nd, 2011 were a notable exception.
Otherwise, except for the usual bit of petty crime in the cities, you will not need to worry much. However, the days when nobody would lock the house doors in the villages are mostly over.
Leisure and nightlife
Sports and recreation
Norwegians love being in nature! They go hiking, skiing, mountain climbing, fishing, hunting … the level of fitness is surprising! Be prepared for a great number of 80-year-olds on the track, smiling happily at you, while you are panting from exhaustion. If this sounds appealing to you, consider joining the DNT. They organize trips, publish maps, offer courses, and run cottages in the mountains where you can spend the night during longer trips.
Boating is another big thing in Norway – many young Norwegians own a boat before they own a car.
Nightlife in Norway
Nightlife for those living in Norway is usually limited to Friday and Saturday nights. It has some peculiarities concerning the Norwegian drinking culture: Norwegians tend to avoid alcohol except for parties.
In other words, your colleagues will frown upon you if you order a glass of wine for lunch on Friday. But if you get completely wasted with them a few hours later in a bar, then that's totally acceptable. This extremely odd attitude toward alcohol has its roots in puritanism and the dangers of alcoholism on long winter nights. So, drinking a little bit regularly is considered scary, but the occasional sin on a weekend is fine.
Although Norwegians are not as religious anymore, much of the traditional alcohol policy remains in place. To this day you can only buy wine and stronger alcohol at state-owned liquor stores (Vinmonopolet). And, alcohol is heavily taxed, and bars and restaurants can serve alcohol at certain times.
Due to the high prices, Norwegians tend to pre-party at home to get up their alcohol level a bit before heading to the bars. They call this vorspiel (for those of you who speak German: the word has no sexual connotation). The party ends at home again with a nachspiel (unless everybody is too drunk). If you are invited to a private party or a vorspiel you should bring the amount of alcohol you plan to consume. (Your host will not offer alcohol to everyone since that's way too expensive).
Don't get shocked by the oddities of Norwegian nightlife. If you are not up to join in or want to keep your alcohol levels low, this is totally fine too.
Working in Norway
If you have a Norwegian Work Permit, you'll want to look for a job in Norway.
Formal employment
Labor law is very employee-friendly, and that makes it highly difficult for you as a foreigner to find a job. Why? Well, once an employer hires you, there is practically no way of getting rid of you.
So every employer thinks twice (or actually, many times) before signing a contract. Speaking Norwegian is a requirement for most jobs. Remember, even if your work is in English, employers still prefer to hire someone who speaks the local language. This is for two reasons
Firstly it shows that you are committed to Norway. You won't rush to return to your warm home country once the first snow falls. Secondly, Norwegian work culture is based much more on consensus than on hierarchy. So, there is a strong focus on creating a positive team culture in the workplace. And that includes being able to speak the same language when connecting informally, for example during lunch breaks.
Working conditions in Norway
Once you have landed a job, look forward to pretty comfortable work conditions: salaries are high, even for comparably low-qualified jobs. Of course, the cost of living is also high in Norway. But, you will still be able to afford a more comfortable lifestyle than virtually anywhere else. Working hours are 37.5 per week, with a short lunch break mostly included. A typical Norwegian workday starts early (8 am) and finishes early (3.30-4.00 pm). However, in more senior positions you might be expected to stay a little longer or do a bit of extra work from home.
The minimum annual leave is five weeks; most employees (have to) take one week at Christmas, and one week before Easter. Then there are three weeks in summer (called fellesferie), a time when basically everybody is on holiday. Little work is done, and the whole country is run by student interns.
Taxes in Norway
Taxes in Norway are high. As an employee, you don't need to worry about sorting out paying your tax. In Norway, your employer deducts income tax, the compulsory fees for national health insurance, and pensions.
Remote work when living in Norway
High distances and a generally open mind toward new technology make Norway a great place for remote work. Norwegians used to have online video calls at a time when other nations were just introducing email … Internet speed is great. You will see Norwegians getting out their laptops to send a few emails while waiting for a ferry in the middle of nowhere.
If you want to work as a freelancer, make sure you have a work permit for Norway. You will also have to declare taxes and insurance contributions yourself. You can find some basic information about this online, but you should definitely get help from a certified accountant (regnskapsfører). Do take the paperwork seriously – Norwegian rules and regulations are predominantly straightforward, but also strictly enforced.
Education in Norway
Schools and universities are free in Norway, except for some private institutions. The quality of the tuition is usually very high for kids living in Norway. Even in rural areas where there might be an elementary school for just 10-20 children in a village. From the age 16 though, teenagers from very remote places will often need to attend a boarding school.
International schools can only be found in the biggest cities and are quite expensive. Homeschooling is possible under some strict conditions and the supervision of the local school board. With none of the parents speaking Norwegian, this might not be very realistic.
Universities are generally free to attend, even for foreigners, though you will have to cover your cost of living. If you do not have Norwegian citizenship, you are eligible for a student loan only under very special conditions. However it is relatively easy to find a student job, and student housing is available in all university cities.
You can check out Norwegian student visas here.
The best places to live in Norway
Norwegian cities
Oslo
Oslo is where the music plays: with 700,000 inhabitants it is not only the capital but also the biggest city in Norway. It has merged with many smaller places like Asker, Bærum, and Lier. This merger has created a metropolitan area with more than 1.5 million people – almost one-third of the Norwegian population. This gem offers you the benefits of a huge job market, a thriving Expat community, and rich cultural life. But, it still doesn't feel like a big city in many aspects.
With the city wrapped around the shores of the Oslofjord like a ribbon, you will never travel far to be in nature. Take the metro to Frognerseteren and set out on a hike into the wilderness, less than 30 minutes from the city center. Oslo used to have a dismal architecture and a similarly dismal reputation. The author Bjørnstjerne Bjørnson called it tiger city (tigerstaden) 100 years ago because he considered it so dangerous. This observation seems ridiculous to us today. Oslo is probably one of the safest cities in the world, and the architecture has improved dramatically since the middle of the 20th century.
Bergen
Europe's rainiest city is also the most beautiful city in Norway. It used to be Norway's capital many centuries ago. With its maritime flair and historic, colorful wooden houses surrounded by majestic mountains, Bergen looks stunning, not just in photographs. It is also a city with a rich cultural life and a big university.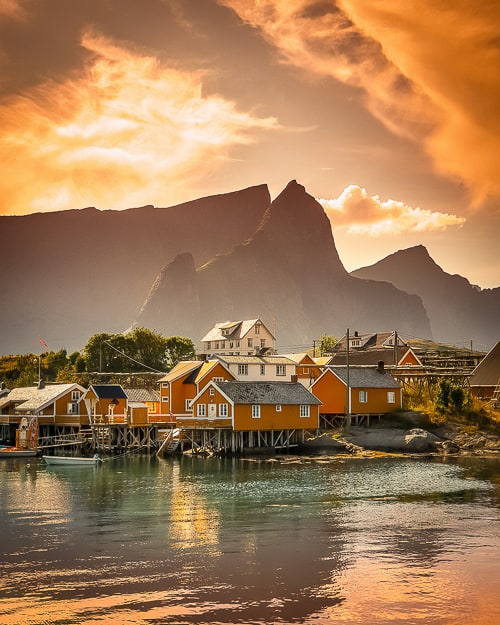 Stavanger
Bergen's little sister and the center of the oil industry. There are many job opportunities, and although it has only 100,000 inhabitants, Stavanger still feels like a real city.
Trondheim
The city features the stunning Nidaros cathedral, the former location of the coronation ceremony of the Norwegian kings. It also has a beautiful harbor, and beautiful surroundings (although that's not a surprise anywhere in Norway). Being calmer than Oslo, Bergen, and Stavanger, it might be a bit more difficult to find a job. However, Trondheim has a large technical university (NTNU) with an excellent reputation.
Tromsø
My personal favorite is located on an island some 200 kilometers north of the polar circle. But, you'll need to get used to two months of no sun in the winter, and several months with no night in the summer. Tromsø has the northernmost university in the world, as well as several research institutions. The research tends to focus on life and nature in the polar regions, with many job opportunities for scientists.
Utkant Norge
As you are considering living in Norway, why not give a thought to all the regions we might consider "typically Norwegian"? These are the fjords, the islands, and the mountains. Most Expats don't fancy living in a village, but small communities in Norway often have a surprisingly strong job market.
Norwegians have a specific expression for these remote villages, Utkant Norge or "out-edge Norway". They are often not as remote as you might think. Norway has airports even in communities with 2000 inhabitants, and most islands are connected with fast ferries to the mainland. Still, life in a Norwegian village cannot be compared to rural life in, say, Germany or the US.
Especially if you work in healthcare, you will be welcomed with open arms in Norwegian villages. But even with a different background, you should not be too worried about integrating into a village community. Although Norwegians can be very shy at first, however, once they have opened up they tend to be very warm and welcoming. This is especially true when you make the first step.
Living in Norway vs life in the US
Norway is a western European country, so if you are familiar with this part of the world, there are no major surprises. As everywhere though expect a few minor peculiarities in Norway.
Probably the most encompassing cultural trait of Norwegian society is described with the word "jantelov". It is an unwritten rule that you are not supposed to make yourself appear special. This applies to clothing, furnishing your house, speaking, … even at the workplace. At a job interview don't make the mistake of bragging about your achievements in a previous job or education. Norwegian employers would consider you to be arrogant and put you right at the door.
This is a dilemma for you since, obviously, you want to impress your potential employer. But, at the same time, you have to make sure to appear modest. The solution is to be a bit diplomatic in how you sell yourself.
Don't flash status when living in Norway
If you have money, don't show it. Rolex watches and Lamborghinis are considered ridiculous. The same applies to fancy clothing or perfumes. To understand the concept, look at the private home of one of the richest Norwegians alive. Tom Hagen's home looks like everybody else's house, just a bit bigger.
If you don't get janteloven right in every situation, relax; even the Norwegian royal family has issues with it from time to time. A tricky spot since they are royal, they are supposed to be special, but not too special. For example, the crown prince got a lot of criticism for sending his kids to a private school.
When meeting Norwegians for the first time they will most likely appear pretty shy. Funnily, there is no translation for the word "small talk"in the Norwegian language.
That does not necessarily mean that people do not want to get in touch with you: test the waters and take baby steps. Just remember that establishing a friendship takes longer than in other countries. My first day at university went like this. Everybody greeted me in a friendly way, but nobody talked to me during the break. I understood that it was not because they didn't like me, but because they didn't want to appear intruding. And, as I was new they didn't know what to talk about. However, after one conversation or an invite to someone's home, you can be pretty sure to have found a loyal new friend. It's a little bit like in the work environment: getting a job is not easy, but once you're hired, you'll never be fired.
Retiring in Norway
You can settle as a pensioner in Norway as long as you can prove sufficient income. For details see the visa section of our Moving to Norway article.
Does living in Norway sound great?
Life in Norway is special, and I hope I've made you interested in spending a few years (or more) in this beautiful country. When you are ready to go, make sure to check out our Moving to Norway guide. Expat life in Norway is great, but there are a few bureaucratic hurdles you have to overcome. So, is living in Norway your future?