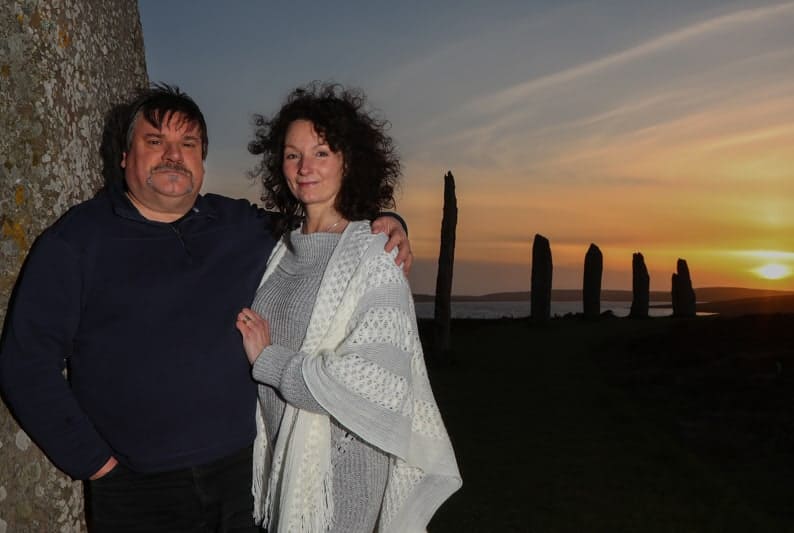 We love this story of being brave and moving to the UK from the USA for love. Rhonda Muir writes of her journey from New York to some of the northernmost islands of Scotland, the Orkney Islands in the United Kingdom. Rhonda has started her own website orkneyology.com to give people information about the islands and tell their stories. She's written an ebook about life on the Scottish Island.
It was a chilly autumn evening in 2018. I was resting on a fallen standing stone at the Ring of Brodgar in Scotland's Orkney Islands. I sat quietly, reflecting on the incredible turn that life had taken.
My husband had told me these stones were once giants, caught up in their revelry and turned to stone by the rising sun. I waited with the stilled giants, silent in the dusk, barefoot to soak up the earth's energy. Time paused, as it will do in a liminal place. I settled into the mysterious splendor of the ancient ceremonial valley nestled in Orkney's West Mainland.
I'd been trying to photograph the full moon rising over the magical Ring, but a shrouding mist came sliding into the valley, hiding the moon. I didn't mind. I could come back another time for photos, since the magnificent Ring of Brodgar lay just a few miles from my new home. Tonight, I would simply be.
A middle-aged couple broke into my peace, wandering around the stones' perimeter and talking softly. I'm usually very friendly, but not tonight. I wanted solitude. I ignored them, and they went away at last. I was right in guessing that other visitors would wait for friendlier conditions to visit. I soon had the stones all to myself again. I settled in and let my imagination flow.
Beginnings
How did a 53-year-old mother of four from Cherry Creek, NY find herself moving to the UK and living on a remote Scottish island where ancient monuments and stories sprout from the earth like trees? Especially a woman who had never traveled farther than parts of the US east coast.
My middle daughter and I both graduated college in May of 2014. It was a new season for both of us, so we were having deep discussions. I'd struggled through two decades of poverty and too much work while I raised my four children unaided by their deadbeat father.
With my last child off to college, I was content, happily living on my own in a house that I loved and working a private healthcare job. The job wouldn't last much longer, but I thought I could take 2 – 3 weeks off without pay and take a trip before I had got tied down to a real job.
I'd never expected to be in the position to travel anywhere, but something drove me to take the opportunity and go now before it was too late. I was torn between hiking part of the Appalachian Trail and going to the Scottish Orkney Islands. The more I considered, the more obvious it became. It had to be Orkney. I'd been dreaming about those islands for the past twelve years, ever since I'd used Rackwick in Orkney as the setting for a fantasy book that I was writing.
I contacted Tom Muir, the Orcadian folklorist who had helped me research the book, thinking that he might know of a cheap place I could stay. I was nervous about traveling so far, and he'd been so kind in answering my questions all those years ago. I wanted to think there would be someone to call upon for help in case I got into a scrape.
Tom was just as nice as he'd been before. We messaged back and forth over the ensuing months, with increasing frequency and depth. The day finally came when we had to admit that we were hopelessly in love.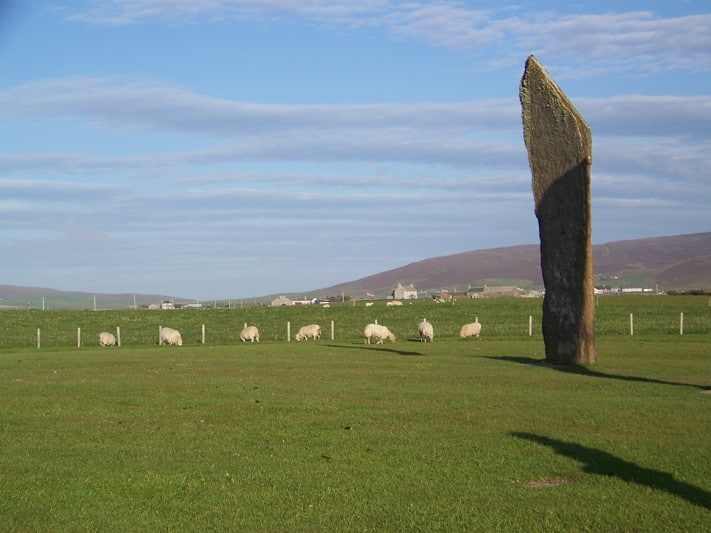 Conflicting Emotions
My family were both shocked and delighted for us, with a natural concern for the suddenness of our decision. It must have seemed drastic to sell up and move to the UK (especially remote Orkney) without having met the man. Tom and I planned a two-month visit before we got too carried away, but neither of us had any doubts.
I hadn't expected my family's grief. I'll never know what my mother suffered. She didn't share it with me, but I know she was crying for days. She who had worked so hard to keep her children in the same area where we'd all grown up. As for my children, they'd been scattering to different states for years but my leaving put an end to our hope of living closer together one day.
So it was amidst a mad swirl of conflicting emotions that I visited Tom in Orkney for the first time. On my 50th birthday, he took me to Rackwick on the island of Hoy – the very place where I'd set my story all those years ago. He knelt on that pink beach and proposed.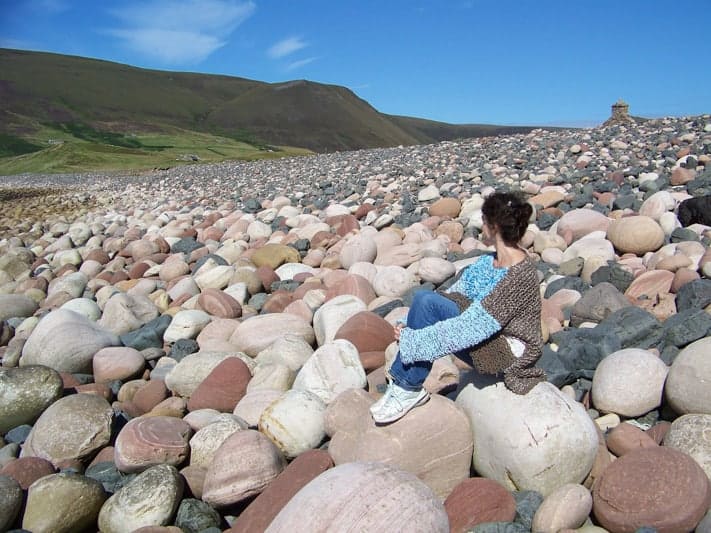 Making Plans … and so Many Lists!
Tom offered to move to New York, knowing how close I was to my family. His offer touched me, but he belonged to Orkney in a way that I'd never belonged to the place where I'd lived my whole life. I was leaving Western New York for good and moving to the UK.
I didn't want the entanglements and awkwardness of keeping a house in the States, so I set about getting my home ready to sell – along with many other preparations that would have to be made before an international move. Almost miraculously for the financially depressed area, my house sold through word of mouth before I even put it on the market. Other houses in the area had been for sale for years. I knew I was lucky to sell so quickly. I took less for the house than I'd intended to, but the people who bought it were going to let me stay in it until after Christmas, and the peace of mind of having the sale finished before I left the country was immense.
Tom came to New York for Christmas and met my family. We were married at that time, which would make the visa process more straightforward.
I'd been picking away at clearing the house for months, ever since I returned from my first visit to Orkney. I kept looking at my things, considering whether I loved each item enough to pay for it to float across the Atlantic on a ship.
I ended up giving away almost everything. The rest was picked up by an international moving company the snowy January day that I left the house for good. Because I'd only paid for half a container, my load had to wait until there was another half container to go to Scotland. It would take five months to get my things to Orkney.
The visa process felt nightmarish, though I was aware of our good fortune compared to others. There were some frantic, uncertain days as I worked to figure it all out. It's a very uncomfortable feeling knowing that strangers hold your future in their hands.
I couldn't stand to wait for months not knowing when I was moving to the UK. Since I had a little cash from the sale of my house, I paid the exorbitant fee to expedite the visa application. My house was gone. My job was done. I'd given away my car. I was staying with my stepmom, with nothing to do but wait.
Thankfully, the answer came in just a few days – approved! After all that preparation, it was with a sense of unreality that I made my flight arrangements.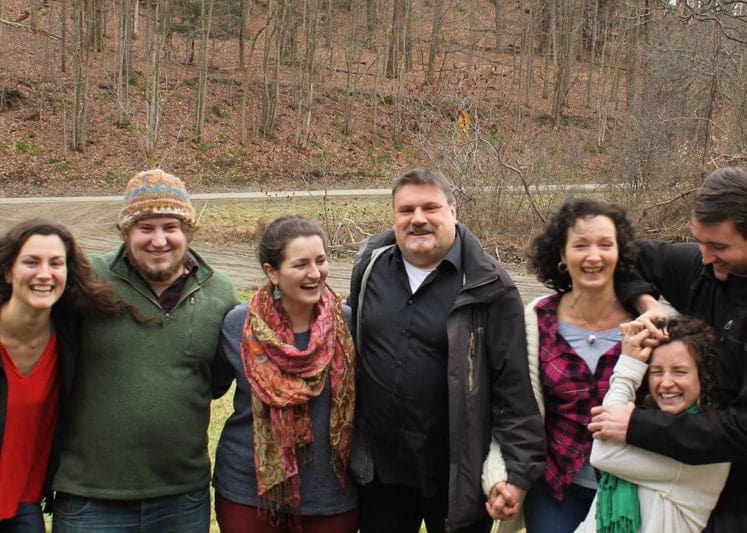 Home at Last
When I finally got back to Orkney, I thought I would simply settle into lovely, slower-paced island time. I was deliriously happy, and yet there were stressors, too. My 28-year-old stepson, who'd been living with Tom, hadn't found an apartment in the time that I'd been away, so there was a lifestyle clash to deal with when I most needed calm. It wasn't a good time to feel alienated in the space that was meant to be mine, having given up everything to come here. It wasn't easy for any of us, but eight months after my arrival, Danny did finally find a place.
Being a "highly sensitive person," I knew that taking root in my new home was going to take time, but I still find myself liable to slipping into "New-Yorkie-Brain," as Tom and I call it. This is my tendency from long years of trauma to get super-alert and stressed when it really isn't necessary. Island time will take more time to find, I'm afraid, while I recalibrate old habits that once helped me to survive, but no longer fit.
The thousands of micro-changes of living in the UK were stressful, too. I hadn't expected so many differences. America and the UK are both English-speaking countries, but we truly are "two nations divided by a common language."
It was frustrating having to stop and think about so many everyday actions, not getting the jokes, people giving me the quizzical look that meant they hadn't understood what I'd just said, not understanding the cultural references, and on and on and on.
New Folk
I was fortunate in having a husband who grew up in Orkney. Tom is well-known and well-liked, and I think most people here were predisposed to like me … as long as I was nice to their friend. It was helpful having a large circle of friends to step right into, though I've been here for three years and still have trouble remembering all the new names.
One strange thing that I've noticed in the scenario where one partner is coming into the other partner's homeland is that it can make you feel like a nobody. You have no past, as far as your new community are concerned. That's especially weird when you've come straight from your hometown where everybody knows you to a place where you're completely unknown.
Despite my slowness to adjust to all the changes of moving to the UK, I love my new home. I find the islands of Orkney absolutely magical, and our community is friendly and creative. Summer is lovely, with very long, lightsome days. But I especially love the dark, cozy nights of autumn and winter, when the tourists go away and we all get inspired.
What next?
I'm making a website about Orkney for potential visitors and others interested in these islands and their stories – Orkneyology.com. The website is my location-independent business, necessary to fulfill my promise to my family that I'd visit them often. Tom assists me with the bits that are his specialty, and I write my pages from my viewpoint as an "incomer" and bedazzled wanderer. I couldn't have dreamed up a sweeter life.
If you would like to move to the UK, why not book a call in with our UK experts to find out the easiest visa route for you?