The Republic of Ireland has magic all of its own. Like the people, this country's poetic and alluring charms are irresistible. But what is living in Ireland like beyond the tourist brochure?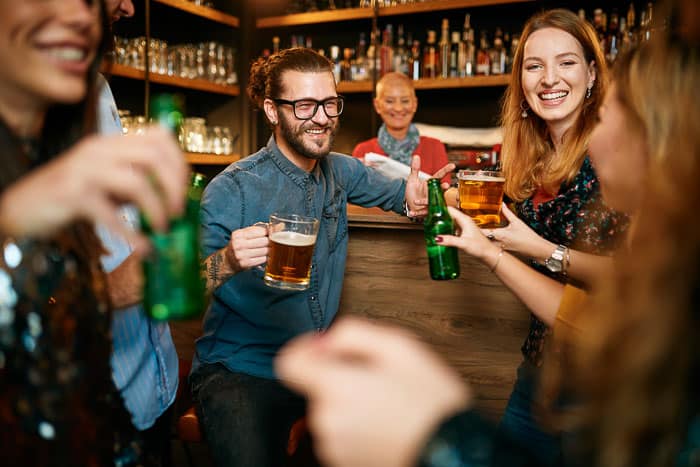 Climate
The sun does shine in Ireland, but it isn't a daily occurrence. So instead, you'll more often hear the phrase, "Sure, it's desperate out!".
Although Ireland doesn't have the highest rainfall globally, it is wet enough to earn the name "the Emerald Isle"!
Ireland has four distinct seasons. Temperatures typically range from 26 °F (ca. -3 °C) in winter to 68 °F (ca. 20 °C) in summer. Rain and strong winds are common throughout the year, but particularly in autumn. Winters tend to be overcast and stormy rather than icy or snowy, with a white Christmas only every five years on average. Spring is a beautiful time and adds to the mood when everyone celebrates the national holiday of St Patrick's Day.
Living in Ireland as an American
Ancestral roots and shared values are part of the reason that Americans are so comfortable living in Ireland. There are powerful links between the countries:
The Irish salutation céad míle fáilte, literally, "a hundred thousand welcomes," is genuine and authentic. Americans quickly feel at home. Particularly in rural areas, they find they are included in the local community in a way they don't always experience elsewhere.
Ireland is also a launching pad for discovering more of Europe. With its membership of the European Union (EU), residents of Ireland can travel throughout the SCHENGEN area countries.
---
---
Cost of Living in Ireland
Living expenses in Ireland will depend on your location. If you choose to live in Dublin, Cork, Limerick, or Galway, you will find it is more expensive, mainly due to accommodation costs. Expats can save money by living in rural areas or less developed regions.
The country is the third most expensive country in Western Europe.
The cost of some common items
Tesco is a common supermarket in Ireland. These prices are from their online shopping service.
Eggs (6 large, free-range) €1.90
Fresh apple – €0.45 each
Chicken (2 kg whole) – €4.50
Milk (liter) – €1.30
Loaf of Bread – €1.50
Other common items
Health Insurance from €30 to €200 per month.
Gas/petrol per liter – €1.20 to €1.50
Rough average monthly outgoings, excluding rent, for a single person can be around €800, and for a family of four, around €2,500.
Eating out is possible for as little as €10-15 per person for a typical pub grub meal. A set-price meal at a good restaurant will cost between €19-€30 per person.
Dublin is the most expensive city in Ireland, followed by Cork and Limerick.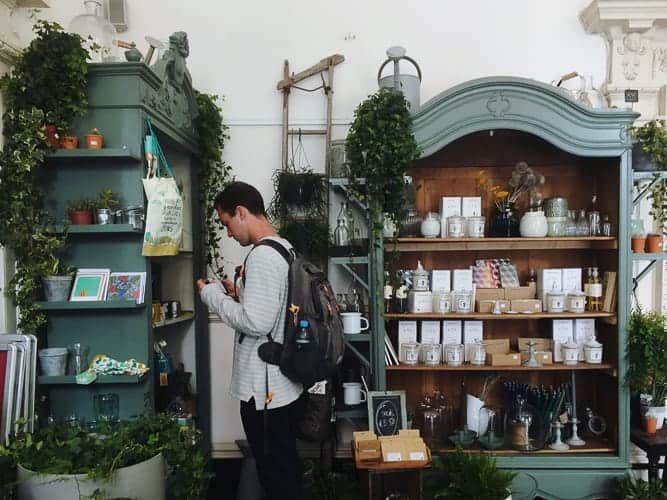 Cost of Living Statistics
According to OECD statistics, the average disposable income in Ireland is USD $25,300 per annum and ranks above average in jobs and earnings. However, in Ireland as in many countries, the gap between the richest and poorest is quite high. The top 20% of the population earns almost five times as much as the bottom 20%.
The US State Department's mean per diem rate for Ireland is around the same as Australia, Japan, and New Zealand. However, the rate for Dublin jumps another 30% showing the capital city cost difference.
Traveling around Ireland
Public Transport
Inter-City public transport
You can travel throughout the country by rail and bus.
There has been a massive investment in modern, air-conditioned inter-city trains. However, the routes mainly radiate from Dublin and do not cover all the country. You can buy tickets in advance at a discount. You can also purchase tickets when you arrive at the station on the day of travel. The cost of a train journey from Dublin to Cork is between €12-€20.
Another option is to travel by intercity bus– the fare from Dublin to Cork costs between €18-€36 each way.
All of Ireland's main cities are well covered by public bus systems. Most people use this public transport network every day. They offer great value and efficiency.
The easiest way for you to get around Dublin City is by the above-ground metro or tram. The tram network, known as Luas (the Irish word for speed), is cheap, safe, and efficient. Luas is integrated with other public transport options as a part of the DART (Dublin Area Rapid Transit) program.
Most public transport networks accept the Leap Card, which you can top up as required. You can also download the Leap app and use your phone to pay for bus and tram travel.
There is a free Journey Planner app for Ireland, which gives you all the options for travel around the country.
---
---
Taxi
You will see taxi ranks at airports or in larger cities. Taxis in Ireland use a meter to calculate fares. The basic daytime charge per ride is €4.00, plus €1.35 per km in Dublin.
Air Transport
Dublin has an international airport hosting Ireland's airline, Aer Lingus, and Ryanair, a budget airline. There are many flights from Dublin to North America, but very few direct flights. A non-stop flight to New York from Dublin takes 7 hours 30 minutes and costs upwards of USD $600 for a round trip.
You can fly quickly and cheaply from Ireland to most European capital cities.
Ferries
There are two ferry routes operating between Ireland and England, which run 20 sailings per week.
Driving in Ireland
If you plan to live in Ireland for a longer period, you may want your own car. Although it is not a big country, winding roads and small towns are a great way to get to know Ireland. Experience the quaint small villages and remarkable scenery as you explore. You never have to go far to see something new.
In Ireland, you drive on the left side of the road. You must register your car, and you need to have valid insurance. In a rental car, you must carry a copy of the rental agreement whenever you are driving.
Roads in Ireland are in good condition and are safe. Road fatalities have dropped year by year, and in 2017 Ireland had the lowest numbers since records began.
Speed limits
Urban areas: 50 km/h (30 mph)
Single open roads: 80 km/h (50 mph)
National roads marked by a green sign: 100 km/h (60 mph)
Freeways: 120 km/h (74.5 mph)
Penalties and fines for breaking road rules
There are penalties for breaking the major road rules. These include:
Licensing Offenses
Fail to Display Insurance Tax
Learner and novice drivers
Parking Offenses
Speeding Offenses
Drink or Driving Drug Offenses
Using your mobile phone while driving
Careless and dangerous driving offenses
Roadworthiness of Vehicle
Fitness to Drive
Drink drivers face a three-month driving ban if they are found to have a blood alcohol concentration between 50 mg and 80 mg. Check citizens.ie for detailed information.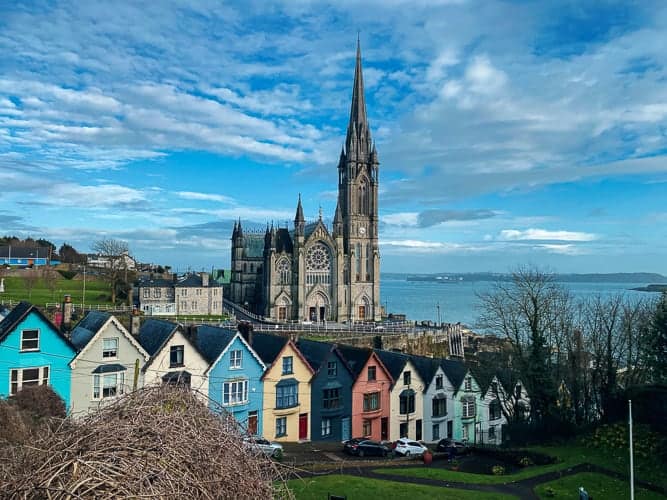 Is Ireland safe?
Ireland is one of the most peaceful places to settle in. By most measures, it is one of the safest countries in the world. Levels of crime are low, and in many country areas, almost non-existent.
The impact of political violence has declined massively over the last two decades in the wake of the Belfast Agreement. However, there are still isolated outbreaks of protest on some days in disputed areas. When you read some foreign media, these incidents are sometimes exaggerated and blown out of proportion.
That being said, it is wise to be alert and keep your possessions safe. Keep clear of rowdy groups that may have had too much of a good time, especially in populated areas.
Leisure and Tourism
Places to Visit
Dublin – the capital city. It has a rich culture, and it's a living museum of Ireland's history.
Ring of Kerry – This is a scenic destination in the southwest part of Ireland. It's an abandoned Christian monastery on the rocky island of Schellig Michael.
Cliffs of Moher – located in County Clare, is one of Ireland's most visited sites. The beautiful view and breathtaking cliffs attract many visitors.
Connemara – one of Ireland's National parks in the west of Galway. There are wonderful views of mountains, lakes, and heathland. Connemara ponies, traditional Irish music, and the famous Gothic castle of Clifden are all there in Connemara.
Sports
Gaelic football. Living in Ireland, you will soon learn that the most popular sport in Ireland is Gaelic football. The best place to watch this sport is Croke Park in Dublin.
Hurling is another native game played by two teams equipped with sticks (hurleys), chasing a small ball across a football-sized field.
Golf. Ireland has some of the best golf courses in the world. Five of them are in the top world rankings.
Other popular sports are rugby, football, volleyball, boxing, cricket, and equestrian sports.
Irish Pub Life
You can find Irish pubs all around the world; they are so good that everyone wants one. They are a unique part of Irish culture and are the center of social life in many country towns. You can enjoy good food and drink, music, and lively debate in an informal, relaxed atmosphere.
As Irish poet William Butler Yeats said, "There are no strangers here, only friends you haven't met yet."
Historically, since the 10th century, the local pub has been the hub of Irish life. It's a meeting place for everyone, from poets to revolutionaries. It has served as a grocery store, funeral home, job center, and music venue. There are over 6,000 pubs in Ireland, and the pub can be a significant part of the Expat experience.
Irish Dancing
Irish Ceili (pronounced "kay-lee) is famous throughout the world. If you want to get involved, you can visit festivals where local people often lead the dancing. Alternatively, look out for "Rambling Houses," particularly in Ballyhoura, an area between north Cork and east Limerick. These historic places teach Irish Set and Ceili Dancing.
Working in Ireland
Living in Ireland offers the chance of well-paid employment. The average annual salary is nearly €49,000. In 2020, the unemployment rate in the country was approximately 5.16%.
Working hours are 39 hours per week, up to a maximum of 48 hours.
Generally, a full-time employee receives four working weeks' paid leave per year. Work-life balance has become very important, not just how much money is in your paypacket.
There are strong protections of workers' rights in many cases. For example, employers must pay overtime or something similar for Sunday work. Another example is that night workers are entitled to have a free health assessment before starting night work.
The standard rate for income tax is 20%, increasing to a higher band of 40%. The band you are in will depend on your personal circumstances.
For information on finding work in Ireland, please see our Moving to Ireland guide.
Ireland has an excellent infrastructure to support remote work. During the pandemic, Ireland has had one of the highest rates of employees working from home.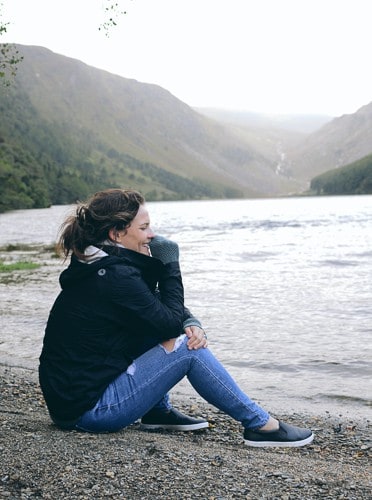 Education
If you have children, then you will need to consider their education when living in Ireland. The law requires children from the ages of 6 to 16 to receive an education. Individuals may choose to stop school at 16 or continue studying until they finish the final three years of secondary school.
All public school levels, including primary, secondary, and tertiary, are State-funded.
Homeschooling is legal in Ireland, and there is no requirement to have a curriculum and timetable. There are two steps if you want to homeschool your children. First, submit a form to an office of the Child and Family Agency (TULSA), and then come to an interview to assess your plan.
There are a number of private schools in Ireland favored by Expats. Most of these are in Dublin. These cost upwards of €7,000 a year for day pupils and significantly more for boarding.
Best places to live in Ireland
If you are looking to move to Ireland, the most popular places for Expats to live are:
Dublin: The country's capital is particularly popular with young professionals. As well as hosting the most significant business hub, Dublin is renowned for its pub life and nightlife. With so much going on, you're guaranteed not to get bored. But be warned: Dublin is the most expensive part of Ireland and, as with most major cities, some areas have high crime rates.
Cork: Ireland's second city sits on the south coast and boasts slightly better weather. Cork has a long history of industry and trade and is now one of the fastest-growing tech and pharma centers in Europe. It's known as the foodie capital of Ireland.
Galway: Located on the west coast, Galway is the Cultural Heart of Ireland and has a vibrant art and music scene. It is arguably the best area to experience the Irish community's culture, language, and traditional music. It offers excellent business opportunities, as well as being one of the more affordable places to live.
Limerick: In Ireland's mid-west, Limerick offers all the advantages of city life in Ireland within easy reach of the countryside. The area holds some of Ireland's most beautiful scenery and tourist sights. The lower cost of living in this city affords its residents a higher disposable income than many other parts of Ireland.
Waterford: Ireland's oldest city is situated on the southeast coast, giving it stunning scenery as well as reasonable weather to enjoy it in! The city is famous for its crystal glassware production, which dates back to the 18th century. Today, it is a favorite option for Expats because of its cheap cost of living and easy access to both Cork and Dublin.
11 Facts about Ireland
Out of a population of 5 million, 10% are foreign nationals.
About 28% of Ireland's population lives in Dublin, the capital.
The currency is the Euro.
Irish Gaelic is the first official language of the Republic of Ireland. The other official language is English, and it is more commonly used.
Time Zone: GMT+1 Irish Standard Time
Calling code: +353
Emergency numbers: 999 and 112 (all EU nations)
Government Type: Parliamentary Democracy
Voltage: 230 volt AC (50 Hz frequency) – all hotels and almost all accommodations have two-pin 110v and 210 plugs.
Ireland has the youngest population of any in the EU.
80% of the population are Roman Catholic, and many laws still reflect that influence. There is no official religion, and the ESA Act prohibits discrimination on nine specific grounds, including religion, race, and gender or sexual orientation.
What is Expat Retirement like in Ireland?
You can retire in Ireland on an Ireland Stamp 0 or retirement visa, provided you fulfill the criteria. This includes a minimum monthly income, significant savings to draw on in an emergency, and proof of health insurance.
There are many reasons why Ireland is a popular retirement choice for Expats. The rich culture, stunning scenery, and slow pace of life are strong attractions. In addition, the sense of community offered by the Irish is hard to find elsewhere.
While the cities are expensive, smaller towns and rural areas can be quite affordable, meaning you can enjoy more of your pension. There are also benefits for older residents, which are available to Expats. For example, residents over the age of 66 can use public transport for free, including bus and rail services.
---
---
Does living in Ireland sound good?
Living in Ireland can be exciting and rewarding. If you're interested in finding out how you could become one of the lucky Expats in Ireland, we can help. Your first step is to understand the visa or residence permit that you would be eligible for. Have a read of our Ireland Visa and Residence Permit guides for more information.