Sunny Greece offers a great selection of locations for Expats. It's famous for its ancient philosophers, the Olympic Games, cultural heritage, cuisine, and laid-back lifestyle. Living in Greece is an attractive option for many people – particularly those of ethnic Greek origin.
Expats in Greece
One of the most popular tourists destinations worldwide, living in Greece has become increasingly attractive to Expats. Greece has improved its infrastructure significantly since becoming a member of the EU in 1981.
That said, working in Greece may prove to be difficult. Greece has a high unemployment rate and fewer international companies than in other EU countries. Many jobs require fluency in Greek. You may get the best of both worlds if you are employed by a foreign company, or working remotely while residing in Greece.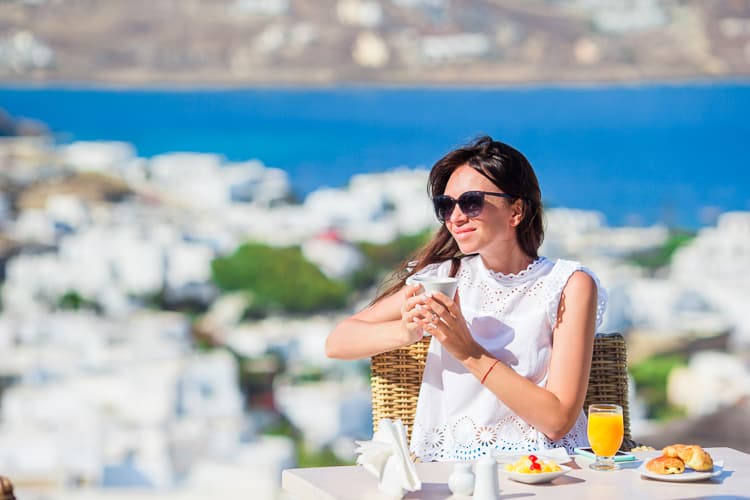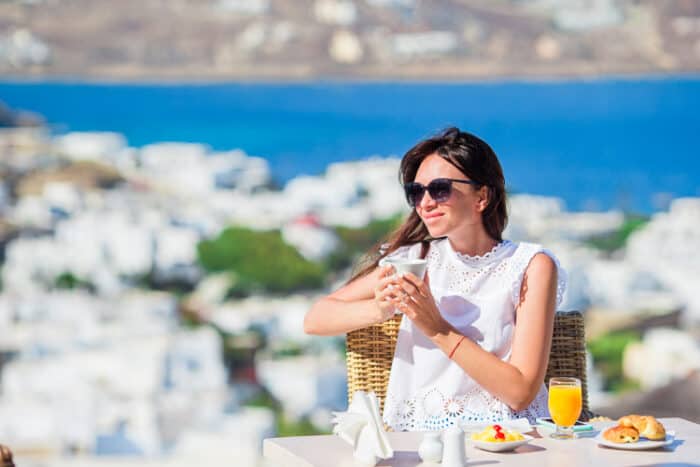 Great Value for Money
Greece is one of the cheapest countries to live in Europe. Prices are generally 20% less than in the US.
The price per square meter in Greece for real estate costs €3,620 on average, according to the Global Property Guide. That's approximately US $4,320, compared to the average price per square meter in the US of US $17,190.
Commendable Healthcare
Emergency healthcare is free to everyone in Greece. Doctors usually speak English, even in remote parts of the country.
However, Expats in Greece usually opt for private health care. This covers you for non-emergencies and means you have shorter waiting times for treatment.
The Greek Language: Is It All Greek to You?
Language is one of the biggest barriers to living in Greece. English is widely spoken, though, especially in the tourist areas and among professionals in the big cities. There is also a large expat network in Greece.
Greek is the official language of Greece, with 99% of its population speaking the language. The language has its own alphabet, with various intonations or sounds, and quite difficult grammar. This makes Greek difficult to learn for English speakers, and it can take a few years to get to a conversational level. There are popular language schools as well as online courses to help you get started.
Living in Greece: Is It More Expensive than the US?
Various comparisons report that living costs in Greece are cheaper than that of the US. In Greece, you can expect to pay on average €800 (US $950) per month for a single person. That's 50% less expensive than the average cost of living in the US.
Comparison sites show all aspects of Greek life to be significantly cheaper. The only exception to this is the cost of gas which compares at US $0.69 to 1.93 per liter (US to Greek).
Despite this, Greece is more expensive than the world average. The country also ranks 69th out of 197 countries by the cost of living.
Moving Around
Traveling around Greece is fairly easy. There are a lot of transport options. Since Greece has many islands, ferries are plentiful and popular. The country has many ports for both passenger and cargo transport. For some, using a ferry is a better option than flying.
If you are traveling by land, you will use trains, trams, the metro, buses, or taxis. Trams and the metro are only available in Athens, although a new metro system is under construction in Thessaloniki. Buses are the primary form of land transportation in Greece. Buses have routes from cities and small villages all over the mainland. You can also reach the island of Corfu by bus from the capital.
You can buy tickets and passes at ticket booths and machines located at stations. For ferries, it's better if you book your tickets online in advance.
International Travel
The main international air travel hubs are in Athens and Thessaloniki. Flights take about 15 hours to the US and normally operate a frequent service. Flights from Thessaloniki go to Boston; and Athens serves New York, Newark, Philadelphia, Boston, and Chicago. Check out the latest COVID-19 guidance on travel before making plans.
Driving in Greece
Greek drivers drive on the right-hand side of the road. Speed limits in Greece are as follows.
Urban roads: 50 km/h.
Rural roads: 90 km/h.
Freeways: 130 km/h.
Driving under the influence is illegal. Police can impose fines on the spot. If you get a fine, you must pay within ten days at a Public Treasury Office.
Can I Drive In Greece On An International Permit?
If you're going to travel around Greece by car, you'll need to secure an International Driving Permit. Greek regulations require foreign drivers to have an IDP, as well as a state-issued driver's license in order to drive. If you live in Greece for more than 6 months, you need a Greek driving license.
To exchange your current license for a Greek license, you must have:
An existing license that is still valid. You will need to surrender this when you exchange it for a Greek license. You also need a translation of your foreign license, and a translated declaration from your home state that you have no traffic violations.
Proof that you are living in Greece. This is usually your Residence Permit, issued at least 6 months previously.
Certificates from two doctors (pathologist and oculist) that you are healthy enough to drive.
ID (passport or identity card) and a color passport photo.
You apply at the nearest Transport and Communications Department in Greece. You have to pay €18 stamp duty and €30 printing fee for your new license.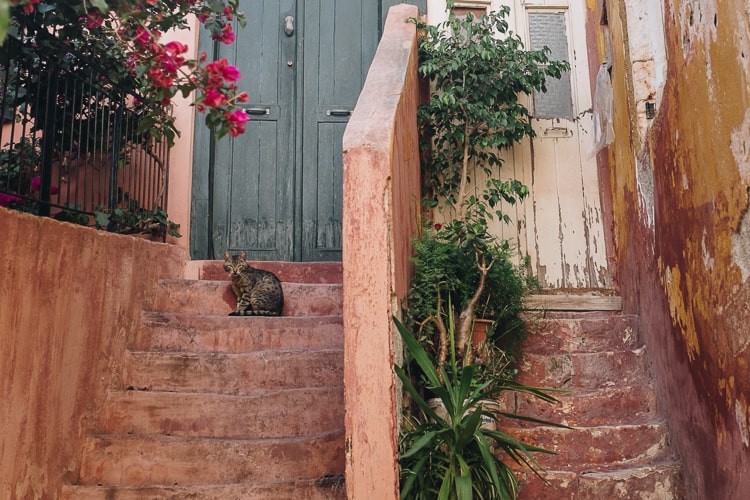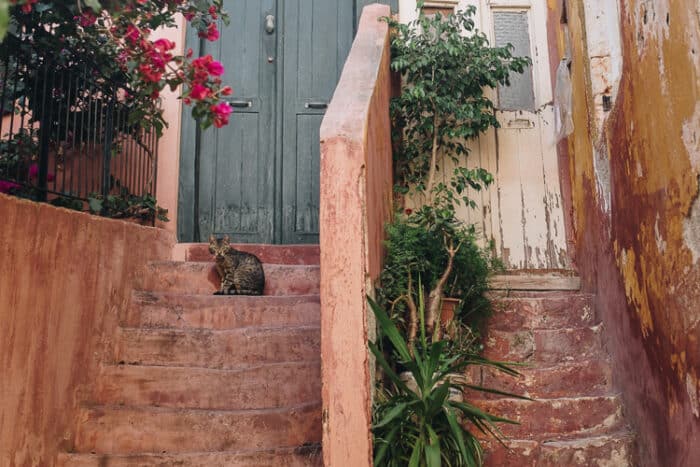 Is Greece Safe for Me?
Greece has a relatively low crime rate. In fact, the country ranked 57th in the 2020 Global Peace Index, moving eight places higher since the last ranking.
The most common crimes in Greece are non-violent crimes such as purse snatching and pickpockets. These burglaries often happen in tourist spots and in the bus or metro. Sexual assault cases are rare.
The low crime rate is also shown in Expat surveys, where the general view is that living in Greece is safe and secure.
Greece's road accident fatality rate is higher than average in the EU. In 2019 alone, 694 people lost their lives due to traffic accidents. So, while you're traveling – whether by bus, taxi, or car – remember to practice road safety rules.
Enjoying the Greek Life
Despite the tough times and recent economic woes, Greeks know how to live. A true coffee and food-centric culture, much of the enjoyment of living in Greece is eating and drinking al fresco.
Culturally rich, there are remnants of Greece's history everywhere you go. Ancient artifacts abound and museums are plentiful, with varying exhibitions from historical pieces to jewelry, Islamic art, and vulcanology.
Greece is also home to the theater. Although the theater is facing a decline due to the high price of tickets, it's still popular. One group that's touring Greece and the world is the Hippo Theater Group. You can see them do acts in theatres all over the country. There's also the Athens Epidaurus Festival, a theater festival held in Athens and Epidaurus from May to October.
Greek Cuisine
Greek cuisine is, undeniably, one of the greatest draws. Home of gyros, tzatziki, Kalamata olives, and feta cheese, Greek cuisine has its triad basis of wheat, olive oil, and wine. Vegetables, grains, fish, and meat are also common ingredients in Greek food. Here are some dishes to try to cook while you're living in this gastronomical haven.
Life on the Water
Wherever you are in Greece, you're never more than 85 miles from the water. Many Expats come to Greece, to enjoy boating, sailing, and yachting, with some even choosing to live on board. There are lots of options for experiencing life on the water. You can charter a gulet, or join a flotilla. There is no end of islands waiting for you to discover.
Jobs and Working in Greece
EU citizens can live and work in Greece and must apply for a residence permit after three months. This is a simple formality that involves registering with the local police. Non-EU citizens must go through a more formal immigration process, first securing a work permit. This takes the form of a visa. You can apply for one at a Greek Consulate Office near you.
Greece has a minimum wage of €683.76 per month. Work hours are forty hours per week. However, a company can implement a collective working time arrangement which can reduce work hours. Paid employment leave starts at 20 days per year for full-time employees.
Jobs for US Citizens
If you don't speak Greek, there are still some job opportunities for you in Greece. These jobs are mainly found in teaching English, or in the tourist industry, but there are other sectors as well. You can search for jobs through online platforms such as GoAbroad and Indeed.com. You can also be an overseas representative of an American company in Greece or work at the Embassy.
Is Remote Work Possible?
Yes, remote work is possible in Greece. In 2020, in a bid to attract digital nomads to Greece the Greek government updated the tax code. They passed a law that cuts income tax from foreign sources by 50%. The tax cut is for a duration of seven years. You can get the tax cut if you meet the relevant criteria. For the best information for your particular situation, check with a qualified immigration lawyer.
Healthcare in Greece
The Greek public health system provides healthcare services through state providers and contracted private providers. The services are free or low-cost for individuals who contribute to the social security system.
Greece's health care system does not require referrals. Patients can directly go to specialists for consultation by visiting facilities of the National Health System (ESY). Greece has an e-Prescription system where physicians issue prescriptions for patients online.
We recommend you also opt to get private healthcare for shorter waiting times and premium healthcare provision.
Studying in Greece
Compulsory education in Greece includes the following year levels.
Two-year attendance in pre-primary school (nipiagogeio) from four years old.
Six-year attendance in primary school (dimotiko scholeio).
Three-year attendance in lower secondary school (gymnasio).
There is also an upper secondary school system in Greece called lykeio. This stage lasts for three years and classes can either be for general education or vocational education. Greece also has Second Chance Schools or SDE. These schools are for individuals who were not able to finish the nine-year compulsory education but hold the certificate of leaving primary school. Students of the SDE are eighteen years old or older.
There are several English medium international private schools in Greece. These are concentrated in the major cities like Athens and Thessaloniki, where the UK or US syllabus is often taught. Some offer the option for IB graduation in high school.
Higher Education
In Greece, Higher Education Institutions (HEIs) can be either public or private. Undergraduate Bachelor's Programs in public HEIs are usually free for international students from EU/EEA countries. International students from other countries pay fees, which can cost between €1,000- €2,000 per academic year. The costs of a Master's degree can vary widely. In the fields of Business or Medicine, you may pay up to €8,000 per academic year.
In private HEIs the fees vary depending on your program, degree, and other factors. You may pay up to €10,000 or more per academic year.
What it's Like as an International Student
Not all Greek universities and colleges offer student accommodation. You usually can find student accommodation in universities located in big cities such as Athens, Thessaloniki, and Patra. International students tend to find their own accommodation. Rental costs depend on a number of factors, such as proximity to the city center and the number of rooms.
International students are plentiful in Greece, so expect a lot of foreigners as your classmates. Classes are usually relaxed and professors encourage students to ask questions. However, class schedules are often busy. You'll start the day early, and have several lectures in a row.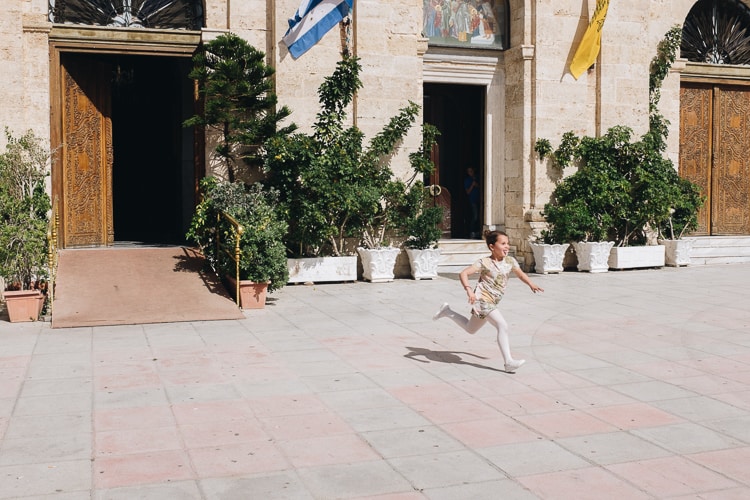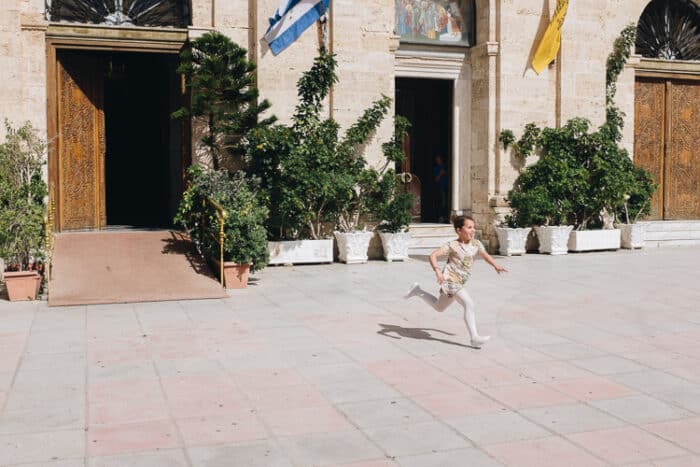 Where Do Expats Stay in Greece?
Greece has its many islands and peninsulas offering a wide choice of places to live. Greece allows foreigners to buy houses in the country without restrictions. The country has a visa program specifically for foreigners who want to invest in real estate.
Here are the best places to live in Greece for Expats, aside from the capital.
Thessaloniki
Also known as Greece's gastronomical capital, Thessaloniki offers a life in a mixture of historical and modern surroundings. Greece's second-largest city has a more relaxed vibe compared to Athens. You can enjoy the waterfront, along with the warm summers and snowy winters. Thessaloniki is one of the most affordable cities in Greece.
Patras
If you're looking for a place with great entertainment and nightlife, then Patras is for you. This city is located in the northwest of the Peloponnese region. It has a thriving downtown full of bars, clubs, museums, and shops. Patras is also a port area, so there are a lot of commercial activities in the city. Its proximity to mountains and the sea makes it an ideal place for outdoor activities. Patras has many hiking trails you can enjoy.
Chania, Crete
Living the best island life is what Chania is famous for. This city in Greece's largest island, Crete, has a growing Expat community. The strong sense of community these Expats and locals have is no match for those living on the mainland. You will enjoy locally-sourced food, particularly seafood.
If you're planning on exploring the island of Crete, then Chania is the best home for you.
Retiring in Greece
If you are an Expat looking to retire to Greece, the best route is via the Golden Visa. The benefit of this route is that your family can also become residents, and the process is relatively quick.
Where to Retire in Greece
Here are our picks for the best places to retire in the land of gods.
Rhodes
Enjoying retired life means living a quieter and more relaxed life. This is exactly the way of life in Rhodes. This Greek island has a blend of modern living and history. You can find bistros, as well as shops, tech stores, and even a public swimming pool in Rhodes. The distinct personality of this Greek island makes your retired life relaxing yet still exciting.
Corfu
This island is located in the northwest of the Ionian Sea and has a rich history. Corfu was under the rule of different nations over time, including the Italians, Spanish, and British. The island also has dramatic beaches, so you'll definitely feel in touch with nature. Living in Corfu is affordable, and there's a great supply of local produce.
Kalamata
Kalamata in Southern Greece is renowned all over the world for its olives named after the city. However, Kalamata is not just about its olives. The city has majestic coastlines where you can bask in the sunshine. You can also find traces of the past in the city's Old Town and in Messenia's Archeological Museum. Life in Kalamata is full of sunshine and rich food, all perfect for that retired life.
Consider this …
If you are looking to retire to a Greek island, some of these shut down quite significantly over the winter months. If you love isolation, this may suit you, but many Expats choose areas that stay connected to the outside world all year long.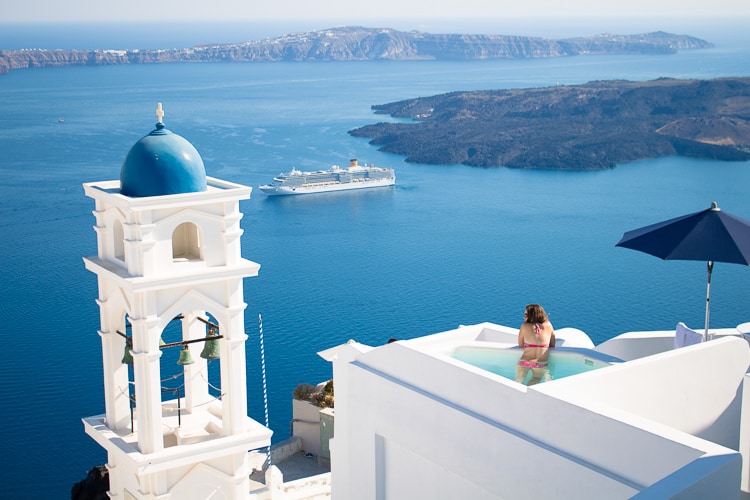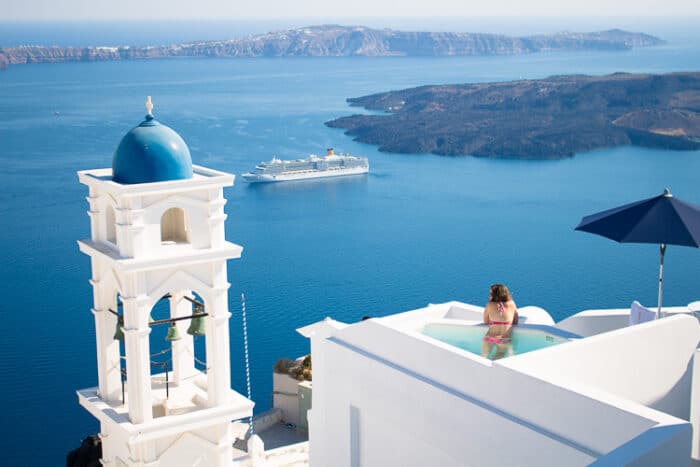 Greece: Fast Facts
Country name: Elliniki Dhimokratia, Hellenic Republic, Greece
Location: Southeastern Europe
Area: 131,957 km²
Government type: Parliamentary Republic
Capital: Athens
Currency: Euro
Language: Greek (Official)
Religion: Greek Orthodox Church (Official)
Time zone & Local time: EET – Eastern European Time; UTC +2h
Emergency number: 112
Calling code: +30
Climate: hot, dry summers and mild, wet winters
Population: 10,423,054 (2020)
The Greek flag has nine blue-and-white horizontal stripes. This represents the nine syllables of the phrase "Eleftheria i Thanatos" – Freedom or Death.
Living in Greece: What's It Like Living as an Expat
There are a few things that make an impression while living in Greece as an Expat. You can freely express yourself in Greece. If you are annoyed, then say so. It may sound rude to others, but, in Greece, it's not. Family is also important in Greece. Like Italy, the Greeks value family (along with their health) very highly.
Living in Greece has a more relaxed feel. It's like time is slowing down. Sometimes you can feel you are going back in time because of the abundance of historical sites. Life in Greece offers a few great life lessons as an Expat.
Greece has a lot to offer, from its history to its quality of life. If Greece gets the thumbs up for your planned move, feel free to reach out to us. We'll make your move to Greece easier and sunnier. After all, it's not all Greek to us!