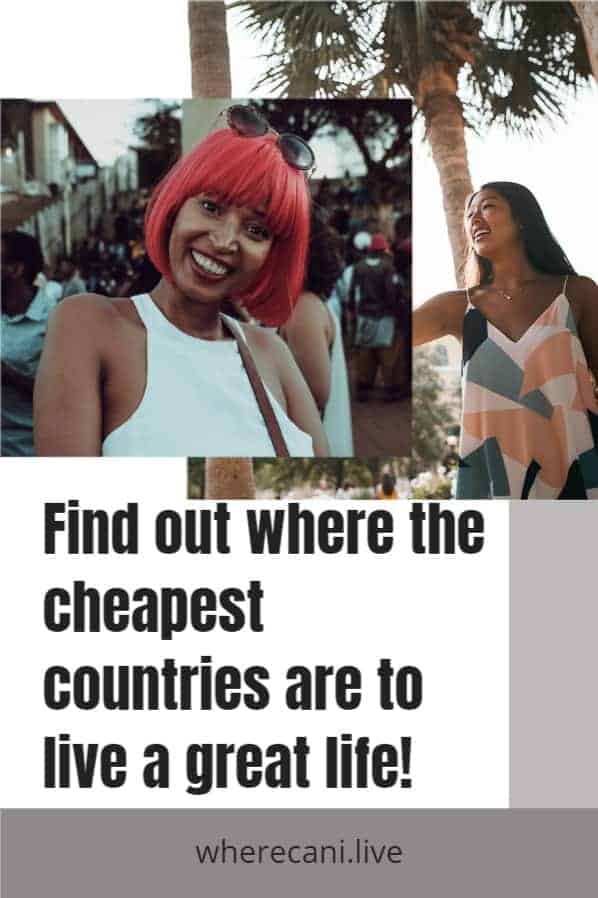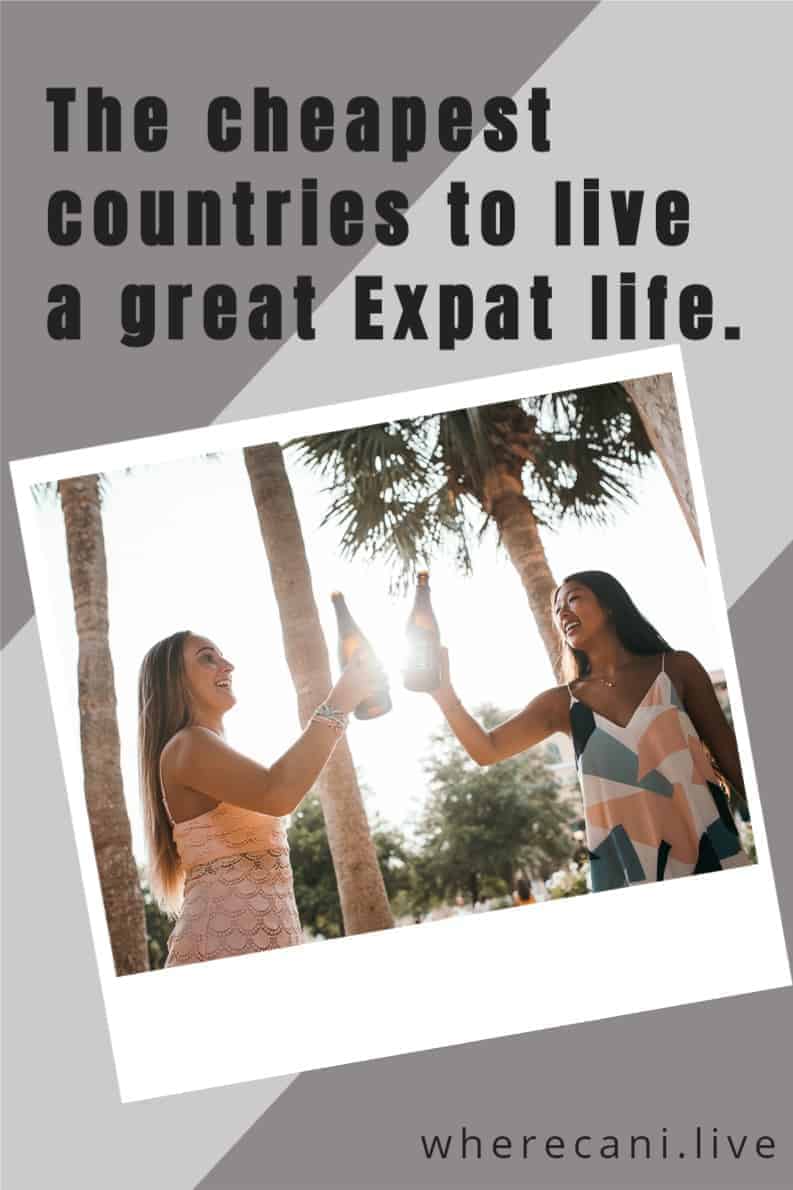 Imagine: The balance in your bank account just tripled. How would that change your life? Moving to one of the cheapest countries to live in could have the same impact. Our focus is the cheapest Expat countries that are common choices for moving abroad. These are countries with low cost of living and high quality of life. We'll also share the cheapest countries to live in Europe (and those that speak English).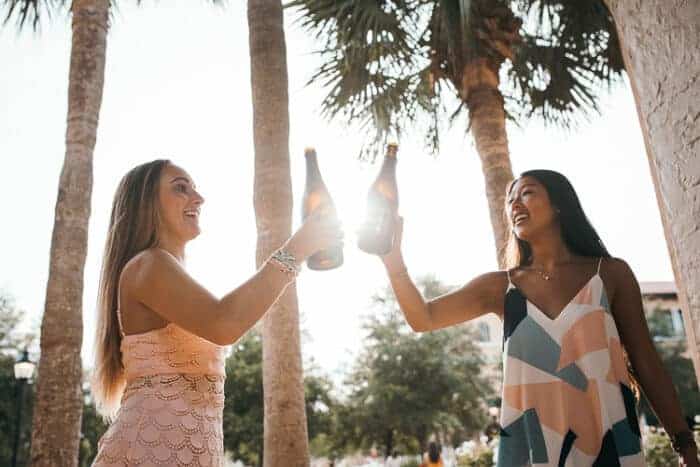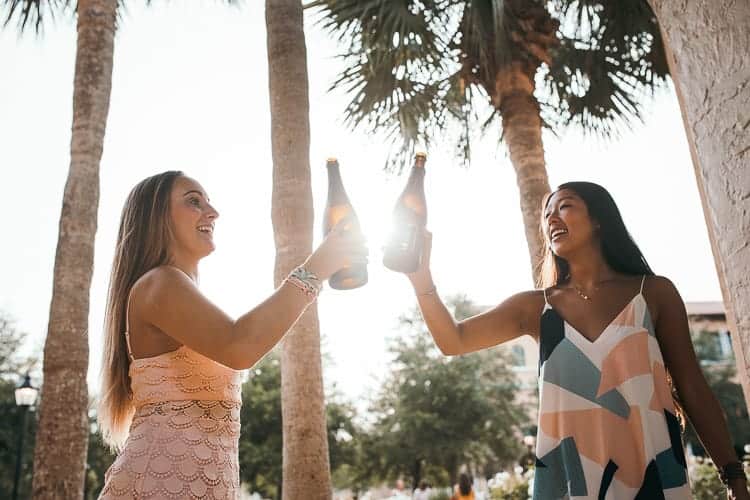 What makes a country affordable?
Your choices will impact your cost of living, regardless of the country.
Major cities vs. small towns.
Living on the coast vs. living inland.
Restaurants vs. home cooked meals.
Domestic help vs. DIY
Golf vs. Gardening.
Car & driver vs. catch the bus.
Public vs. Private healthcare and education.
The best value home is one that suits you and your family, not just your budget.
See here how we calculate the cost of living for our choices. [link to calculation section]
The WCIL cheapest countries to live in for Expats
We show you why we select these countries in the sections below.
Cheapest countries to live in Europe
Portugal
Bulgaria
Montenegro
Spain
Czech Republic
Poland
See here for more detail on the low-cost countries to live in Europe.
Affordable countries to live in the Americas
Panama
Argentina
Costa Rica
Grenada
See here for more detail on Cheap options to live in the Americas.
Affordable countries in Asia
Cambodia
Thailand
Vietnam
See here for more detail on Cheap nations to live in Asia.
Cheapest place for Expats to live in Africa
South Africa
Kenya
See here for more detail on the low-cost countries for Expats to live in Africa.
Cheapest English-speaking countries (>60% of population)
Philippines
Malaysia
Argentina
Croatia
Poland
See here for more detail on the Cheapest places to live in the World that are English speaking.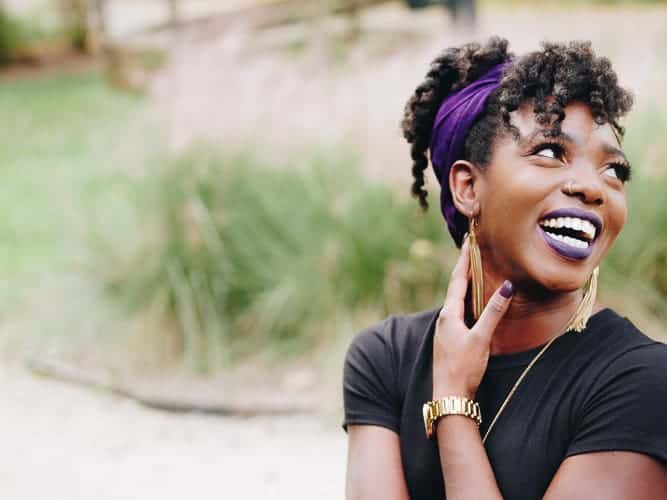 Cheapest countries to live in Europe
While the European Union (EU) includes 27 member states, Europe sometimes means the entire continent, including around 50 countries. Here are two EU choices and one from the wider European group.
Portugal
Living In Portugal is, for many, the best value country in Western Europe. Move here, and you'll have amazing variety and world-class attractions for less budget than you'd imagine. While top-end properties in the biggest cities of Lisbon and Porto are not cheap, they still provide real value for money. And, outside those centers, your money will go a very long way.
The average annual household income is €19,000, around 60% of the OECD standard.
Food is consistently cheap and excellent; this is true from supermarkets, local specialty shops, and restaurants. Happily, beer and wine are also excellent value.
The country has excellent affordable healthcare and education. There are extensive transport options, and internet and communication services are cheap and reliable. You will also spend less on your utility bills than in many countries with a similar standard of living.
There is a consumption tax (like VAT) called IVA. This tax has three levels, with the general level at 23%. But, it is not the highest in Europe, and because the tax is on smaller base costs, the impact is much smaller. The reduced rate is 6% and is on non-processed food and accommodation. This rate means these big-ticket items on your money bill attract much lower tax levels.
Portugal offers fantastic value and also has high English-speaking capabilities.
Bulgaria
Bulgaria is a country of 7.5 million people situated in South-Eastern Europe. It tops many lists as the cheapest country in Europe, and it delivers excellent value for your money.
Bulgaria is a stable democracy and is a member of the European Union and NATO. But the average salary in Bulgaria is just €400 per month.
For those coming from other first-world countries, everything will seem cheap in Bulgaria. You could rent a lovely two-bedroom apartment near the center of the capital city, Sofia, for less than €300 a month. You can pay as little as €50 per month for your utilities, and a fast internet connection will be around €15 per month. A beer and a pizza can cost as little as €5 in a lovely café in the capital, Sofia, and travel costs are cheap.
Head out of Sofia for even better value. The second city, Plovdiv, has rental prices of about 60% -70% of an equivalent place in Sofia. A move to some of the more remote areas of Bulgaria will offer even bigger bargains.
Montenegro
Montenegro is a small country on the Adriatic Sea. It has outstanding natural beauty and a range of options for Expat living, but an average salary of just €511 per month.
In Montenegro, your accommodation will vary. And, the cost may vary depending on the season as well as location. Beachside housing that is cheap from October – June will be expensive during the prime summer months. Tourist areas like Kotor and Budva feel this more than most areas.
Groceries are very reasonable and are generally of excellent quality. Budgeting €25 per week would not be unreasonable.
Private health insurance can be as little as €300 per year. However, some choose not to use insurance as a doctor's appointment can be as little as €15 to see a GP. And, standard prescription medicines are mostly less than €10.
Czech Republic
Expats rate the Czech Republic's cost of living as very affordable compared to an equivalent US lifestyle. And, outside of Prague and other major metropolitan areas, prices are even better.
Cheapest options to live in the Americas
Central America, South America, and the Caribbean enjoy a wide range of options. Happily, some of these low-cost countries are also some of the most welcoming.
Panama
The affordable cost of living in Panama is one of the attractions for many people who move here.
Panama links its currency, the Bilboa, to the USD at a 1:1 exchange rate. The average salary in Panama is around USD $1,300 per month. Utilities, including high-speed internet, are also cheap, even for the region.
The fact that Panama has a zero % tax rate on foreign income also makes a massive difference to many budgets!
The Panamanian government actively encouraged health tourism. This policy has driven a world-class private health system that costs a fraction of equivalent care in the USA.
Local food, both in supermarkets and restaurants, is reasonably priced and of excellent quality.
Argentina
Living in Argentina is popular with migrants from around the world. Savings vs. life in the US is significant, with an average salary of around USD $800 per month in Argentina.
The Argentinian peso has dropped in value over time versus most currencies in recent years. This deflation means that offshore income and savings go much further. Anything imported will be expensive, but you'll pay less for locally manufactured or produced items than you'd elsewhere.
Apartment and house rental prices could be as much as 75% less than an equivalent place in the US.
Eating out, entertainment, and playing sports will all cost a fraction of what people from the US and Europe are used to.
Argentina has many visa options that Expats are taking advantage of, see more with our Argentina Visa and Residency Permit guide.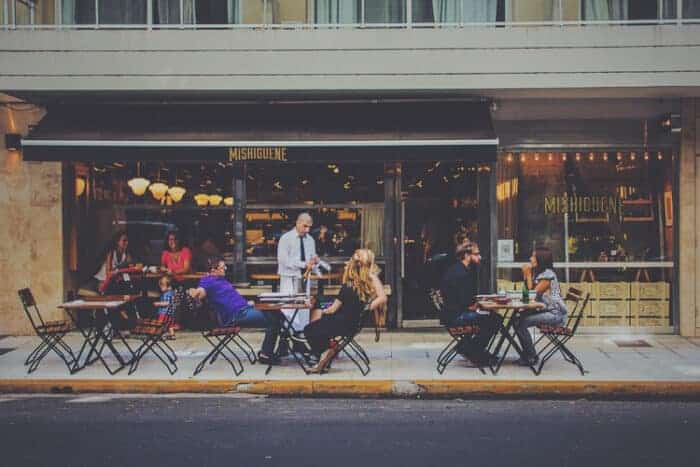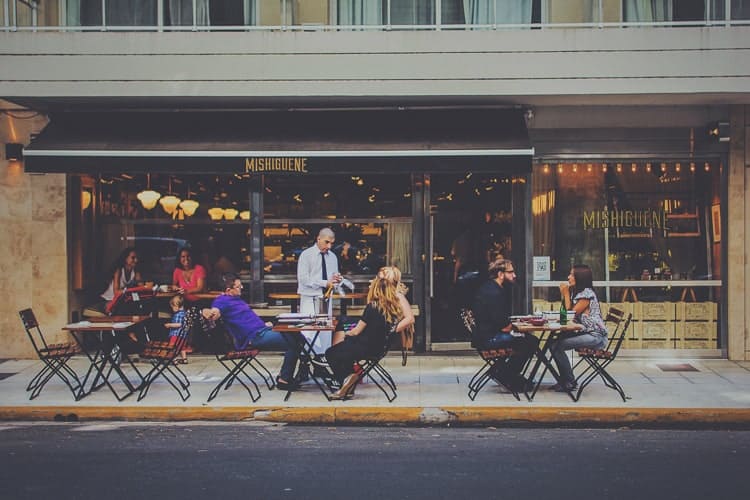 Grenada – Cheapest Island to live on in the Caribbean
We've included Grenada as a low-cost place to live in the Caribbean. It is not the cheapest countries to live in, but it offers excellent value if you want a Caribbean island life.
As many things are imported, there is an extra cost, but local produce and food are very cheap.
Accommodation and property are as much as 50% lower than the equivalent in mainland USA.
Healthcare on the island is satisfactory, but you should buy health insurance for serious issues. Should you want advanced or emergency care, you'll often require transport off the island. Without inclusive insurance, this could be expensive.
Grenada is one of the cheapest islands for Expats in the English-speaking world.
Cheapest places to live in Asia
Asia is the biggest continent on the planet and consists of around 50 countries. It has five of the most populous countries in the world. And, about 60% of the world's population live here.
Cambodia
Cambodia has had 15 years of steady growth but started from a very small relative GDP. Average salaries in Cambodia are as little as USD $60 – USD $100 per month, depending on where you are. Living essentials are priced accordingly.
Prices of accommodation, utilities, and food are very reasonable. A comfortable cost of living for a couple could be as little as USD500 each.
Cambodia is fast attracting global migrants. The capital city, Phnom Penh, is where many newcomers live, with a luxury apartment a popular choice. The idyllic coastal towns and the pristine mountain areas are both popular. While prices are rising in these areas, there is still affordable real estate available. For those content to live without all the comforts, smaller towns cost less as a destination.
Expat health insurance is cheap and covers primary care where you are and specialist care in larger centers.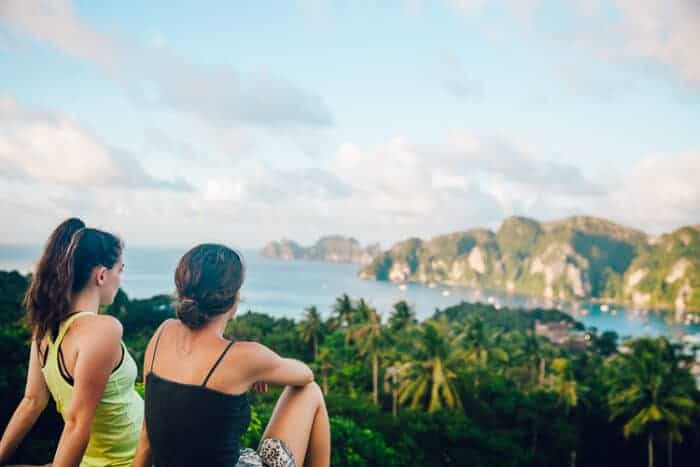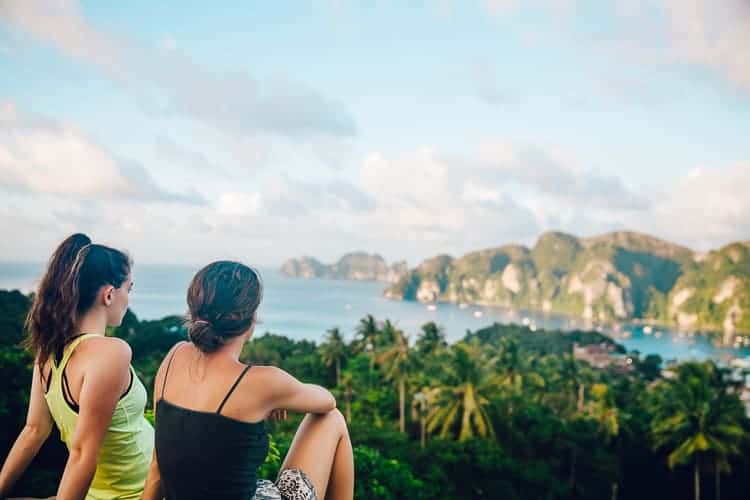 Thailand
Thailand is famous for the affordable cost of living that international visitors enjoy. The beautiful kingdom is consistently ranked as one of the best places for Expat quality of life.
The average salary in Thailand is around USD500 per month.
Cost-of-living is a fraction of the equivalent in Western Europe. And, for that money, you get access to world-class healthcare and some of the most beautiful places on the planet.
The capital city, Bangkok, is an old favorite. However, cities like Chang Mai, Koh Samui, Hqau Hin, and Phuket are also popular. Digital nomads, retirees, freelancers, and remote workers all find so much to love in these tropical paradises by the sea.
Thai food, culture, and welcoming people make this an irresistible package for growing numbers of international residents. And, a couple can live well on around USD $2000 per month renting a city apartment. This budget is possible even in a destination popular with international and American residents.
Vietnam
Vietnam is rapidly attracting more and more long-term residents. The country is a great melting pot of cultures, with a range of attractions.
Vietnam has an average salary of around USD $250 per month.
Accommodation is cheap and plentiful, caters for all tastes and budgets. From a small bedside apartment to a luxury mountain villa, you'll find what you're looking for at a mind-blowing price.
Food ranks high on many visitors' favorite things about Vietnam. From a market to a street vendor, and top-end cuisine, Vietnam has it all. And, the only thing better than the taste is the price.
Expats report comfortably living on USD $500 – USD $1200 depending on how luxuriously they live. This budget often includes domestic help with cooking and cleaning.
Health insurance is cheap, and most private medical centers offer easy access to foreign-trained, English-speaking medical staff.
Cheapest countries to live in Africa
Africa has some of the most affordable destinations in the world, but not all are popular with Expats. We'll focus on two countries that enjoy great value cost-of-living and have significant international populations.
South Africa
In 2017, it was estimated that almost 1 million migrants from non-African countries were living in South Africa. The United Kingdom, United States of America, Germany, China, Portugal, and India, were the most represented.
The country has definite challenges, especially security in some areas. But, for many, this is offset by the amazing quality of life in this low-cost country. While unemployment rates are still bad, there are opportunities for employment and for location independent businesses.
The average salary is about USD1,00 per month, with a big gap between rich and poor.
The coastal hubs of Cape Town and Durban and the economic center of Johannesburg attract the most people. Even lower cost-of-living is available outside these centers if you move to a smaller town or village.
South Africa also ranks consistently highly for international families. This is due to excellent education infrastructure, cheap childcare, and domestic services.
While there are 11 official languages, English is the most used. It is the language of government, law, and business. This makes South Africa one of the cheapest English-speaking countries in the world.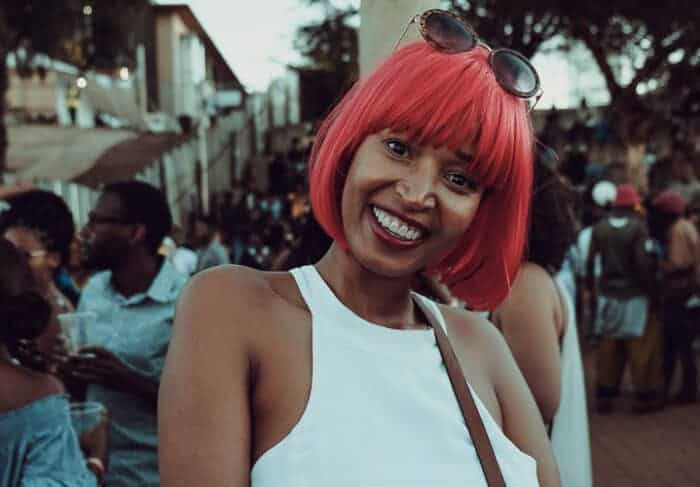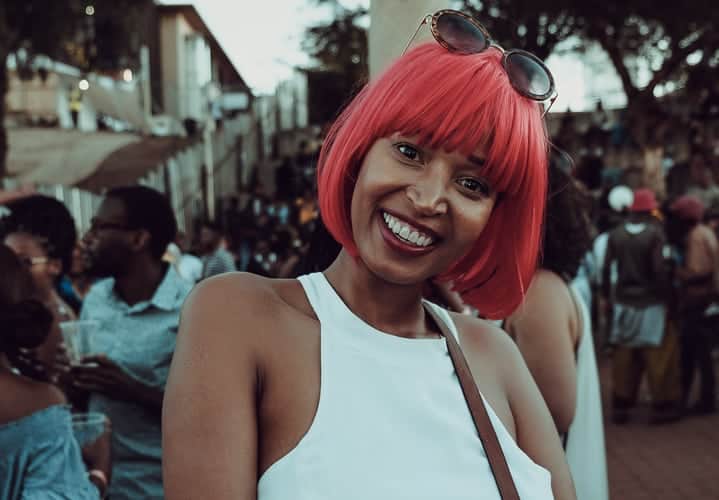 Kenya
Living in Kenya is much more than just wildlife and beaches. Nairobi is East Africa's most developed city and is a hub for regional business. Expat life will come with some challenges in Kenya, as it does in many places.
Kenya's average salary is around USD600 per month.
Expat life can be luxurious. From the city to the beaches, a budget cost-of-living lifestyle of luxury can be yours. Domestic help is economical, as is local produce, from seafood to meat and vegetables.
If the traffic of Nairobi doesn't appeal to you, the tranquil beaches of Mombasa may be a better choice.
Kenya is also an affordable English-speaking country.
Cheapest English-speaking countries
We use countries ranked as High or Very High English proficiency in the 2020 EF EPI survey. Alternatively, a selection must have 60% or more estimated English speakers.
Philippines
The Philippines consistently ranks as one of the cheapest English-speaking countries to live in. Expats can plan a very comfortable life for USD $500 – USD $1,500 monthly expenses. Accommodation, food, transport, and domestic support are all a fraction of comparable prices in the USA. It is also famous for the friendly locals.
Around 65% of the population speak English in this low cost of living nation.
Malaysia
Malaysia also ranks well for both cost of living and English-speaking capability. Rents (or buying a property) will cost you a fraction of what you pay in Western Europe. Food, including eating in fantastic restaurants, is very cheap and excellent.
61% of the locals speak English, making Malaysia one of the most affordable English-speaking countries
Croatia
An estimated 60% of Croatians speak some English, and the country is one of the most affordable destinations in Europe. Accommodation, entertainment, and transport are all considerably cheaper than in other parts of Europe.
Portugal
We've explored Portugal's status as one of the best value countries to live in Western Europe. And, it also has rapidly increasing English-speaking capability. The EPI survey ranks English proficiency as Very High, making it a great low-cost English-speaking option in Europe.
Why we exclude some countries from our lists
Many budget countries in the world are not realistic options for most people looking to move abroad. We've focused on countries attracting reasonable numbers of people looking for a balance of cost-of-living, and the overall experience. We know this makes this a subjective list, but we follow this approach as we think this provides the most value.
The countries we have profile regularly appear on Expat choice lists, not as just travel destinations. So, the competitive places for people to live are attracting families, digital nomads, freelancers, remote workers, and retirees.
While the value of these destinations is important, they are also good overall choices as a new home abroad.
What to consider when choosing a low-cost country to live in
You need to be able to get a visa to live there
The cheapest countries to live in is useless if you can't live there. You should check your visa situation and residence permit options before selecting a new home.
Many of the countries on our list offer a range of visa options; you just need to find the right one. Once you are resident you may have pathways to citizenship and a second passport.
Whatever makes you happy needs to be available there
Similarly, you'll need to decide on the things other than cost-of-living that are important to you. Does crazy city traffic drive you insane? Maybe crime and security are your number one concern. Are 300 days a year of sunshine vital to your happiness? Do you want people to come and visit?
The safest and cheapest places to live in the world
Safety and security are always important, but affordable cost-of-living countries don't need to compromise on this point. See our article on the Safest Countries to Live in the World for much more information.
Some countries with a spot on both lists include:
Portugal
Panama
Malaysia
Bulgaria
Thailand
Montenegro
How we choose the cheapest places to live
The Legatum prosperity index considers a range of livability factors for countries across the world. This includes living expenses.
US State Department per diem rates give insight into how much is required to live at a relative standard in different countries.
Numbero crowdsources in-country surveys of cost-of-living from international residents. We're careful with these, their statistics are often incomplete, and quality can be very poor.
The Expat Insider survey highlights which nations people love moving to. Part of the survey is how much they budget and spend.
Trading Economics DPI (Disposable Personal Income). This report gives insight into how much money the residents of each country have.
What is Geoarbitrage, and how does it work?
Geoarbitrage (or geographic arbitrage) is just a fancy term for making your money go further by moving. The idea is broader than just looking at cutting your expenses or the cheapest countries to live in.
Geoarbitrage is looking at your entire financial situation, not just tax and rent. Once you have a holistic picture, you can start making decisions to improve your quality of life.
Here's a simple example. Let's say you're a European Union citizen. Which would make more financial sense?
Scenario A
Live in Switzerland (the highest cost-of-living in Europe)
Owe tax in Belgium (60.2% top marginal rate)
Earn a Bulgarian income (the lowest in Europe)
Scenario B
Live in Bulgaria (the lowest cost-of-living in Europe)
Owe tax in Estonia (21.3% top marginal rate)
Earn a Luxembourg income (the highest in Europe)
All this being equal, scenario B will mean you are financially much better off. This example is overly simplistic, but it helps to demonstrate the idea.
Geoarbitrage can take other factors into account.
Geoarbitrage using exchange rates
Drawing a pension in Euros or dollars and spending it in Thai Baht or Argentinian Peso will give your income a massive boost. Your money will go much further. But, if those exchange rates shift, then moving to a new country may make sense.
Geoarbitrage for taxation
Registering your income in a low taxation country means you keep as much as possible. Countries like Portugal and Panama are known for excellent plans for non-citizen residents to minimize tax rates.
Geoarbitrage for healthcare
If you are concerned about healthcare costs or need expensive care, a move may be the answer. Argentina offers a 12-month health visa. You could live in a city in Argentina while you receive world-class medical attention at a fraction of the price you'd pay elsewhere.
Moving to a country with a fully public healthcare system means you'll never have to pay another cent towards living a healthy life.
Geoarbitrage for family
Would free childcare improve your family budget? Will a year's paid parental leave support your decision about having kids? How about free schooling and university for your kids? These are on offer in many countries.
Geographic arbitrage is not for everyone. The calculations can be complex, and you'll be changing lots of things in your life. But, with a successful geoarbitrage strategy, your financial position can improve dramatically. You should cover considerations like visas, work permits, taxation law and treaties, and more.
Is the cheapest place to live in the world the best home for you and your family?
The cheapest countries to live in the world offer an opportunity to improve your quality of life. Choosing a country with a low cost-of-living means that your income and saving will have much greater buying power.
Cheap countries to live in may have economic issues that impact you. If you will be looking for work in your new home, then the unemployment rates will be an important statistic. Unemployment rates often vary depending on location and profession, so make sure you understand more than just the headline rate of job seekers.
Happily, some of the cheapest countries in the world offer incredible benefits for Expats. Moving to one of the cheapest countries to live in doesn't mean worse infrastructure, healthcare, or education. In many cases, it is quite the opposite.
If you are considering retiring abroad, find out all you need to know in our detailed guide.