Located in the southern region of South America, Argentina is the land of diverse climates, the legendary gaucho culture, and the world-famous city of Buenos Aires. With a population of more than forty-five million, the Republic of Argentina is home to Expats from all over the world. If you're thinking of relocating to South America, living in Argentina might be perfect for you!
From taxes and transport to the best places to live and more, follow our guide to discover what life in Argentina is truly like.
The outlook for living in Argentina
Property values have dropped as a result of political and economic issues in the last few years. There have been steps by the government, the electorate, and the international community to address some of Argentina's core issues. As a result, many are optimistic about moving to Argentina. There is optimism in the medium-term and long-term outlook for Argentina, politically, socially, and economically. Forbes quoted Barclay Capital as seeing Latin America, including Argentina, as a coming growth hot spot.
Argentina continues to contribute as a valued member of the G15 and G20 economies and the MERCOSUR region.
Moving to Argentina
Moving to Argentina may be the best decision you make. More and more people have weighed up the pros and cons of living in Argentina and decided to take the plunge. What's more, Expats are moving at all stages of life, from students to those who retire to Argentina. There are many benefits for those who immigrate to Argentina, but also some risks. We'll look at the most important here.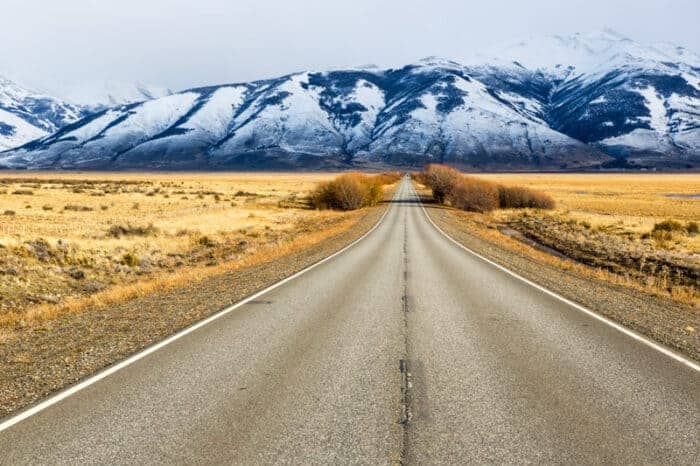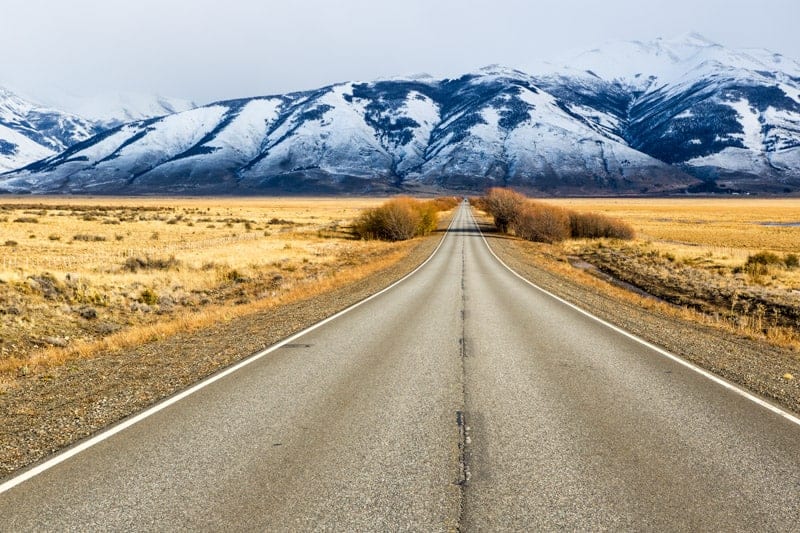 Argentina has had a difficult few years, both politically and economically. This disruption has meant a drop in the value of the Argentine peso against most major currencies. The devaluation has had several effects, but little impact on foreigners. Firstly, offshore incomes and savings have a higher value in Argentina. Your money will go much further and buy you a much higher quality of life if you are living in Argentina. Secondly, imported goods have become more expensive. This won't significantly impact you if you don't make many imported purchases.
Moving to Argentina for the low cost of living
The Where Can I Live Cheapest Countries to Live Index ranks Argentina at 61st cheapest. The average cost of living is 53% vs. Germany and 43% vs. the USA.
Argentina is a low-cost-of-living country. That said, the prices in Argentina vary, as in most countries. Buenos Aires (population 13 million) and other cities will be more expensive than smaller country towns. Having said that, a comparison with an equivalent life in the United States would be from 50% to 60% lower. As a guide, rental accommodation can be as much as 75% lower than the equivalent in the USA.
As wages are relatively low, hiring staff will require a lower amount of money than you are used to. This is true for domestic support, for services like childcare, healthcare, and domestic workers.
In Argentina, your monthly outlays will use up less of your savings. Eating out, alcoholic drinks, public transport, leisure activities, and more will be cheaper than in most countries.
You can live a much more affluent lifestyle living in Argentina for less than the equivalent rate abroad.
Imported goods, including fashion and electrical items, are one exception to the norm. The weak peso and government import duties mean higher relative prices for these items. It can also be challenging to get some imported items from time to time.
Online marketplaces like Mercado Libre (an aspiring South American Amazon) are an easy place for an idea of spending money requirements.
The cost of living is excellent for all Expats, but especially for those who retire to Argentina. Retirees on a pension or investment income have a fantastic quality of life.
This low cost of living, linked with the strong safety score means Argentina ranks 5th on our Safest and Cheapest metric.
Work in Argentina
And what are Expats doing in Argentina? Well, some Expats are working in large multinationals based in Buenos Aires. You will find oil and gas, banking, tourism, and agricultural companies. Others provide services in sectors like information technology (IT), marketing, teaching, and design.
Working in Argentina will mean you are paid in Argentine Pesos, which may mean less money than a forex wage.
There are several Argentine Work Permits for Expats who want to work in Argentina. Also, if you become a citizen, you have full rights to work in Argentina.
For those that don't want to work in the Argentine economy, running location-independent businesses or having passive income sources are options.
Having a foreign income source can be advantageous for two main reasons. Access to a foreign exchange income from offshore takes the stress out of fluctuations in the dollar vs. peso exchange rate. And, it is also a good inflation hedge. You'll need to factor in your tax status and where you pay tax.
You can live in Argentina on a Rentista Visa with an income from outside the country. This residence option is great for freelancers, digital nomads, and remote workers.
---
---
Move to Argentina for the cuisine
Argentina has many foods for which it is famous. Empanadas, the finest beef BBQ on the planet (ask any Argentinian), fresh seafood, and mountain lamb. Home-grown fruit and vegetables are tasty, healthy, and cheap. Visiting a market is a great way to shop, both for its quality on offer and the excellent value. Living in Argentina means eating well. And Argentinian wine is an attraction all its own!
Argentinians often speak English
Although Spanish is the national language, English has been a mandatory subject at school for some time. As a result, English is becoming more widely spoken. Young Argentinians and people in international business and local tourism will all speak English. Also, many people will happily practice their English with you. Add in a large Expat population, and you'll find someone who speaks your language. The English Proficiency Index ranked Argentina 27th globally for English skills in 2019.
While you'll have a much better time speaking some Spanish, it is not critical to be fluent on arrival. Even a 'gracias', 'hola', and 'adiós' will be welcome. Definitely, in the longer term, Spanish is useful for deepening your friendships and connections in Argentina beyond being a tourist.
And, while Argentine Spanish is a little different from Spain's Castellano, it is still the same language at its core. If you speak Spanish from another part of the world, you'll understand and be understood just fine.
Move to Argentina for excellent, affordable healthcare
There are both private and public parts to Argentina's health care system. Notably, the standard, considering what you pay, is overall excellent. Medical tourism is a big industry taking advantage of the quality and value of care available. This infrastructure has led to the Legatum Institute ranking Argentina's health system 46th in the world.
Many of Argentina's health professionals (including doctors and specialists) are overseas-trained and deliver world-class service. On offer are all services you would expect to find in the US or Europe at a fraction of US rates.
Expats living in Argentina generally rely on the private system. Getting a health plan is straightforward compared to the complexities of some other Expat destinations.
Medications and drugs are much cheaper than in the US. In Argentina, pharmacies are abundant and staffed by excellent qualified professionals. In contrast to some countries, dental care follows the same high-quality, low-cost model.
For those who retire to Argentina, the excellent value of healthcare is a boost to their retirement savings. Peace of mind is priceless, and knowing the healthcare system will be there for you contributes to your happiness.
As an aside, Argentina has more psychologists per capita than anywhere else. This fact means mental health care is readily available and reasonably priced. We assume it leads to a perfectly well-balanced population, but you'll have to confirm!
---
---
Living in Argentina means variety
Once you have your visa for Argentina, you can explore this vast country. Cosmopolitan Buenos Aires is a city that wouldn't be out of place as a European capital. Thirteen million people live and work in this beautiful city. Buenos Aires offers a wide range of activities; look out for concerts, theater, cinemas, parks, fashion, and shopping. The city is home to world-class five-star hotels, a range of boutique hotels, and guest houses.
There are exceptional sporting facilities, both for a participant and a spectator. And, you can enjoy beautiful day trips and weekend breaks within easy reach for a battery recharge.
On the other end of the scale is the rustic charms of the islands of the Tigre Delta. Alternatively, the Tierra Del Feugo province and the mountains offer an unspoiled paradise if you love open spaces. This region has magnificent hiking in summer and winter sports when the snow starts.
In between are smaller cities like Salta and San Carlos de Bariloche that have an attraction all their own.
There are the beautiful beaches of the South Atlantic and the temperate wine-growing region of Mendoza. Names like La Pampa, Patagonia, Santa Fe, Aconcagua, and more. Living in Argentina means you have the 8th largest country by area at your disposal. Amazingly, it has a coastline of almost 5,000 km. There is a perfect home for everyone who moves to Argentina.
The country is diverse climatically. The far north is sub-tropical, there are desert regions, and the far south is polar!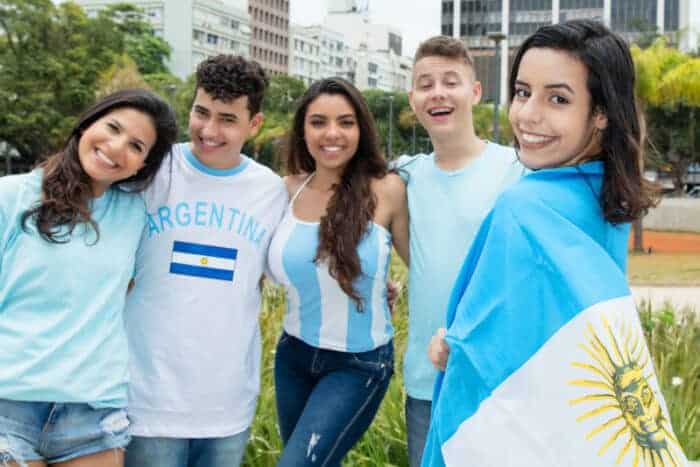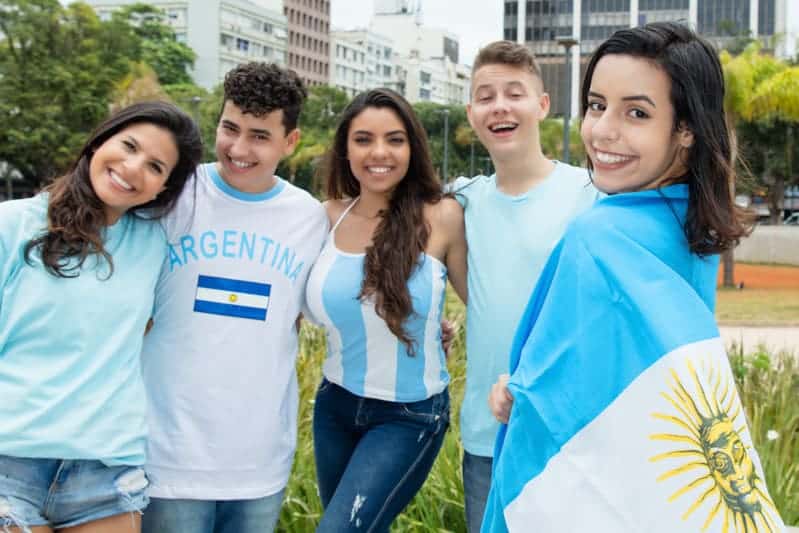 Move to Argentina for the education system
Living in Argentina doesn't mean compromising the education standard for you or your children. The education system is excellent and one of the most respected in South America. As well as the public system, a wide range of world-class international schools are taught in various languages, especially English. There are excellent Universities with a strong academic tradition.
And, if you want to learn Spanish, the tango, or make BBQ, all are on offer. Argentina's towns and cities have a vast range of fun and serious courses.
There are several Argentine Student Visas to choose from; check out your options from the link.
Where to Live in Argentina
Buenos Aires
With more than three million residents occupying forty-eight barrios, Buenos Aires is the country's largest and most sought-after city. Apart from being an Expat hotspot, it's also a wildly popular tourist destination.
Known for its cultural diversity, Buenos Aires is a melting pot of cultures and ethnicities from all over the globe. It's estimated that more than 60,000 Expats call Buenos Aires their home and half of them live on the Rio de la Plata. With such a large concentration of Expats and tourists, the city offers a familiar welcoming environment for foreigners.
From shopping in the high-class La Recoleta district to visiting classy bars in Palermo, the city has little treasures scattered all over. You could take a stroll through beautiful neighborhoods or visit the Sunday markets to buy some local antiques – you'll never run out of attractions in Buenos Aires.
Offering everything from Greek culinary delights to French pastries and Italian delicacies, Buenos Aires is heaven on Earth for food lovers. Argentinian beef deserves a special mention, and the city has some of the world's best-grilled steak and beef dishes.
The climate of Buenos Aires attracts Expats due to its four distinct but mild seasons. The summers are sunny but bearable, and winter temperatures never drop below freezing.
Mendoza
If you prefer the charm of a small town over an urban city, Mendoza should be your top pick. Located amidst the foothills in the north-central region of Argentina, Mendoza captures that perfect wine country aesthetic.
The city of Mendoza has made it to the world's top ten wine capitals and is a part of the Argentine Wine Route called Ruta del Vino. Beyond the wine country lies downtown Mendoza which provides all the infrastructure and modern amenities you need to live a comfortable life. All in all, a great place for lovers of wine and small towns.
Bariloche
Outdoor enthusiasts who are looking for a more relaxed lifestyle and natural beauty will love settling down in the city of San Carlos Bariloche. The city lies on the southern shore of Nahuel Huapi Lake and has been a hidden gem for many years.
This sleepy little mountain town transformed into a popular vacation destination after major infrastructural improvements in the 1950s. The architecture calls to mind an alpine village with major German and Swiss influences.
In the winters, between June to September (since it's in the southern hemisphere), Bariloche turns into a skiing destination while in the summers you'll find people sunbathing around the lake. Outdoor sports like mountain biking, rafting, fishing, and bird watching are popular pastimes for locals, tourists, and Expats.
Córdoba
If you're looking for a mid-sized city that's not as urbanized and crowded as Buenos Aires but not as small as Mendoza, Córdoba might be the right fit for you. Being the second-largest city in Argentina, Córdoba has a population of 1.5 million. Since it's located in the heart of Argentina, Córdoba shares a similar climate as Buenos Aires with hotter summers and colder winters.
The city is also a center for car manufacturing giants including Volkswagen and Mercedes-Benz. With six major universities, Córdoba is also known for its education and culture. The universities attract students from all over South America and Europe, giving Córdoba a youthful cosmopolitan feel. Students will also find Córdoba to be a center of technological advancements full of job opportunities from multinationals such as Intel and Motorola.
Since Córdoba is located in the center of the country, it's a great place for inter-city travel. You can easily take day trips to the pampas or explore the Andes mountain range. In the North of Córdoba, you'll find the town of La Cumbre, famous for activities like skydiving and parasailing. In short, from education and culture to travel, Córdoba opens a lot of doors for Expats in Argentina.
Transport in Argentina
Public Transport
Buses –The most common form of public transport in the country are buses also known as colectivos. Bus stops are scattered all over the streets of Argentina but you may have some difficulty finding them. You can ask some locals for directions or use The Como Llego bus app to figure out bus routes and bus stop locations.
Buses are also an affordable and comfortable option for long-distance travel in the country. Bus fares may vary according to the company of the bus but they're sometimes fixed. Long-distance buses allow inter-city travel for overnight or day trips such as from Buenos Aires to Mendoza.
Trains – Argentina has a suburban train line that connects Buenos Aires with the surrounding areas such as Cordoba and Posadas. These trains are an affordable long-distance traveling option as well. You can choose from three different classes of trains, from economy class to a private cabin for two people. Mendoza also has an operational tram system.
Subway – Underground rail or subway is only available in Buenos Aires and can easily be accessed across the city. Expats will require a Subte smart card to access the subway in the city. These can easily be purchased from kiosks or convenience stores around the city.
Taxis and other Services – In BA, you can hire a taxi through the BA taxi app that allows you to pay with a credit card. Ride-hiring services such as Uber are also readily available in urban areas, making it easier for Expats to hire rides without struggling through the language barrier.
Cycling
There are cycling tracks and lanes all over BA and the city has been voted as one of the most bike-friendly cities in the world. The city has also launched EcoBici, a free bike-sharing system that allows residents to borrow bikes for 24-hour periods.
Driving
Argentina has a comprehensive road network and most of it meets international standards. The well-maintained expressways lead from BA to other parts of the country.
Car rentals are a more expensive option for inter-city travel. You must be at least twenty-one years old to rent a car in Argentina.
If you're staying in the country long-term, a car of your own may be more convenient, but the red tape involved can be quite daunting to some Expats.
Expats will need an international driving license and a national license from the country. It's important to keep your license, green card, vehicle registration, and insurance documents with you while driving. Roadblocks are common in the country and you might be asked for the aforementioned documents.
Air Travel
International Air Travel – For most people, Buenos Aires is the main entry point into Argentina. There are nineteen airports in the country but the two major ones located in BA are:
· Ezeiza International Airport
· Aeroparque Jorge Newbery (AEP)
Flying to the country isn't straightforward and many Europeans might have to pass through a European hub to make it to the country instead of flying directly to it.
Domestic Air Travel – For domestic flights in Argentina, you have a couple of options including Aerolineas Argentinas. However, domestic flights can be expensive for some as traveling by bus can be cheaper.
Tax Laws in Argentina
Income Tax: Worldwide income of residents is taxed in Argentina. While non-residents and foreign beneficiaries only have to pay taxes for income earned in Argentina. Both residents and non-residents have progressive income tax rates ranging from 5% to 35%. Gains from interest, securities, and real property may result in special tax rates.
Gross Income Tax: Self-employed individuals have to pay gross income tax on their gross earnings. The average rate of his provincial tax is 4% in Buenos Aires (the Federal Capital City). Other provinces in the country have a similar tax rate. The gross income tax is not applicable for individuals who don't perform as a company in BA.
Foreign Beneficiary Tax: The foreign beneficiary tax is applicable if you're working as a foreign beneficiary in the country for up to six months and earn an income through visual arts or other professions. Depending on the type of income, there's a tax rate of 24.5%.
Is living in Argentina safe?
The Where Can I Live Safest Countries to Live Index ranks Argentina as the 44th safest country to live. It has strong scores in most categories, with natural disaster risk as the only marker significantly below average.
Security is always a concern for Expats and people planning a move. Like many countries with economic challenges, Argentina has some crime issues. Buenos Aires, Córdoba, and other major cities can be prone to petty crime. Still, violent crimes are rare in areas popular with Expats in Argentina.
Our research supports the Expats' view of Argentina as a safe place to live in.
This strong safety score, linked with the low cost of living means Argentina ranks 5th on our Safest and Cheapest metric.
Pros and Cons of Living in Argentina
Pros
A Diverse and Rich Culture – Argentinian culture is a unique blend of European, native South American, and Asian cultures, making it wholly unique and inclusive. Residents are well-educated, warm, and welcoming. Foreigners from Western countries will easily befriend and meet like-minded people. You'll also find some of the best theatres and museums in the world in Buenos Aires, Mendoza, and Cordoba.
The little neighborhoods are architectural wonders with distinct influences and rich histories. From the diverse culinary experience to the saucy music and dance scene, Expats will find Argentina to be a singular cultural experience.
Low Cost of Living – As compared to the US and UK, Argentina has a lower cost of living. While you'll find large cities like BA to be more expensive, living in the country is less expensive than in many other countries and European cities.
Many Weather and Climate Options – Argentina is such a huge country that you can easily experience multiple climates within it. Expats can choose the kind of climate they're comfortable in. BA is popular for Expats as it has four seasons with hot summers and mild, snowless winters.
A Lot to Explore – Argentina is a vast expanse of land filled with diverse geography and endless natural attractions. Expats can trek across the Andes mountain range or ski in the snowy regions, there's always something to explore and discover in this South American country. It'll take ages to explore the entire country.
Easy to Enter – Europeans plus North and South Americans can easily enter Argentina for a stay of ninety days. The easy entry allows many Expats to experience the Argentinian way of life and many of them choose to stay forever!
Cons
Turbulent Politics and Economics – Much like its fellow South American countries, Argentina has a turbulent political and economic climate. Inflation and political instability affect everyone, making it a difficult place to live in. Protests and unrest are common in the capital city of the country. The economy is highly volatile and prices change quickly.
Far from the World – Argentina is a bit too isolated from the rest of the world. Air travel from the US and Europe can take up to 12 hours. Traveling the world from the country is difficult, making it a bit inaccessible.
Inter-city Travel is Time Consuming – Even in Argentina, you have to commute for hours to travel from one city to the other. Quick weekend getaways include large commute times due to the vast country.
Immigration to Argentina comes with a warm welcome
Argentinians are, on the whole, warm and passionate people who love to share their culture. Many Expat stories tell of a warm welcome for foreigners and an open, caring local population. If you love football and can speak some Spanish all the better, you'll be practically family.
Given Argentina's genuine difficulties, you may expect less of a welcome. But, incredibly, the welcome seems even better. It has led to Argentinians being happy to meet people who believe in the future of this beautiful country.
One area where this is not true is the local bureaucracy; think twice before tackling it alone! Having a good lawyer in your corner to manage your immigration paperwork is essential. Getting your visa for Argentina first time will be much simpler.
Similarly, setting up your utilities (lights, water, internet, etc.) can be complicated. These tasks are much simpler with a trusted partner's assistance in navigating the complexities. Argentina citizenship and the Argentina passport are possible for many, with the right advice.
Luckily, we have partnered with one of the best law firms in Argentina. They can work with you to select the best visa for you and your family. And, they can develop a plan for your next steps to live in Argentina. Book an appointment with our Argentina immigration lawyers here.
Many people ask, "Do I need a visa for Argentina?" The answer is generally yes. The options for Argentina reflect its welcoming nature. We explore all possibilities for visas and permits for Argentina; just click the link.
Retire in Argentina to enjoy these benefits and more
Many people are looking to retire to Argentina. For retirees looking to immigrate to Argentina, there are some significant advantages.
For those that retire in Argentina, low-cost, high-quality healthcare tops the list. Knowing that you'll be able to pay for excellent care lets you enjoy the golden years all the more.
Argentina has an excellent visa just for retirees, the Pensionado Visa.
The lifestyle and cost of living are also big plus points for retirees. The vibrant Expat community and the range of recreational and cultural activities available make Argentina an excellent choice for your retirement. Golf, eating out in beautiful restaurants, and long walks on the beach are all easily accessible.
Getting help, be it domestic help, a driver, or a nurse when needed, are also affordable when you retire in Argentina. And, that frees you up to do the things you enjoy.
And, there are direct flights from Argentina to the USA and all of South America. These routes cover major USA travel hubs like New York, Washington DC, Miami, Houston, and Atlanta. You can also fly direct to many Central American, Asian, and European capitals.
Living In Argentina FAQs