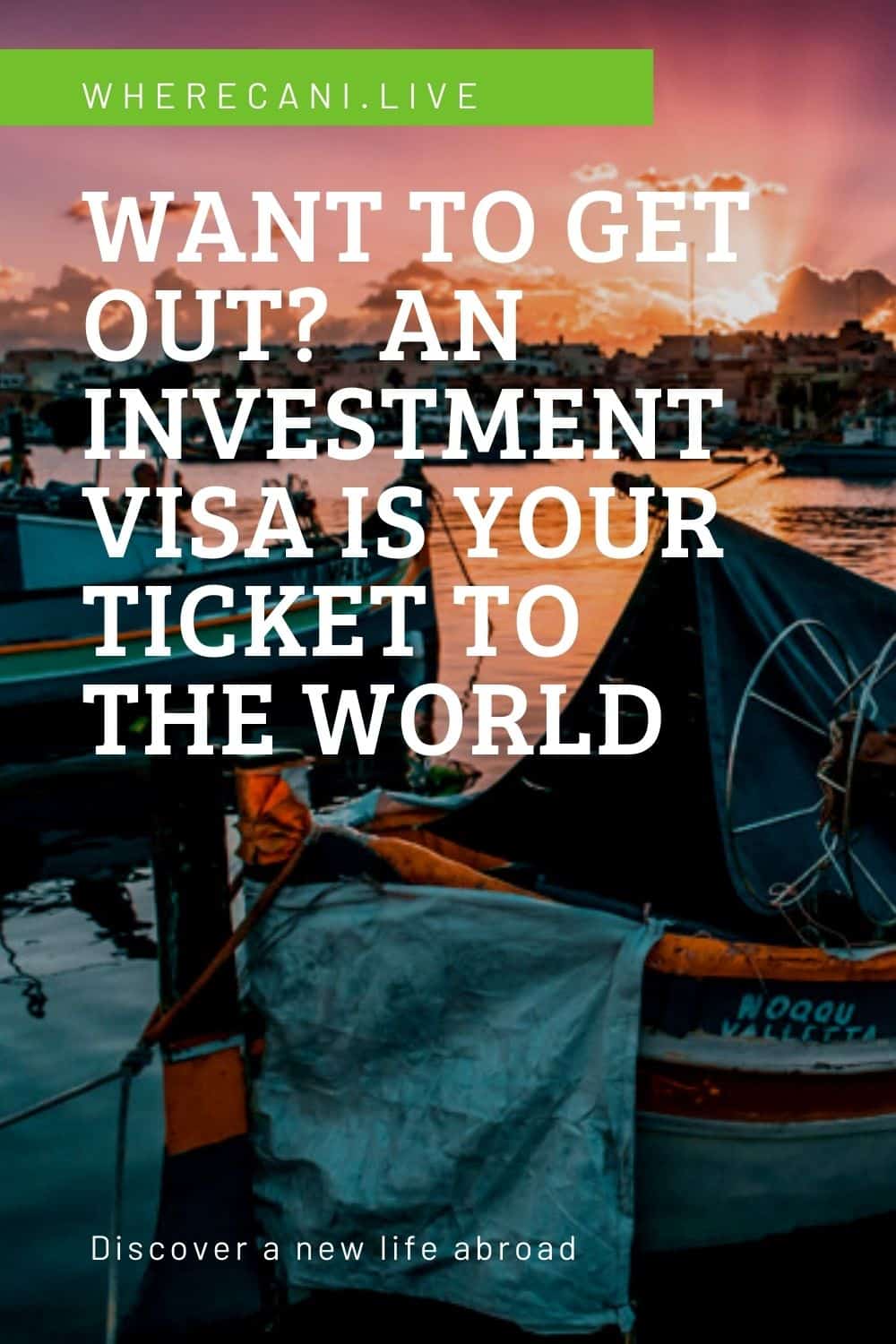 Investment visas (often called Golden visas) are becoming more and more popular. These programs are where a country grants you residency or citizenship of their country in return for an investment or donation to their economy. So, if you invest in the local economy, then you could be eligible for full rights to live and work in that country. It is a fast track to residency, citizenship, and a passport.
Many countries offer these programs. However, programs vary widely in quality of the offer, and quality of delivery.
Citizenship by Investment (CBI)
Citizenship of multiple countries was once seen as the preserve of the rich and the famous. Today, more and more people from all walks of life recognize the benefit of dual citizenship or triple citizenship. Check out our blog on Dual Citizenship here to understand all the benefits.
There are a limited amount of programs that offer direct citizenship. Significantly, these programs provide full citizenship and a passport as a direct result of the investment. There are no qualifying residency periods before you can apply for citizenship and a passport. Countries that offer genuine Citizenship by Investment programs can be categorized as follows:
Leading Citizenship by investment opportunities
There are many Citizenship by Investment programs that are worth exploring. You can see the highlights of each of these programs below to compare. Click on each program to get their full details.
How to choose the best citizenship by investment program
There are many reasons to take advantage of multiple nationalities. As a result, you need to decide the benefits of the citizenship and passport your investment program provides. Some ways to compare the power of a passport can include:
How many countries offer visa-free travel from your new country of origin?
Do you have visa-free access to the countries and markets you need to access?
Can you use your new citizenship to increase the reach of your business and access new markets?
What are the tax implications (both positive and negative) of your new citizenship?
Can your children inherit your citizenship?
Can extended family members apply for second or third citizenship after you have received yours?
How politically stable is your new country?
Does your new country allow you to hold multiple citizenships and passports?
How is your new country viewed abroad? You'll be travelling as a citizen.
Have a read of the blog Passport ranking: the most powerful passport in the world. This blog has information on the power of passports and how to rank passports.
Residency by Investment (RBI)
Residency by Investment schemes are much more common. These schemes offer investors access to temporary residency or permanent residency for an investment. If the residency is temporary, it will convert to permanent residency after a time. In most countries, the permanent residency offers a pathway to citizenship and a passport after a qualification period. The citizenship qualification period varies by country.
Leading Residency by investment opportunities
Available investment opportunities
Residency by Investment and Citizenship by Investment programs come in many flavours. The country's government is trying to boost investments in the economy. Moreover, it follows that they will target those areas of the economy that they feel will have the most benefits. Above all, be careful with the fine print. Some programs require payment into a government program, and this is non-refundable. You will not recover your money, and this can be considered a direct purchase of residency or citizenship, rather than an investment. Popular options available for investment programs are:
Residential property for your family home
Residential property as an investment (to lease or let)
Commercial property
Investment in a company in which you have a significant interest
Shares on the local stock market
Fixed-term cash deposits with a local bank
Cash deposits into a local bank
You need to assess the risk of the investment, as well as the sector. Your appetite for risk, your sector knowledge, and the quality of the investment advice on offer should all be factored into your decision. For example, consider investing in a startup, a fixed-term deposit, and buying a home for you and your family. These investments all have a very different range of outcomes. The pros and cons of each investment visa program and investment sector must be assessed before making your decision. Additionally, there may be restrictions on where, geographically, in the country, you can invest to be eligible for your investment visa.
If you are unsure of the options available and the most appropriate option for you, have a chat with our investment visa advisor. Book an appointment with them here.
Investment levels for your investment visa
How much you have to invest will define into which programs you can invest. But, there is also the consideration of how much of your investment you can expect to recover. A payment of around USD100,000 (like the Residency by Investment programs of Vanuatu and St Lucia) may look cheap. At first, an investment of USD1,000,000 may look expensive. But, if the investment returns 5% a year and leads to quality citizenship and passport, then you may consider that a bargain. An investment in real estate, for example, will vary in its possible returns and risk profile even across a single city. The best CBI and RBI programs allow you to get a return on your investment as well as a powerful passport.
Time to qualify and time to process the visa.
There are three separate time frames you need to be aware of.
1) How long will it take to process your application?
Governments administer investor visa programs. However, not all bureaucracies are created equal. Consequently, be sure that the projected investor visa processing time meets your expectations.
2) What are the periods and renewals for your investment visa residency?
How long is the period of temporary residency that your investment entitles you to? Once that is served, how many times can it be renewed? How long is the period to qualify for permanent residency? After how long can you use your visa status to be eligible for citizenship and a passport through naturalisation? In conclusion, you need to have a clear understanding of all these time frames.
3) How much time do you need to be resident in your country for the investment visa to be valid?
Some RBI and CBI visa programs have residency requirements. Several are very strict. For instance, you need to live in your new country for the majority of the visa life to qualify for permanent residency or citizenship. In comparison, others are very relaxed with as little as a week per year required to qualify.
The pick of CBI and RBO programs
To summarise, here is a small selection of popular and well-managed investment visa programs for you to consider.
Cost of the investment visa scheme
All investor visa schemes have a processing fee. This fee varies enormously. Some fees are per application, others are per person included on the application with additional charges for each family member. In summary, check carefully to understand the full amount you'll have to pay. Also budget for paying a trusted local partner. At first, getting good quality advice may seem expensive. In this case, good advice will help you choose the correct Residency by Investment or Citizenship by Investment program. It can also help to secure the visa as quickly as possible. That advice can save you a fortune in the long run.
Beware!!! Scammer alert
The internet is full of people offering a range of options. Above all, ensure you use a trusted partner to assist you in accessing a legitimate government-approved program. The cost of a dishonest advisor could be catastrophic. In particular, terms like banking passports, diplomatic passports, camouflage passports, or black market passports should set off serious alarm bells. For this reason, do your research and go into any transaction with your eyes wide open.
Your next steps for your investment visa
Ensuring you and your family have choices is one of the best things you can do. Above all, the world can change quickly and having access to a second or third passport may give you critical options. Residency by Investment and Citizenship by Investment programs offer more and more people a pathway to multiple passports.
In the final analysis, now is the time to act. Specifically, there is no guarantee that these programs will remain available. There is some pressure to restrict some of these programs and your best opportunity may be right now.
Save this article for later on Pinterest