There are a number of reasons people consider moving to a different country for retirement. Quality of life, better climate, a lower cost of living, or better access to facilities all appeal. Whatever the reason, once a job no longer ties you to your homeland, the world is your oyster. Here we look at how to retire in Portugal, a favorite destination for retirees from around the world.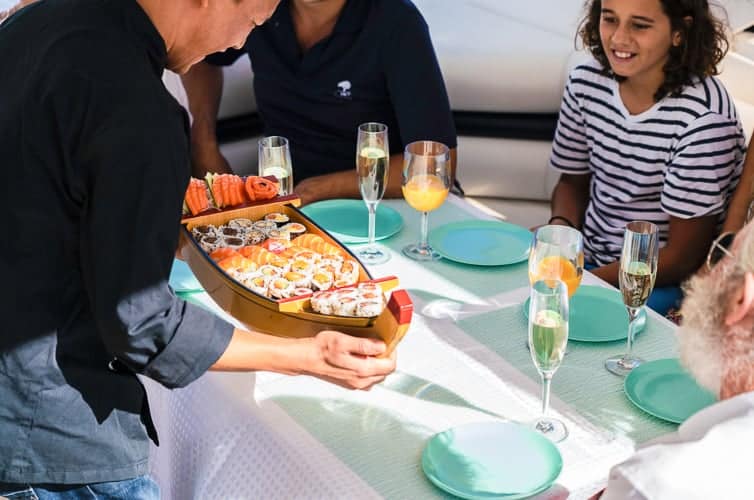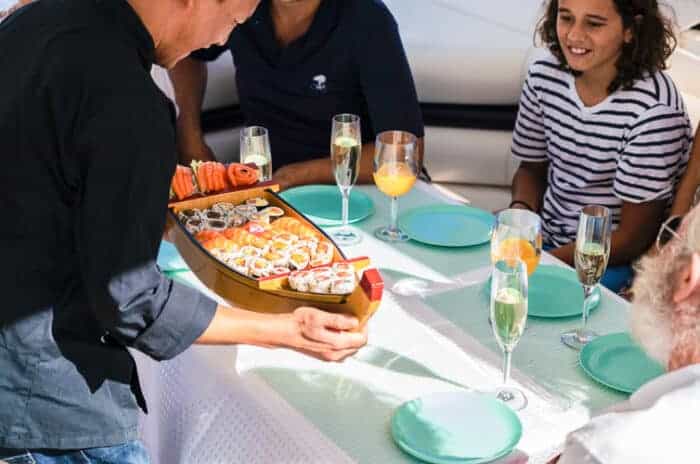 How to Retire in Portugal: EU Citizens vs Non-EU Citizens
The requirements for retiring in Portugal on your citizenship. If you have dual citizenship you can use the nationality most beneficial for your application.
EU/EEA/Swiss Citizens
Retiring in Portugal is easy for many. Citizens of the European Union (EU), the European Economic Area (EEA), and Switzerland have easy access. You don't need a visa, but you will need to register for residency in Portugal.
EU citizens can register in Portugal at any Immigration and Borders Service (SEF) office.
Remember that UK citizens no longer qualify as a result of BREXIT.
Non-EU Citizens
If you are a non-EU citizen who wants to retire in Portugal, you have to apply for a visa. This includes UK citizens since the ratification of BREXIT.
Two visa options are most commonly used for retirement in Portugal.
D7 Passive Income Visa (also known as the Portugal Retirement Visa).
Portugal's Golden Visa.
There are pros and cons for each, depending on your plans for retirement.
D7 Visa for Passive Income
Portugal's Retirement Visa (D7 passive income) is available to non-EU, non-EEA, or non-Swiss citizens who want to live in Portugal. To qualify, you must be able to meet a minimum annual income threshold. The official amount is €7,200, but our experienced partner recommends at least €12,000 for the main applicant.
An applicant's source of income can be from pensions, trust fund distributions, share dividends, and other regular investment income. The income must be stable and continuous during the validity of the residence visa.
To apply for the D7 visa, you have to submit your application to the Portuguese embassy in your country. You will receive a four-month temporary residence permit along with an appointment date with the SEF.
At your SEF appointment you will need:
Proof of accommodation.
Proof of health insurance.
To give permission for a police check both in your home country and in Portugal.
The D7 visa is valid for two years. You can then renew the visa every three years.
This visa is perfect if you:
Have a steady income.
Are OK being based in Portugal for at least four months per year.
Want to rent a property to live in.
We're written a detailed article with everything you need to know about Portugal's D7 Passive income Visa.
Golden Visa for Investment
Another option available for Expats who want to retire in Portugal is the Golden Visa. It is an investment visa granted to individuals who invested in Portugal's economy through either property investment, capital investment, or labor investment. The visa is valid for two years and renewable for the same period. You can apply for the Golden Visa if you make one of the following investments:
€280,000 Purchase existing properties requiring renovation in low-density areas.
€350,000 Purchase existing properties or properties located in urban regeneration areas.
€500,000 Property investment for all other properties in Portugal.
Capital transfer of at least €1 million.
€350,000 into private equity or venture capital funds providing capital to specified companies.
€350,000 for companies in the national scientific or technological system.
€350,000 to increase or incorporate the share capital of a Portuguese company. This must also lead to the creation of five permanent jobs for at least three years.
€250,000 investment in Portuguese arts or cultural heritage.
Proposed changes in Portugal's investment visa scheme will come into effect starting January 1, 2022. These changes affect the minimum investment in real estate and capital transfers, increasing from €1 million to €1.5 million. They also limit where investors can purchase residential property in order to qualify for the scheme. With these changes on the horizon, it's a good idea to apply before the new rules come into effect.
The Golden Visa is a good option if you:
Plan on making a significant investment in Portugal (including buying a home.)
Want the flexibility to come and go from Portugal as you please.
Here's a link to our complete guide to Portugal's Golden Visa.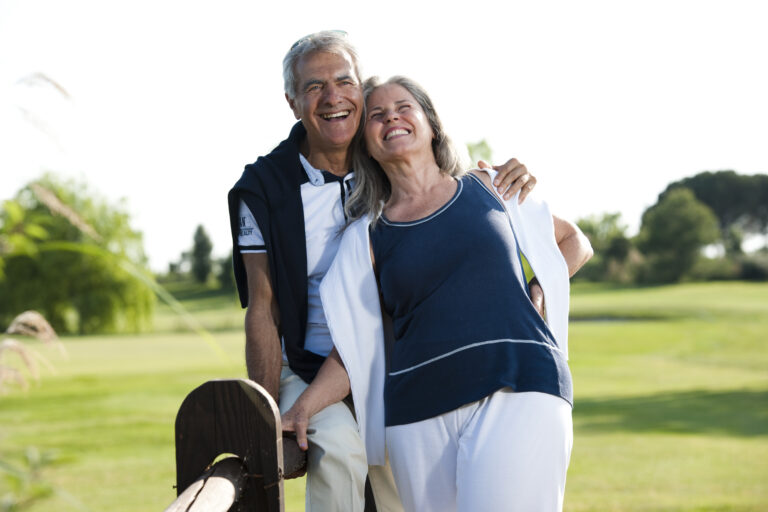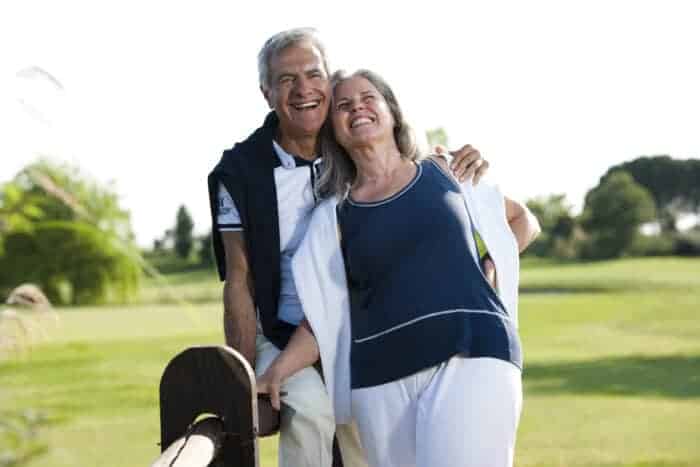 Route to Citizenship
Both the D7 visa and Golden visa can lead to Portuguese citizenship after 5 years. There are some steps to take, including passing a Portuguese language test.
Portugal allows dual citizenship, so there's no need to relinquish your original nationality.
Find out more about how to get Portuguese citizenship and your EU passport in our guide.
Sephardi Jews and Portuguese Citizenship
In 2015, amendments to Portugal's Law on Nationality allowed citizenship for Sephardi Jews. Applicants must prove their Portuguese Sephardic ancestry and must provide all necessary documentation.
Pensions When Retiring In Portugal
The retirement age in Portugal is sixty-six for both men and women. To qualify for the old-age pension through the Portuguese state system, you must have made at least fifteen years of Social Security contributions.
Of course, when looking to retire in Portugal, your pension contributions were in the country you worked, and not in Portugal. In this case, whether you can claim the state pension in Portugal depends on whether your contributions are valid in Portugal.
EU Citizens who wish to retire in Portugal can transfer their state pension contributions to Portugal from the country they worked in. These transferred contributions will count toward their Portuguese state pension.
Meanwhile, non-EU citizens must check their state pension service if the transfer of pension is possible. Many non-EU countries have tax and social security agreements with Portugal. This makes the process easier.
Retirees and Taxation
Taxation is an important question when choosing where to retire. Different countries have different rules for taxation of Expats — and taxation of pensioners. It's vital to have a grasp of how much of your money will stay in your pocket.
Tax for Non-Habitual Residents
Residents in Portugal are subject to tax on their worldwide income. This means that your international pension is subject to tax while you live in Portugal. However, you can reduce the tax by registering as a non-habitual resident (NHR).
As an Expat, you can apply for non-habitual resident (NHR) status. This makes your income from non-Portuguese sources tax exempt. If you qualify for NHR status, only your professional income from Portuguese sources is subject to tax, at a flat rate of twenty percent. This scheme is valid for a period of ten years.
Inheritance Tax
There is no inheritance tax in Portugal: the tax relates to the home country of the deceased person. This means that your estate is exempt from tax in Portugal but may be payable in your home country. There is stamp duty with a flat rate of ten percent.
Best Places to Retire in Portugal
Retirees choose Portugal because of its pleasant climate, relatively low cost of living, and safety. While there are Expat retirees all over the country, there are certain locations that are popular with retirees.
Although renting is certainly popular, foreigners can legally buy and own property in Portugal. This is a great route to getting residency through the Golden Visa program. However, the program changes in 2022, and some of these areas will no longer be eligible.
Here we take a look at the best places to retire in Portugal.
We also have a comprehensive article for Expats Living in Portugal. What to expect, and what life is really like.
Lisbon
Lisbon is the capital city of Portugal. It has a lot of Expat communities, making it an ideal place for settlement.
Popular tourist spots are plentiful, and traveling is easy with its metro system. You can find a lot of restaurants, bars, and leisure facilities. This city highlights the Portuguese lifestyle with its landmarks and food.
One thing to note when considering Lisbon is its higher cost of rent due to it being a highly-populated area. Property in Lisbon will no longer qualify for the Golden Visa investment scheme from January 2022.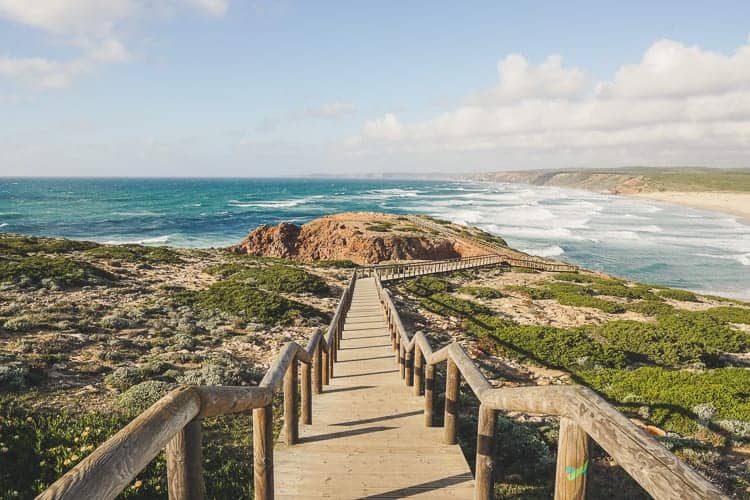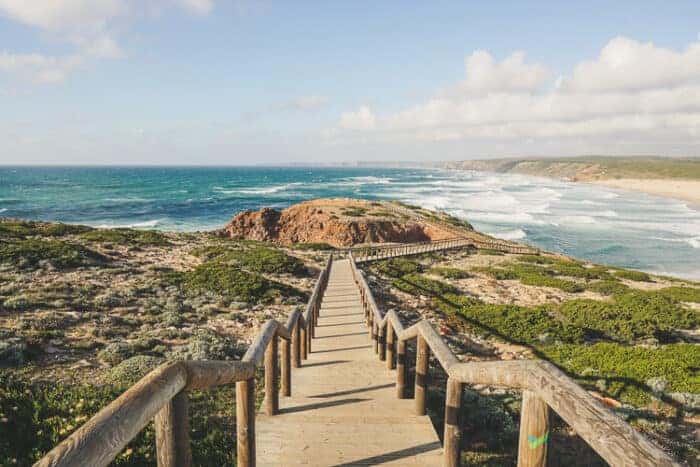 Cascais
Just outside Lisbon this seaside region is popular with both local and Expat retirees. And, many living in Lisbon have a second home here. Because of this, property prices can be higher than other areas, but the facilities are exceptional.
Porto
Considered Portugal's second-largest city, Porto has a large Expat community and is rich in culture and entertainment. Because of this, it received UNESCO Heritage site status in 1996.
Property prices in Porto depend on the location. They are lower outside the city center. The city has a wide variety of properties to choose from, from apartments to family homes.
Porto has an international airport with flights to the UK and other European capitals.
Algarve
This southern coastal region in Portugal is the main attraction for Expats. It has splendid beaches, a warm sea, and a mild climate. The Algarve features an abundance of golf courses that attract retirees in particular. While the Algarve is definitely Portuguese, you'll find more than one English and Irish pub here! There are also direct flights to the UK and European countries from Faro airport.
Rents in the Algarve region depend on the location, but generally, its prices are lower than those of Lisbon. Its cost of living is also lower compared to that of big cities.
Alentejo
The Alentejo region of Portugal is huge, a full 33% of the areas of mainland Portugal. However, it is home to just 7% of the population. It also has some beautiful natural parks and wide open space. There is less infrastructure and the areas is less popular with retirees looking for active Expat communities.
Braga
Located in the northern part of Portugal, Braga is the country's oldest city and the third-largest after Lisbon and Porto. Here you can find hundreds of cafés showcasing Portuguese cuisine in city squares, as well as old churches such as the Braga Cathedral.
Braga offers a variety of properties, from modern to historic. Prices vary according to location and facilities. For instance, properties located in the outskirts of Braga have lower prices compared to those found in the center.
Aveiro
Also known as Portugal's Venice, Aveiro sits at the center of Portugal. Modernization has changed the city, but it still keeps its traditional flair with its canals, architecture, and moliceiros.
Tourists don't go to Aveiro that much, making the city an ideal place for Expat settlement. Rents in Aveiro vary according to the size and facilities. You can find an apartment to rent for as low as €450.
Madeira
The tranquil islands of Madeira appeal to many. It is a ninety-minute flight from mainland Portugal but has a strong cultural link. The weather is excellent (making it a popular winter destination) and living costs are affordable. There are also good facilities including healthcare, especially in the capital, Funchal.
The Azores
The Azores is a North Atlantic archipelago of islands. Dramatic landscapes and natural beauty are the big appeals here, as even the biggest city of Ponta Delgada is fairly quiet.
Spain or Portugal?
If you're thinking of retiring to the Iberian Peninsula, you might find yourself choosing between retiring in Spain or Portugal. Here is our run-down of the main differences between the two.
Cost of Living
If you're looking for more affordable living, Portugal is the choice for you. The country has a lower cost of living than other nearby countries, including Spain.
Taxation
Spain plans to reduce tax competitions between its Autonomous Regions through a minimum tax. This will harmonize the inheritance, gift, and wealth taxes.
On the other hand, Portugal's Golden Visa and D7 Visa programs allow Expats the right to become non-habitual residents (NHRs). This allows them to be tax-exempt on income from outside Portugal for ten years.
Healthcare
Both countries provide free or cheap healthcare for qualifying residents. Both also have excellent healthcare services as recognized in Euro Health Consumer Indices, and low prices for care.
Spain's healthcare system comprises primary healthcare and specialized healthcare. Primary healthcare handles basic care for the population, while specialized care relates to hospitals and referral centers.
Portugal's healthcare system has three co-existing systems: the SNS, the special social programs of health insurance for certain professions, and private, voluntary health insurance. If you get residency in Portugal, you qualify for the SNS. This gives access to basic healthcare at fixed standard fees, or free of charge for anyone under 18 and over 65.
Safety
Overall, both countries are safe. In Spain, violent crime is rare but petty crime and property crime have risen in recent times.
Portugal also ranks as one of the safest countries to live in. However, non-violent crimes such as petty theft and pickpocketing can be common in tourist destinations.
What next for those retiring to Portugal?
Portugal is a great choice for Expats who want to enjoy the Portuguese landscape and live the Portuguese life they've been dreaming of. The paperwork for visas and residency can be challenging. If you'd like help, our fantastic Portugal immigration lawyer provides excellent value and first-class service.