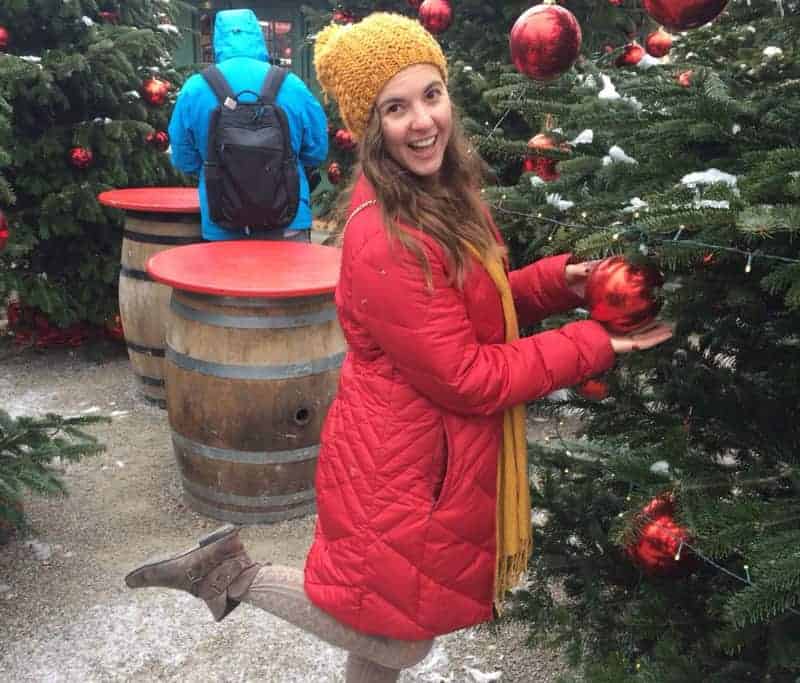 Are you brave enough to say no to some great job offers, pack up your life and move to Germany, a country where they speak a completely different language? Well, that is exactly what Nicole Palazzo from The Expat Cast did. She moved from the US to Germany and what a great experience it has been! Have a read of our full interview with Nicole below:
WCIL: WHERE DO YOU ORIGINALLY COME FROM?
I'm American. I grew up in the suburbs of Philadelphia then lived in Charleston, SC for five years. This was followed by two years in Chicago. I think spending the first 18 years of my life in the same house, same town, same everything gave me a deep desire to wander. Because of this I intentionally moved far away for college & kept moving thereafter.
WCIL: WHERE ARE YOU LIVING NOW?
I moved to Freiburg, Germany. It's a medium-sized (by German standards) city in the Black Forest. It is just a 30-minute drive from France and Switzerland. Importantly it's said to be the sunniest city in the country.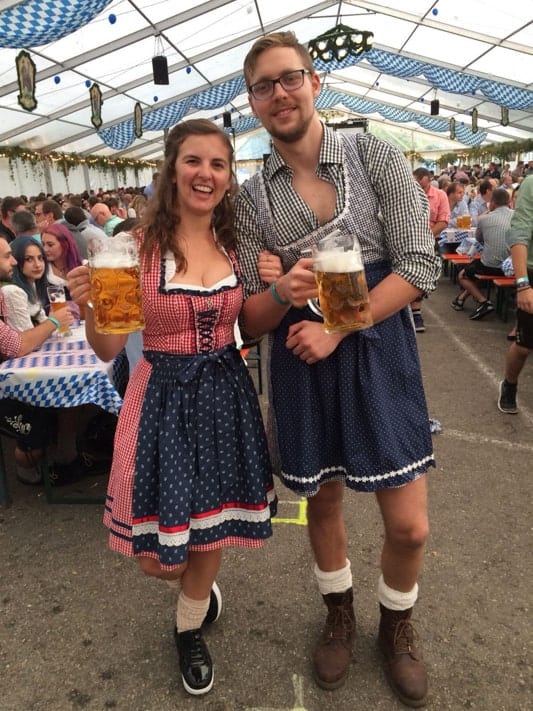 WCIL: WHAT LED YOU TO MAKE THE DECISION TO LEAVE YOUR HOME COUNTRY AND MOVE TO GERMANY?
Have you ever just accidentally started dating someone who lives on a different continent? 'Cause I sure have! When my now-boyfriend and I first started talking, we spent months trying our hardest to slow things down. He lived in Germany, over 4,000 miles away from me, so it seemed unrealistic to start a relationship. However, after months of Skype dates, endless WhatsApp voice messages, and a spontaneous weekend meetup in Ireland, we finally admitted that we were a Thing.
Two years of long-distance dating later, I was finishing up my master's degree and deciding how to start my career. I wasn't certain exactly what I wanted, but I knew I didn't want to live a settled, safe life. I wanted to be challenged, always growing, always trusting my gut even if it makes no sense. My gut was telling me to give moving to Germany a try. I could speak some German and I'd fallen in love with the country when visiting Gordon. Also, 2017 was a good year to take a break from America. I knew the experience of living abroad would test me in ways I could hardly imagine. And though the thought scared me a little, it mostly thrilled me.
WCIL: WHAT HAPPENED IN THE LEAD UP TO YOUR MOVE TO GERMANY?
Before the move to Germany, I sold all of my furniture, my car, and, what I miss the most, my bike. I turned down several appealing job offers in Chicago and left the jobs I'd worked during grad school.
Before I left for Germany, I stopped home in Philadelphia. My parents threw me a combo graduation/going away party with family, friends, old teachers—everyone. It was an absolute gift. Telling my parents I was moving abroad was one of the hardest things I've ever done. Thankfully their ability to put their own feelings aside and embrace my plans meant the world to me. I also feel encouraged knowing that I have a whole community of wonderful people behind me, who came out to that party to show their love and support. In many of my hardest moments as an Expat, I look back on that evening and draw strength from the memories.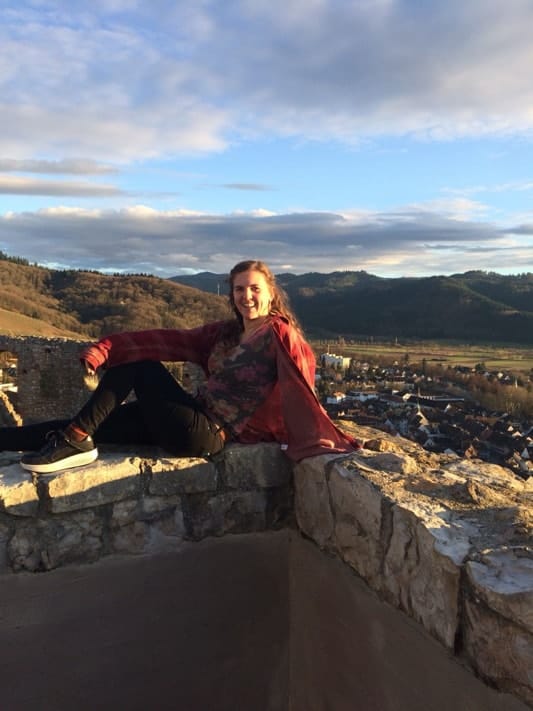 WCIL: DID YOU KNOW MANY PEOPLE WHEN YOU MOVED TO GERMANY? HOW DID YOU SETTLE IN AT THE BEGINNING?
I'd never even visited Freiburg before moving there, so I knew no one. The first few months could have been tricky, but my boyfriend and I were so thrilled to at last as a normal couple and not a long-distance couple. The honeymoon period that resulted from that kept us both happy while we settled. My boyfriend's friends and family live just a couple of hours away. This made our move to Germany easier through visits to or from them. I met some people through work who introduced me to their friends. Finally, I also met a couple of people via Expat Facebook groups.
One downside of Freiburg is that it's a very transitional town. Many young people come here for school and then move away. After about a year here, several of the closest friends I'd made moved away, and I had to start over. I actively sought out opportunities to meet people. Opportunities like at parties or events, and I outright told people that I was looking for new friends. I joked that I was on the friends market. After a little bit of putting myself out there, I found some new friends.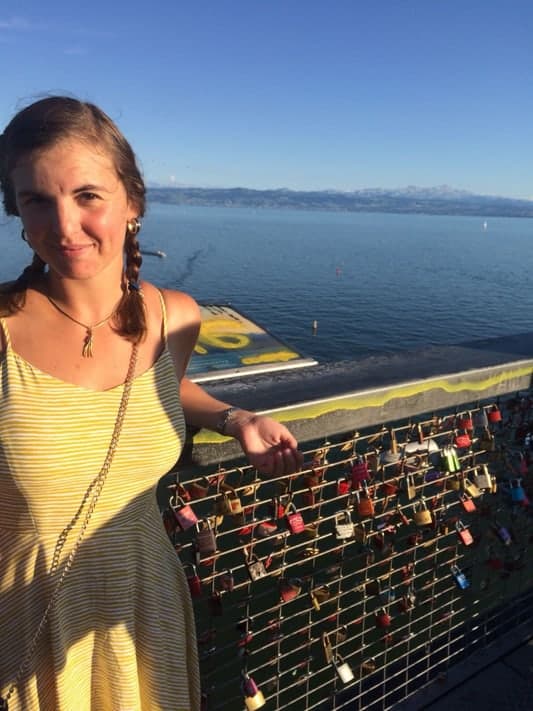 Settling in after my move to Germany to a while. I struggled to find a balance between comforting myself with familiarity and immersing myself in the new culture. As an American, it's very easy to find people to speak English with and to access American pop culture. However, I was very insistent about embracing Germany and learning German. At first, I tried to outlaw English language books from my reading life. I felt guilty any time I watched an American show on Netflix. At the same time, reading in German was so hard and exhausting, and I was already so spent from navigating the day in a new language. Forcing myself to consume German content put too much pressure on me, which of course made me retain less. It also stole valuable recuperation time, which I really needed to stay mentally healthy.
I eventually got better (or at least tried to get better!) at meeting myself where I was at. If I was mentally exhausted from the day and craving a few episodes of my favorite American sitcom, then great—watch it. If I was exhilarated by the thrill of discovery that comes with cultural immersion, then, by all means, read a Crimi. I still struggle with the balance since moving to Germany. Listening to yourself is an important skill that helped me figure out how to settle in on my own timeline.
WCIL: DID YOU FIND WORK IN YOUR NEW COUNTRY OR ARE YOU A FREELANCER?
I came to Germany on a year-long work contract. As part of that, I had made a deal with myself to only move to Germany if I could find a job in my field. Given that I had just spent years and thousands of dollars on a master's degree in libraries, I wasn't willing to give up that career so quickly. However, because my German was only intermediate, finding a job was hard. I ended up taking a position that was a Bundesfreiwilligendienst, or federal volunteer year.
Basically, this program is for German teenagers who want to do a gap year between high school and whatever they do next. They work in a cultural or health field and receive a small monthly stipend from the government. Most people doing this program are interested in gaining work experience while they figure out what they want out of a future career. While it is open to foreigners and people of all ages, I, a 25-year-old masters degree holding American, was definitely not the norm.
I approached the year of work as a test year. If I liked living in the country, if I could handle being away from friends and family, and if I liked living with my boyfriend—great! I could find another job and stay longer. Importantly, I had an end date for my move to Germany if any part of this new life wasn't working for me. I found the hypothetical temporary nature of the move helpful for my transition.
Of course, I ended up loving my new life. I was lucky enough to find a permanent position at another library right away.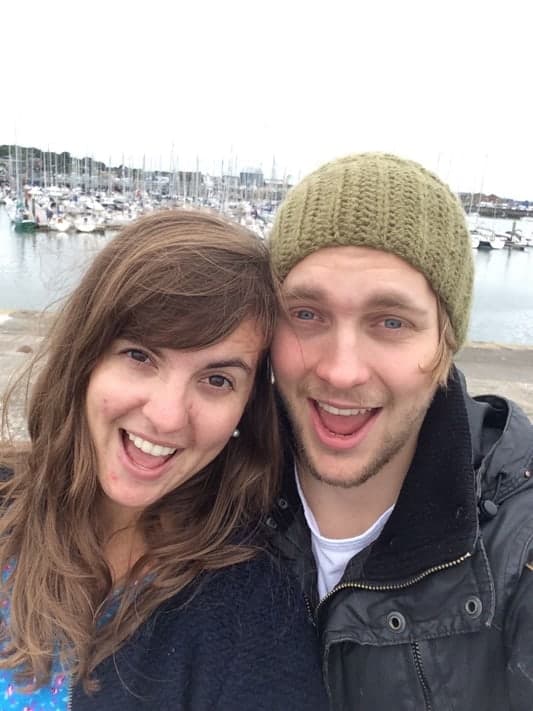 WCIL: HOW DID YOU FIND THE LOCALS?
I really enjoy the German people. They are some of the most inquisitive, informed people I've met. German people are far more likely to engage in a serious conversation than small talk. They have a reputation for being stoic or rude. I can see how people may get that idea, but I find it to be a misinterpretation. Germans tend to have less varied facial expressions than I'm used to with Americans. And while many can speak great English, sometimes tone and body language don't translate quite as easily. Since my move to Germany I find that the more fluent I've become in German, the more fluent I become, too, in non-verbal cues. Importantly this leads me to have a better understanding of the people, and any misconceptions I have of their mode fall away.
It can be hard to make German friends because Germans like to build friendships gradually over time. They take relationships very seriously. While it wouldn't be uncommon for someone in America to casually say "I love you" to a bartender or train conductor in passing, I know Germans who have been in a relationship for years before they say "I love you" to their partner. "Ich hab' dich lieb," or "I have love for you," might be said earlier. But "Ich liebe dich" is saved for particular moments or relationships. This is not disinterest or cold and shouldn't be misinterpreted as such. Germans are friendly and helpful and kind. They're just more calculating with their feelings.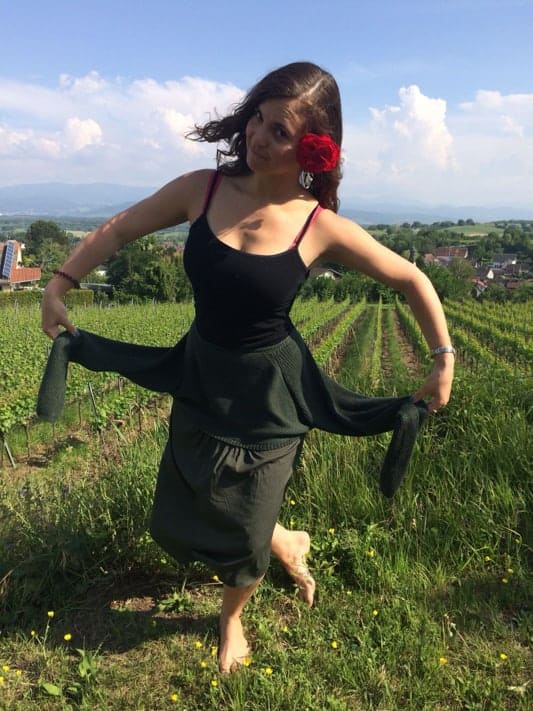 One big difference for me is that Americans are far more likely to say yes than no, and for Germans, it's vice versa. An American may say yes yes yes yes yes only to admit at the very end that actually, the answer is no. With a German, it's a million times no until finally—finally!—it's a yes. This has been a struggle for me as I navigate the seemingly endless bureaucracy here. Now, I go into most meetings ready to hear no repeatedly. That expectation allows me to remain optimistic that we'll end up with a yes in the end.
WCIL: WERE YOU EVER HOMESICK? HOW DID YOU MANAGE THAT?
My first Halloween since my move to Germany, I'd been in a mountain cottage without Internet for days. The combination of being cut off from talking to my friends and family and being somewhere where a big holiday (for me) wasn't celebrated, hit me hard, unexpectedly. I burst out crying at the dinner table and couldn't stop for hours.
It made me realize I was so busy loving life abroad and feeling grateful for the opportunity that I stifled any negative feelings I had about it. I realized I needed to schedule more Skype dates with folks back home, allow myself to consume American content, and open up to my boyfriend, the friends I did have in Germany, and above all myself about when I was feeling homesick or down. Once I learned how to handle homesickness, I felt it less and less.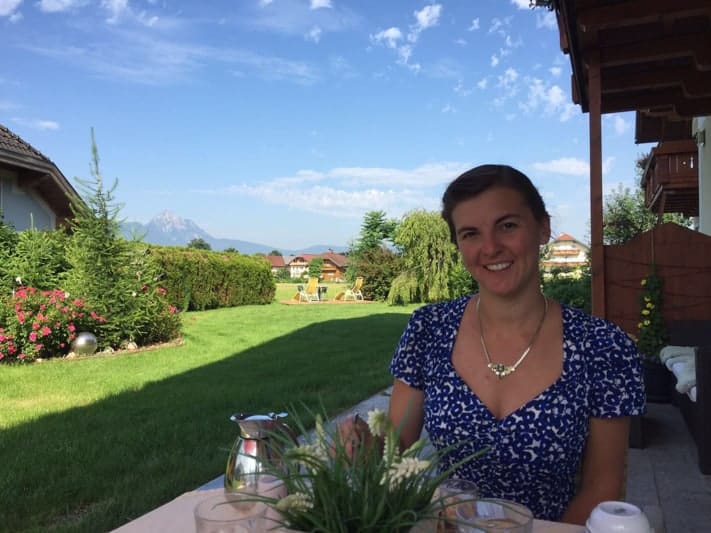 WCIL: WHAT HAVE YOU LEARNED ABOUT YOURSELF FROM YOUR MOVE TO GERMANY?
I knew I was a people pleaser, but I didn't know how deep it ran until I moved to Germany. Turns out it's really hard to people-please when you don't know the culture of the people you're trying to please. This threw off my ability to read people. Also, German culture relies more on self-advocacy than American culture. In America, customer service is so vital, people will predict your needs before you know them and go that extra step to make sure you're cared for. In Germany, people are willing to help you, but you have to ask for that help. You have to know what you want, vocalize that, and, sometimes, insist. That's been hard on me because my inclination is to not inconvenience other people or let my needs negatively impact others in any way.
Only through this experience have I realized how dangerous my people-pleasing tendencies are, and how many problems I've experienced in the past that come down to the same issue, so I'm grateful to have the chance to work on this since my move to Germany.
WCIL: Tell us about some of your highs and lows of being an expat in a new country.
In the first year of my move to Germany, I had a hard time with not imaging what could have been if I'd stayed in America. I was constantly financially strained, constantly stressed (often in ways I didn't even realize). Above all, I constantly felt like I wasn't good enough.
Struggling with the German language made me feel like I wasn't smart enough. Speaking English made me feel like I wasn't pushing myself enough. Building a social life made me feel like I wasn't outgoing enough. Being a professional in the job of an intern made me feel like my qualifications and skills weren't enough. Yet I had rejected well-paying, competitive jobs in a field I loved and was good at—for this.
It was hard for me not to look back at that and think, what am I doing moving to Germany? Do I regret this? I would fantasize about the comfortable life I could have had, even though I knew that this comfortability is exactly why I chose NOT to do that. A challenge was what I wanted. I didn't want a life where my value was placed on how impressive my job title was or how much money I made. Deep down I didn't want a career that I already knew I could do, and do well. Critically, I wanted to step beyond the known and into the unknown. Those things I was lusting after weren't really what I wanted. I knew that, but still, it was hard not to toy with them in my mind.
That was without a doubt the hardest part, and it could creep up on my whenever. At the same time, at every step of this process of moving to Germany, I learned who I was absent of every comfort I'd known before. Without money, without a real job, without my friends and family, without a world where I knew the rules—who am I? This self-discovery and self-actualization have been extraordinary. Brutally tough, but extraordinary. Depending on where I am with that journey, it's either my high or my low.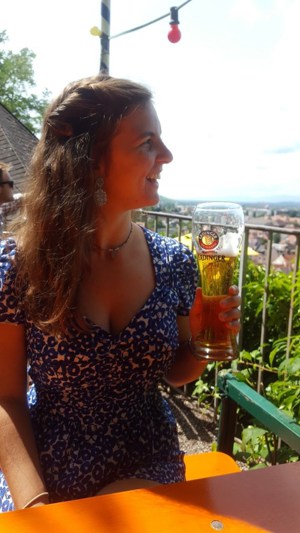 WCIL: IS THERE ANYTHING ELSE YOU'D LIKE TO SHARE ABOUT YOUR EXPERIENCE?
I worked at a German-American Cultural Center when I first moved to Germany. The fellow Americans and Expats from across the world who would visit were an absolute blessing. There were so many conversations where I'd be amazed by how common our experiences with moving abroad were, maybe not in procedure but in feeling. It meant the world to me to feel like these crazy things I was experiencing were somehow normal, and that I wasn't alone. They also gave me so many great tips on how to navigate bureaucracy and thrive in this new life.
So first off, I'd recommend looking up if there is a similar center near you! There are many German-American centers across Germany, a relic from the post-WWII era.
Second off, these conversations inspired me to start a podcast to help other Expats moving to Germany find resources and community. Creating a podcast has been a journey in and of itself, and it's another fulfilling aspect of my life I don't think I'd ever have had if I hadn't moved abroad.
My podcast is called The Expat Cast, and you can find it for free on Apple Podcasts, Stitcher, or wherever you get your podcasts. We're also on Instagram, Twitter, Facebook, and Pinterest as @TheExpatCast.
WCIL: WHAT WOULD YOU SAY TO ANYONE CONSIDERING A MOVE TO GERMANY, OR ANY INTERNATIONAL MOVE?
If you move abroad, heads up that you're going to eat and sleep a LOT. Right after I moved, I ate double my normal portions at almost every single meal. I also slept for hours more than usual every night. It wasn't because the food was that good (although it was) or my bed was that comfy (I slept on an air mattress); I was just that tired. I found out later that this happens to many people while they're adjusting to life abroad. Your brain does a lot of extra work, figuring out how to navigate this foreign land and (in some cases) language that it makes your body need more fuel. It goes away eventually.
DIGITAL NOMAD AND SELF-EMPLOYED VISAS FOR GERMANY AND EUROPE
If you have a location independent business like Nicole's podcast, you may be interested in our blog article on the best European Visas for Digital Nomads and the Self-Employed here.
Nicole Palazzo moved to Germany and is a librarian by day and a podcaster by night. In her free time, she writes blogs and novels, brews kombucha, and goes on runs, walks, and hikes—any excuse to be on the move in nature. She's an avid consumer of warm beverages & good books, and, yeah, she's totally a Ravenclaw.