As a dream destination, Thailand has it all. A tropical climate that is warm all year round. Two beautiful long coastlines and 1400 islands boasting white sand beaches where you can live the barefoot lifestyle. It offers one of the most loved cuisines in the world. Fresh ingredients and aromatic flavors abound. Bangkok offers the benefits of a modern city and excitement all of its own. Or escape to a tiny island or inland mountains and lush rice paddies for a slower pace of life. Ancient sites galore and royal palaces are the icing on the cake. And remember that Thailand is "The Land of Smiles". The people's warmth and relaxed attitude to life is a real benefit for Expats living in Thailand.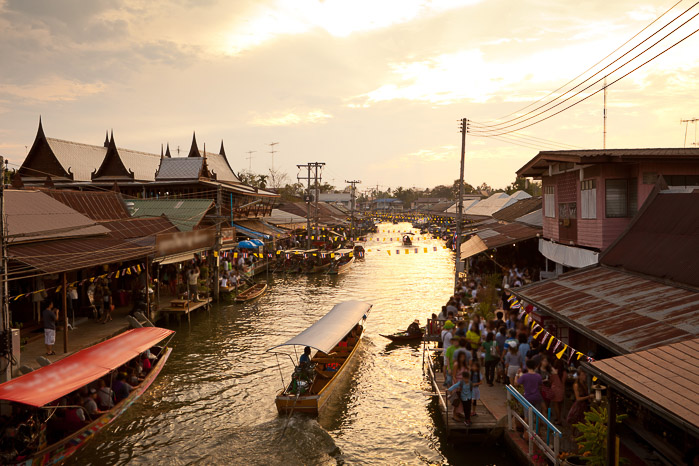 Living in Thailand Basics
A. Language
Thai, or Central Thai, is the sole official language of Thailand. Thai is the most spoken of over 60 languages in Thailand; 20 million people use it as a first language. The next most spoken language is Isan (15 million people). These are challenging languages to learn. In Bangkok and tourist areas, basic English is common, but expect broken English. You should be able to communicate well enough to order groceries and find you way around. But you may struggle to find many people who can hold a conversation. If you go off the beaten track, you may not find any English spoken at all.
B. Climate
Thailand's warm and tropical climate has three seasons.
Wet season > May to October
Cool season > November to February
Hot season > March to May.
In the wet season, the southwest monsoon brings warm, humid air from the Indian Ocean. There is abundant rain throughout the wet season, but it tends to fall in short bursts of an hour or two. The humidity is constantly high which can make it uncomfortable, but the monsoon winds offer some relief.
The hot season is more pronounced in the North, where the temperatures can reach around 37 degrees Celsius with no wind. The South is more bearable at this time of year. Expect temperatures around 33 degrees.
The cool season is the best time to visit much of the country. But be aware the East Coast, around Ko Samui, experiences monsoons at this time of year.
C. Currency
The baht is the official currency of Thailand, and it is the only currency accepted. There are 100 satangs in a baht. The issuance of currency is the responsibility of the Bank of Thailand.
Cost of Living in Thailand
Living in Thailand is cheap! The Where Can I Live Cheapest Countries to Live Index ranks Thailand as the 68th cheapest country. The average cost of living in Thailand is around 50% vs. Germany and 45% vs. the USA.
Rents will vary widely depending on location, but they are generally far cheaper than in the USA and Europe.
Eating out in local restaurants is extremely cheap. Most locals find it cheaper to eat out than to cook at home. Eating in international/tourist restaurants compares price-wise to their Western counterparts. Beer is very cheap, but wine is expensive. Whatever your lifestyle, luxury, or budget, you can live for less in Thailand.
Moving to Thailand
Thailand Elite Residence Program
This program delivers residence visas and other privileges for a fixed fee. There are seven program options, each varying in validity, benefits, and costs. The following are the three most popular options available:
Elite Easy Access gives you a renewable, multi-entry five-year residence visa. There is a one-time fee of THB 600,000.
Elite Family Excursion; designed for a minimum of two people delivering a renewable multi-entry five-year residence visa for each member. The one-time fee of THB 800,000, and covers both applicants with an additional charge of THB 300,000 per dependent.
Elite Superiority Extension — delivers a 20-year renewable, multi-entry residence visa for individuals who pay a one-time fee of THB 1 million
Thailand Investment Visa
Invest a minimum of ฿3,000,000 in Thailand, and you can apply for permanent residency. You must have been a resident for more than three years.
Retirement Visa
You must prove a monthly income of THB65,000 or a deposit account totaling more than THB800,000 plus a monthly income. And you need to be over 50 years of age to apply for a retirement visa in Thailand.
Work Permit:
To secure a work permit in Thailand, a foreigner needs an initial visa, which is a non-immigrant visa. You must get your non-immigrant visa before entering Thailand.
Once the foreigner has a non-immigrant visa, he may begin to process the work permit. The work permit process would take seven business days to accomplish. The Ministry of Labor office will process your work permit application.
A foreigner must apply for a work permit to work legally in Thailand. A work permit is a legal document that states a foreigner's position, current occupation, job description, and the Thai company they work with. It also serves as a license to perform a job or an occupation allowed for foreigners inside Thailand.
The government does not allow foreigners without a work permit to work, regardless of their type of visa.
Those who intend to work in Thailand must hold the correct type of visa to be eligible to apply for a work permit.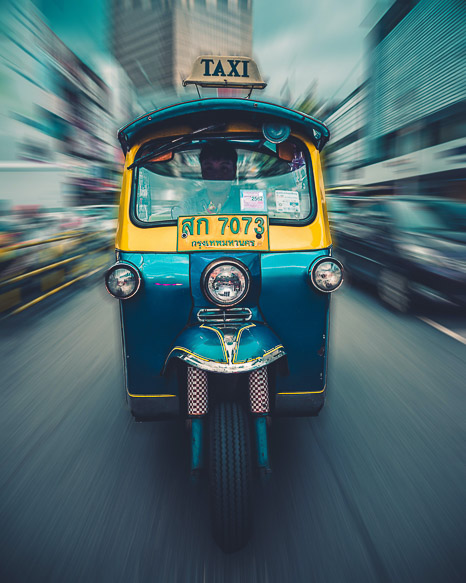 Youth Mobility Visa
If you are an Australian or New Zealand citizen between the ages of 18-30, you may be eligible under the Working and Holiday Visa program. Note: you may need a letter of government support to undertake this type of visa.
Family Visas
If your adult child is a citizen or permanent resident of Thailand, you may apply for a parent residency visa.
If your spouse is a citizen or permanent resident of Thailand, you are eligible for residency. If your spouse is a citizen, you can apply for citizenship after being resident in Thailand for a period of 3 years. Please note that the Thai government must recognize your status as a spouse.
Owning or Renting in Thailand
Foreigners are not allowed to purchase land directly in Thailand. However, there are alternatives available to foreigners for successful land acquisition. The most common option is to set up a Thai Limited Company to own the land on your behalf. Another option is to enter into a long-term leasehold with the Landowner. Renting is an easy and cost-effective option for most people who are newly moving to Thailand.
Employment for Expats in Thailand
There are good job opportunities available for Expats in Thailand. These are usually available via internal company transfers or are positions secured from the applicant's home nation prior to arrival in Thailand. If you are willing to work for a very low salary, there are jobs in bars or restaurants. Teaching English is another popular option. It is ideal to move to Thailand to run your own business, often remotely.
Healthcare in Thailand for Expats
Working Expats in Thailand have access to free public healthcare through contributions to the Universal Coverage Scheme (UCS). By contributing 5% of your salary to the Thai social security scheme, you will have access to the public healthcare system.
Once you enroll in the public healthcare system, you will be assigned to a hospital and receive free treatment. If you go to another hospital, you will have to pay out-of-pocket.
Medical services are of good quality since the doctors in public hospitals are highly skilled.
If you are not eligible for public health insurance, or you would like a wider range of coverage, you can purchase private health insurance. If you get a private insurance plan for Thailand, you can receive treatment in any public or private hospital. You will usually have to pay the cost of treatment upfront and then apply for reimbursement.
Taking out private healthcare insurance ensures you will be in good hands. Thailand is a top destination for medical tourism due to the excellent quality of its private hospitals. They often resemble a five-star hotel!
---
---
Schools and Education for Expats in Thailand
The public schools are not free for Expats, and the teaching is in Thai. So most Expats opt for international schools or English Program Schools.
What is an English Program school? This is a government initiative in which most subjects are taught in English by a native English-speaking teacher. These are great options for affordable schooling for those who plan to stay long-term. The children mix with local children and become more integrated in society.
As you would expect, there is a good range of international schools in Thailand. Many are located in the cities, but there are options in other popular Expat destinations. There are schools offering British and American curriculums and also those of other Western countries like France and Germany. They usually have excellent facilities, small class sizes, and produce excellent academic results.
Retiring in Thailand
Thailand is a very top-rated retirement destination. With the low cost of living, great private healthcare, the lovely climate, and great food, it's a wonderful destination to spend one's latter years. There are so many outdoor activities, and it's a big country with plenty to explore on your doorstep.
It is even becoming a popular location for retirement homes. These can be far more luxurious than their Western counterparts at a fraction of the price.
Is Living in Thailand Safe?
The Where Can I Live Safest Countries to Live Index ranks Thailand as the 62nd safest country. A higher-than-average threat from natural disasters brings down the ranking slightly. For crime, health, and governance Thailand is considered safe.
Violent crime against tourists is rare in Thailand. Petty theft and fraud are more common. Take the usual precautions and don't be gullible, and you should be safe from crime in Thailand.
Health-wise, you need to be aware of Malaria in more remote areas. Read all the guidelines and take anti-malaria tablets where necessary.
Also, ensure that your yellow fever and tetanus shots are up to date.
Living in Thailand pros and cons
The pros are pretty transparent. It is stunningly beautiful with warm weather year-round.
If you have always dreamt of being a beach bum, this is the place to do it. You can scuba dive all day if you want to. The food is fabulous. The people are friendly, relaxed, and respectful. And best of all, none of this will break the bank. It is very affordable to live here. Normally this cheap living comes with some disadvantages, such as poor healthcare, but Thailand has world-class private hospitals.
So are there any disadvantages to paradise? The language barrier means that you will always be an Expat here unless you are a brilliant linguist.
If you have to live in the city for work, the pollution and traffic can have a negative impact on your life. Incomes are much lower if you have to earn a living in Thailand. You may feel limited to renting due to laws prohibiting land ownership by Expats.
Finally, remember how much you may miss the seasons of a more Northern climate and how the constant humidity may begin to grind!
What Are the Best Places to Live in Thailand?
There are so many choices that it is hard to do them all justice, but we will mention a few top spots.
Near Bangkok, the resort town of Hua Hin is a lovely location for people of all ages. It is the home of the Royal Family's summer residence and hosts an annual international jazz festival. There is an international school here, and easy access to Bangkok makes it a great choice.
The idyllic gulf coast island of Koh Tao appeals to divers and has a great Expat community, particularly retirees who are young at heart.
The party town of Phuket also has much quieter regions and is a popular choice for Expats.
Are you looking to get off-grid? Khao Lak is a low-key area for those who don't need city life or international schools but want unspoiled natural beauty.
Other options include the well-known beach idylls of Koh Samui and Koh Phi Phi.
One thing is sure, Thailand is a large country that offers so much variety there is a perfect spot for everyone here.
Does Thai Life appeal to you?
That's a wrap on our Expat guide to Thailand. People from many cultures immigrate here and settle happily in the country. While there are challenges, most Expats surveyed are very satisfied with living in Thailand.