What is Expat life like in Dubai?
If you want a change, living in Dubai as an Expat has a lot to offer. It is the ideal destination for anyone looking to earn a good income in the sun with all the trappings of a high-end lifestyle. Combine this with no income tax, and it can be an amazing place to live for a while. Love shopping and fine dining? Then living in Dubai is your heaven on earth. If you dream of escaping to a natural paradise and going for long walks, then you may want to explore other options.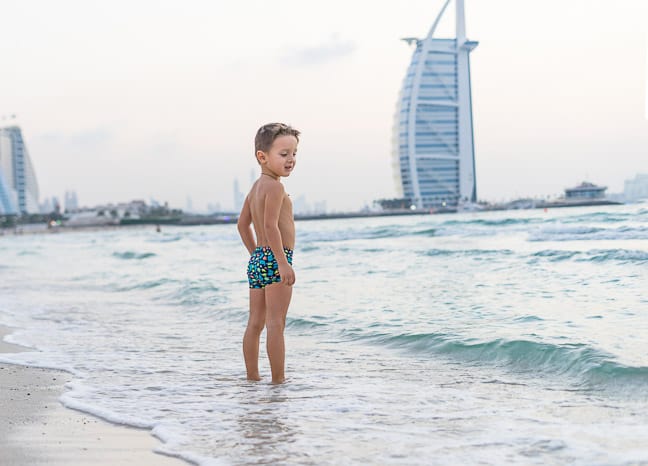 Join a club in a hotel and live the Expat dream of a low-stress, easy life. Alcohol is available to Expats in these environments. You may even be able to afford live-in staff and other luxuries. But homosexuality is still illegal and can even be punishable by death. Again, it is like stepping back in time to an era where LGBTQ+ people are forced to live their lives in secret. For most Expats, Dubai is an experience for a few years only. So try to save some of those earnings to set yourself up when you move on.
Living in Dubai as an American
You are in good company as an American in Dubai. Americans form the largest group of Expats in Dubai, and around 40,000 Americans live there. In many ways, it is an easy culture to adjust to if you come from a US city. The shopping malls and the scale of everything will be familiar.
Everyone will speak English, and the opportunities for socializing and participating in sporting activities are endless. But remember, if you have children, you will need to budget for private schooling, which can be a significant cost.
Are Expats Living in Dubai safe?
The United Arab Emirates ranks 42 on the Where Can I Live Safest Countries Index.
Violent crime is very low in Dubai. Petty theft is more common, similar to most cities in the West. Your main concerns for safety may be with regard to the state. As I said before be aware that the laws regarding public displays of affection and being drunk or disorderly are Draconian.
Are Expat Women Safe in Dubai?
UAE is the safest country for women according to the Georgetown University's Women, Peace, and Security Index. 98.5% of women surveyed said they felt safe walking alone at night. Also, new laws were enacted in 2022, protecting women and punishing rape more severely.
Can LGBTQ+ Expats Live in Dubai?
It is illegal to live as an openly gay person in Dubai. Obviously many LGBTQ+ do live in Dubai, but they have to hide their sexuality and are at risk of facing criminal proceedings. You cannot live with someone of the same sex unless they are a relative. Even holding hands in public could land you behind bars. If you want to earn money, living in Dubai can be a short-term solution but not advisable in the long term.
How Can I Move to Dubai?
The UAE has many visa and residency options available depending on your reason for moving. Inquire about the following: business visas, tourist visas, student visas, retirement visas, and companion's entry permits. You will need a work visa, but you can arrive on a holiday visa and transfer it when you have a contract.
Working in Dubai as an Expat
The average salary is higher than it would be in the USA, and the cost of living is comparable to a major US city. Although you will not pay income tax in the UAE, you may be liable in the USA if you are still a tax resident. This is something you should look into before taking the plunge.
The Cost of Living in Dubai for Expats
The United Arab Emirates ranks 149th on the Where Can I Live Cheapest Countries to live Index. According to the index, the UAE's average cost of living is 12% higher than Germany and 10% lower than the USA.
Dubai apartment rentals can be very reasonable, especially given the luxurious standards available.
Your expenditure will depend a lot on your lifestyle. Remember, alcohol is expensive here, and perhaps most importantly, it is only available in high-end hotel restaurants and bars. So dining out in a 5-star hotel is an expensive night. If you don't want alcohol, there are excellent places to eat for less than you would pay in the UK or US.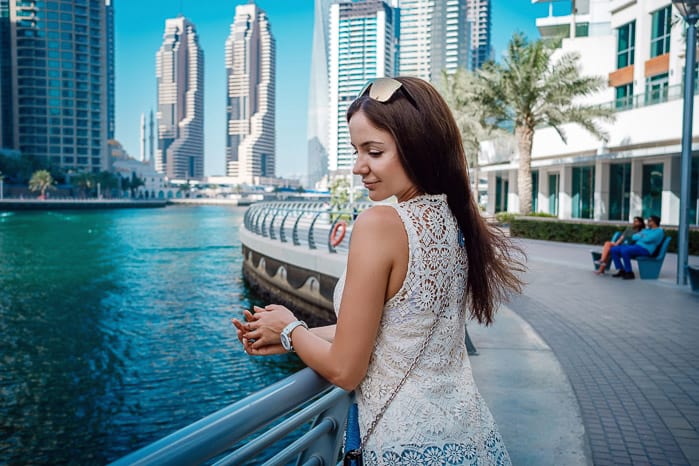 Accommodation & Where to Live in Dubai
If you want to be close to a thriving Expat community, look at Dubai Marina or Jumeirah Beach Residence. Expect to pay around $4000 per month for a luxury 2-bed flat. However, if you head out further to the Al Qusais or Mirdif areas, you can find similar for about half that price.
Healthcare
The great news is that Dubai has one of the best public healthcare systems in the world. You will need a UAE health card to access services provided in medical facilities run by the government.
You will need to provide your national ID number and passport details to apply for one of these. Even if you take out private healthcare, getting one of these is a great idea. Just in case your policy does not cover a treatment that you require.
Local Activities
Every activity you can think of is probably available in Dubai and is bigger, faster, and better! High-octane adventures abound, from desert safaris to gigantic indoor ski slopes to every water sport invented. And of course.. remember the shopping! Oh, and beaches, of course.
Public Transport
Public transport is comprehensive and efficient. From the metro to buses, trams, and a monorail, you will have plenty of options, and they are affordable.
Education
Dubai has one of the highest concentrations of international schools in the world. There are 209 private schools, and many are highly regarded. Fees range from around USD $5,000 to USD$22,000 per year. There are schools covering most international curriculums. Arabic is taught as a compulsory subject until Year 9. The school week is from Sunday to Thursday.
Food and drink
Dubai has some of the best restaurants in the world, with no less than 11 Michelin-star restaurants. And the street food can be just as impressive.
Local favorites include Al Machboos and Khuzi, both staples in this area with a definitive local version. Expect a lot of fish, rice, lamb, and mutton. And, if you are feeling adventurous, camel meat and milk is not uncommon! Eating pork is not outlawed in Dubai but is not commonly served. Vegetarians will find many great options in most restaurants.
Dubai grows much of its vegetables, but dates are the only major export crop.
You can drink alcohol in Dubai, but there are restrictions. As a resident, you'll need a license to purchase alcohol. You can drink in licensed restaurants and bars in hotels. Booze is expensive…
You cannot drink anywhere in public, and there is no tolerance for public drunkenness. Jail sentences are possible for those who break the law.
Pros and cons of moving to Dubai
Perhaps nowhere in the world offers such extreme pros and cons. It is a lifestyle with extreme benefits and limitations.
Tax is low and salaries are good. Working hours are long. The cost of living is high. Traffic is hectic. Public transport is good. Schools are excellent but expensive. If you like theme parks, you are basically living in one giant one. Compared to some countries in the Middle East, it is quite tolerant. And yet you could still be jailed for holding hands. You can live like a celebrity, with all the perks. But you may need to act like you're living in the repressed 1950s in more ways than you would like.
Many Expats living in Dubai only stay for a year or two. It does mean meeting lots of amazing people. However, it does make long-term friendships challenging.
Takeaway
View living as an Expat in Dubai as an experience. Dubai encourages people to visit, work, and contribute in the short term. Most Expats who embrace this view love their time in the country. For many, lifestyle and income make up for the restrictions and environment.