Living in Barbados is different from a week's vacation. Here's the insider guide to Bajan Expat life to give you an authentic feel. We'll look at Barbadian cost of living, healthcare, security, work, and much more.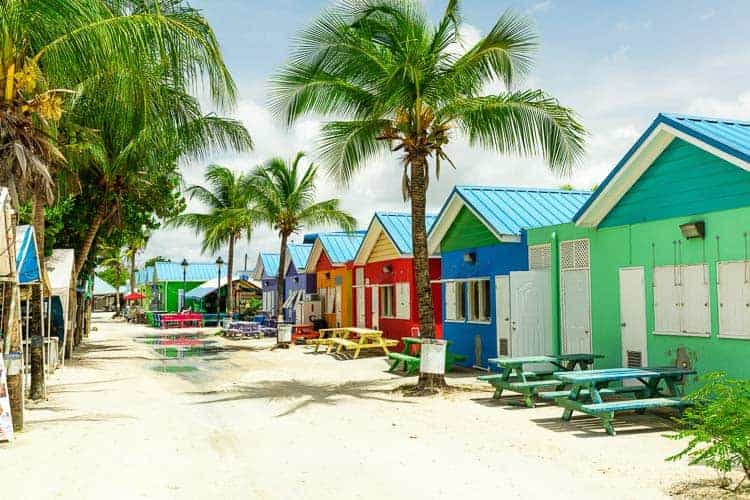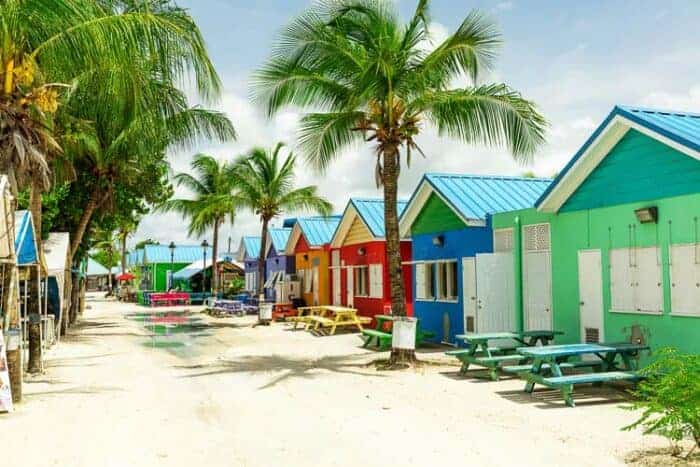 Barbados cost of living
Barbados' cost of living has remained cheaper than similar Caribbean nations; this island life is not only for the rich. Of course, your actual cost of living will depend on the choices you make.
Hosing prices vary considerably. City center and beachfront properties are more expensive while outside these areas the price can drop dramatically. Check this site and this for some ideas.
Vacation rentals make up much of the available rental market for apartments and houses. Importantly, you may be able to get a great value deal if you negotiate an extended stay or have a local contact.
Like all island nations, most things are imported. This adds extra to the price of many things you see on the supermarket shelf, and some goods will seems very expensive. Expect local produce (including rum!) to cost significantly less than imported goods.
A very rough guide is the US Department of State's daily living allowance. The amount to cover the daily cost of living is similar to Canadian cities like Edmonton and around 30% less than Bermuda.
Healthcare in Barbados
Expats and Bajans enjoy good healthcare, with both private and public options available. The healthcare system is rated as one of the best in the Caribbean.
All Barbadian citizens are covered by universal public healthcare. There are polyclinics and specialist medical facilities across the island to support the Queen Elizabeth Hospital in Bridgetown. The Barbados Drug Service dispenses subsidized medications.
Many Expats and locals choose to have private healthcare insurance. This allows you to use the 35% of medical services in the country that fall under the private system. World-class medical facilities like FMH Emergency Medical Clinic and the Sandy Crest Medical Center offer exceptional care.
There has been a program to increase medical tourism. Patients travel from North America, Europe, and beyond to save money or skip waiting lists. IVF treatments are especially popular.
Many Barbados visas and residence permits require private insurance.
We've written a guide to help you choose the perfect Expat Health Insurance policy. The guide has a simple tool to get the best quotes for you and your family.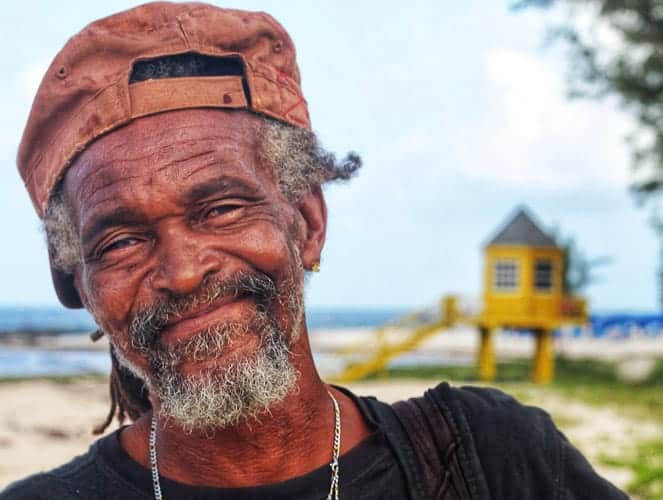 Employment and business
Barbados is a small island that has worked its way up from a low-income country to a middle-income economy. The country has one of the highest per capita incomes in the Caribbean. CARICOM classifies it as a "More developed State".
As you'd guess, tourism is the main engine of the Bajan economy. However, other sectors offer significant opportunities.
There is growth in tertiary industries with lots of work to develop the financial services sector. Barbados is home to many off-shore banks, insurance companies, and similar companies looking for experienced and skilled workers. The companies tend to be in the city of Bridgetown.
There has also been a plan to help grow the new informatics industry in Barbados. The government has encouraged areas like call centers, data centers, and data processing.
Light industry and agriculture are consistent sources of employment.
The island is attractive as a business destination for several reasons. There are a stable, democratic government and an educated, English-speaking workforce.
It is the third most developed country in its region, and the literacy rate is the third highest in the world.
Additionally, it offers some of the best communication services and infrastructure in the Caribbean.
Finding work in Barbados
Work permits are available for foreigners, but employers need to look for a local employee before offering a role to a non-citizen.
There a no recent official statistics on the average salary in Barbados. Informal survey sites offer an average salary range of between BBD3,500 and BBD4,500 per month.
Check out this job site or the Ministry of Labor for information on available jobs in Barbados.
Barbados transport and how to get around
The country has an international airport that is one of the busiest in the region. Grantly Adams International airport has direct flights to the USA, Canada, Europe, South America, and the Caribbean.
Although it is a busy hub, the airport is just 12kms from the center of Bridgetown. And, with a freeway linking it to the capital, it is easy to access.
Getting around is easy if you are living in Barbados. There is a robust public transport system, with both public and private options. Traffic congestion can be bad, especially in Bridgetown rush hour.
All cars and gas/petrol are imported. This means costs are high, even for second-hand vehicles. Owning a car will let you access more of the island, but it doesn't come cheap.
What to Do in Barbados
There is a year-long selection of exciting festivals. These festivals range from music festivals, cultural festivals, food festivals, and more. And if you love to fill your days and nights, check out the events calendar here. Browsing markets for fresh produce and surprise treasures is another favorite activity for many people living here.
But don't think that living in Barbados is all lounging around.
Locals and visitors love getting outdoors and enjoying fishing, surfing, diving, and lying on the beach. Barbados has a hilly west coast as well for those who love a hike with a view. Mount Hillaby (336 meters) is the highest point on the island and a beautiful place to enjoy the view.
The island is also a pleasure for golfers. There are several world-class golf courses on the island from which to choose. These include some that are attached to five-start resort hotels.
Tasting fantastic street food and rum is also a perfect way to discover and experience what it is like to live in Barbados. If you want something fancier, there are plenty of fine dining restaurant options.
There is also a wide range of spas to relax in to return to a papered life. Exercise options, including yoga, Pilates, gyms, and more, are available to locals and vacation visitors alike.
Moving to Barbados doesn't mean you have to miss out on anything. The 11 parishes that make up the island offer an amazing variety of experiences. And, whichever parish you end up in, you will add a hefty dose of sunshine to your daily life.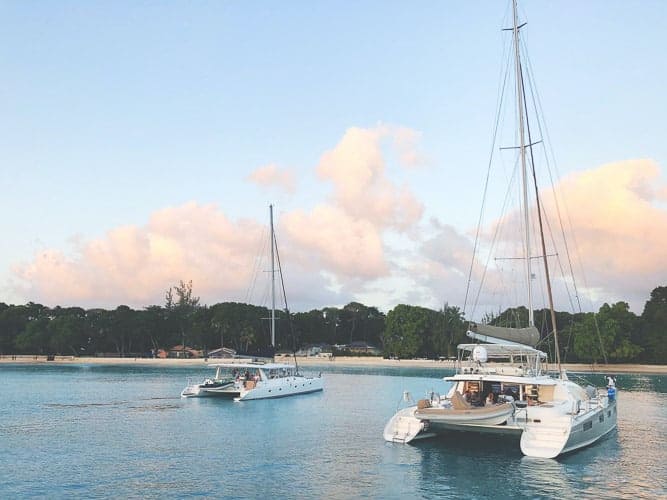 Is Barbados Safe?
The island has one of the lowest crime rates in the Caribbean. The friendly Royal Police Force has a visible presence around residential and tourist areas giving extra security.
The country has around 1 million visitors a year, and the vast majority enjoy a safe and happy visit to the island paradise.
While you should take standard precautions, the island is considered a safe destination for tourists and Expats. The US State department rates it as safe for travel. It is worth checking out the travel advisory page closer to your departure for the latest travel information. While Barbados currently has handled the COVID-19 epidemic effectively, the Department of State's COVID-19 page is also worth visiting before booking travel to Barbados.
At large festivals, busy beaches, and other big gatherings, you should know that there may be opportunities for pickpockets and other petty criminals.
Barbados is less prone to hurricane damage than other Caribbean nations. Although it is in the hurricane belt, it has not suffered a significant impact since Tropical Storm Thomas in 2010.
LGBTQ+ visitors should be aware that the country has anti-homosexuality laws, and you could encounter prejudice.
Another thing to watch out for is that camouflage clothing is illegal. So, leave the camo at home if you are relocating to Barbados.
Also, you can visit your embassy or consulate as most countries have a diplomatic presence here.
Living in Barbados could be your dream come true
If a week is good in paradise, then how about a lifetime? People from around the world love living in Barbados, and it is easy to see why.
Spending some time on reputable Caribbean forums, local travel forums, Bridgetown forums, and Expat forums can be a great source of advice. Online review sites can also be a really great resource.
So if you are ready to start a new life in Barbados then head to our Barbados Visa and Residency article to find out how to get your residency visa. If you prefer to get help from an immigration lawyer, we can highly recommend our partners in Barbados. Maria and her team get fantastic feedback from clients and can clarify exactly what you need to do to get residency in Barbados. Click here to schedule a call with them.