Living in Aruba could tick every box for your new Expat home. It is part of the Kingdom of The Netherlands, a Caribbean island lying southwest of the Lesser Antilles. It is 18 miles north of the Venezuelan peninsula of Paraguaná and around 50 miles northwest of Curaçao. Aruba is famous for its dazzling white beaches that rival any in the world. It also boasts an impressive desert-like interior with striking rock formations featuring caves and rock pools. Aruba really is unique. Combine that with colorful colonial architecture and a buzzing arts scene, and you have a glimpse into Aruba's unique charms. And with its slogan being "One Happy Island" it is pretty idyllic!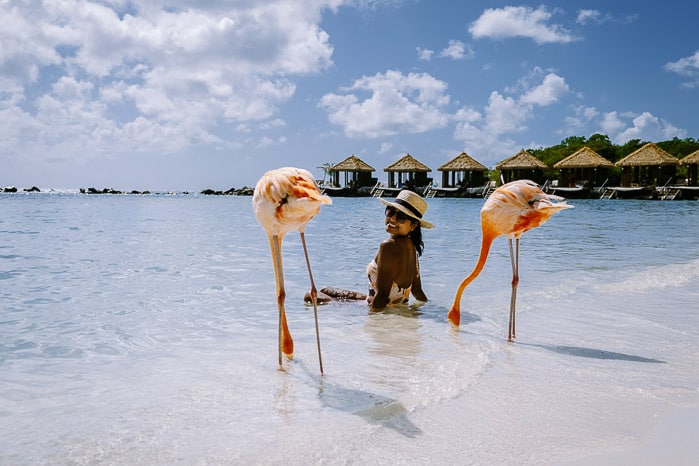 Living in Aruba Basics
A. Language
Aruba has two official languages. Papiamento, which is a Portuguese-based creole language and Dutch. But, most Arubans speak at least four languages including English and Spanish. Most people do speak some English, so you will get by in everyday daily life with just English.
B. Climate
Aruba's climate is tropical semi-arid, which means it is hot all year round. Daytime temperatures hover around 30/33 degrees Celsius (86/91 °F) throughout the year. The air is muggy, but from February to August, the southeast trade winds cool the island making lying on the beach very pleasant. From October to January, the northeast trade winds are a little less intense and can bring rain.
Aruba is south of the hurricane belt, which makes direct hits rare. The last hurricane to hit the Island was Hurricane Felix in 2007: it was a Level 2 hurricane and caused some minor damage.
C. Currency
The official local currency is the Aruban Guilder (AWG), fixed to the US dollar at approximately 1.80 AWG to 1 US dollar. US dollars are accepted throughout the Island. Local currency and US dollar ATM machines are easy to access. Major credit cards are taken by most tourist establishments.
Cost of Living in Aruba
Aruba is expensive for groceries as everything is imported. Utilities (such as water and electricity, in particular) are expensive in Aruba. However, rent is around 30% cheaper than in the US, and eating out is a little cheaper. So overall it may work out more affordable depending on your lifestyle.
We'd suggest doing detailed research to build your budget. There is not enough general statistical information to include Aruba in the Where Can I Live Cheapest Countries to Live Index.
Moving to Aruba
At present, Aruba does not offer citizenship by investment but don't rule it out! All visitors to Aruba can stay up to six months in any calendar year. The only requirements are proof of identity and a valid return ticket. You will be granted 30 days on arrival and then need to apply for extensions. If you own a property in Aruba, this extension is guaranteed.
For homeowners, your visa can also be extended beyond six months if you have a valid return ticket. The Departamento di Integracion, Maneho y Admision di Stranhero (DIMAS) handles each petition on a case-to-case basis.
Retiring in Aruba
Are you planning to retire to Aruba? If you plan to come to live in Aruba as a pensioner or retiree, you could be eligible for the special admission ruling. To be eligible for admission as a pensioner, you have to be 55 years old. As a retiree, you only have to be 21 years and older. For both, you must prove you have a passive income of a minimum of $56,200 per year. DIMAS will require bank references to show that the applicant is financially self-supporting.
People who want to retire in Aruba should be aware that, as a resident, you may be taxed on your worldwide income. Based on taxable income, the tax rate ranges from 7% to 59%. Capital gains are taxed at the same rate as income tax. Inheritance tax in Aruba is 2% to 6% for spouses and children.
Employment for Expats in Aruba
The opportunities for foreign nationals are limited, and work visas are hard to come by. You will need a job offer to start the application. A work permit will only be granted if no local, qualified candidate is available for the position.
It is required that you work for only one Aruban employer in a specified job title. You must apply for this labor market test at the Departamento di Progreso Laboral (DPL). After receiving a statement from DPL, you can apply to DIMAS for your residence permit application. DIMAS then tests your admission requirements.
Healthcare in Aruba for Expats
Aruba has one of the best healthcare systems in the Caribbean. However, major medical issues may be beyond the island's medical facilities. In this instance, patients are airlifted for medical care. As you can imagine, the expenses of airlifting a patient are high. Therefore, many Aruban residents, Expats, and digital nomads opt for international health insurance, which is cost-effective and comprehensive.
If you would like a quote for international health insurance, we recommend the following expat health insurance companies.
Is Aruba Safe?
Aruba is one of the safest Caribbean islands. However, petty theft and street crime do occur. There are also isolated instances of violent crime associated with drugs, but this rarely affects tourists.
There is insufficient data to include Aruba in the Where Can I Live Safest Countries Index.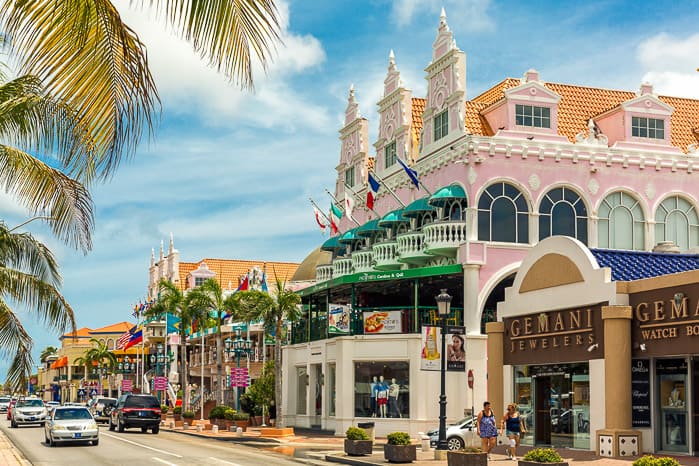 Living in Aruba pros and cons
Aruba is undoubtedly one of the most beautiful places to live. With its dazzling white beaches, turquoise waters, dramatic interior, and impressive architecture, it is a stunning island escape. It is safe, and there is plenty to do. There are all the usual water-based activities, such as diving, snorkeling, and paddleboarding you would expect from a Caribbean island. Or do you fancy dipping your toe into the burgeoning art and music scene? Aruba does cool and has culture in spades. Rents are reasonable and the eating out is delicious and well-priced.
So what are the cons? It just comes down to finances and red tape. Taxes are high and will take into account your worldwide income and taxes. And there is no golden visa route.
In our opinion, the best way to approach a move to Aruba might be to take a part-time route. As a home-owner, or a digital nomad you can have the best of both worlds.
What Are the Best Places to Live in Aruba?
One of the most beautiful beaches on the island is Eagle Beach. Rated the third most beautiful beach in the whole world on Trip Advisor! Located on the busier resort side of the island, Eagle Beach can get crowded with tourists. However, there are also pockets of residential neighborhoods for year-round islanders. These communities are quieter and make a great place to live.
If golf is your thing, living in Tierra del Sol is a great option. Located away from the beach, private homes surround the resort and golf course.
If city living is for you, Oranjestad is the capital of Aruba and offers the best of both worlds. Great restaurants, museums, and shops with oceanfront properties and beaches are thrown in.
For affordable living, Noord is one of the loveliest regions to live in. It is a lush peninsula with several gated communities and neighborhoods. The further away from the hustle and bustle of Palm Beach you get, the cheaper it becomes.
Living in Aruba as an American
It is an easy place to live for US citizens. You can get by with English, the island functions well, and it is safe. There are many Expats from all over the world. If you like the exciting range of activities in Aruba, getting stuck in and making friends is easy. Remember, Aruba is "One Happy Island"!
Does Aruba Expat Life Sound Good?
This tranquil tropical island is home to many happy Expats from around the world. The Caribbean culture with a Dutch influence is a wonderful combination. With achievable immigration options, living in Aruba is a real option for many.