IMPORTANT: This program is suspended. The Irish government announced in February 2023 that no more applications for the IIP would be accepted. Current applications will be processed.
This infomation covers the Irish golden visa qualification and application for the Immigrant Investor Program (IIP) prior to the suspension. Please see our guide for additonal ways to move to Ireland.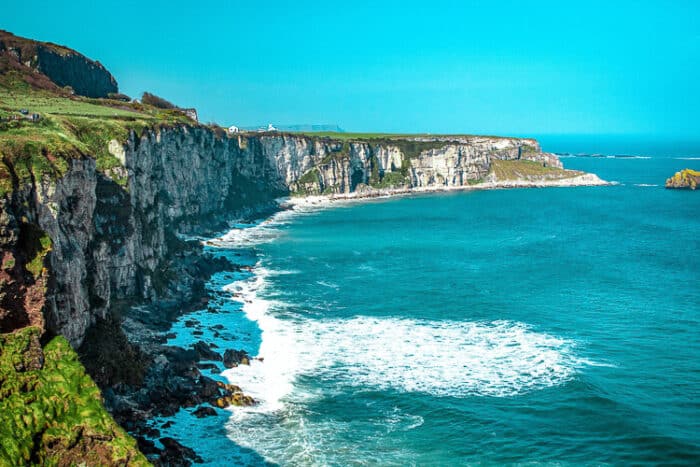 What is the Ireland Immigrant Investor Program (IIP)?
The official name of the Ireland Investor Visa is the Ireland Immigrant Investor Program (IIP). The government launched the program in 2012, reviewed it in 2018, but it was suspend in 2023.
The IIP allowed high-net-worth non-EEA citizens to move to Ireland. This residency by investment program can lead to Irish citizenship, and was a popular option to get an EU Passport.
You cannot apply for an Irish Golden Visa as the program was suspend in 2023.
To qualify for the IIP, there are five requirements.
You are not a citizen of a European Union (EU) or European Economic Area (EEA) country.
Your net worth is more than €2 million.
You are willing to make a long-term qualifying investment (explore options and minimum investments).
The Irish government assesses you as a good character.
You have not been convicted of a criminal offense in any jurisdiction.
NOTE: At present Russian citizens cannot apply to this program.
If you don't qualify, you can check out all Irish Visa and Residency programs in our comprehensive article.
Ireland Investor Visa Minimum Investment Options
The program has three approved investment areas and one donation option. All investments and donations must be in the Republic of Ireland – Northern Ireland does not qualify.
NOTE: You cannot use loans or credit for any part of your investment or donation in any category.
---
---
1) Irish Enterprise Investment – business or company
You'll need to invest at least €1 million for at least three years.
You must directly invest in an existing or new business.
The business must be registered and headquartered in Ireland.
Your investment should also add to the economy by creating or maintaining Irish jobs.
A group of investors can each apply by making a joint investment into a single company. Each investor must meet the program requirements.
You can invest in several companies if the cumulative total is at least €1 million.
2) Approved Investment Fund
You'll need to invest at least €1 million for at least three years.
The Irish Immigration Service approves a list of investment funds. All are private equity or venture capital funds that invest in small to medium Irish businesses.
3) Real Estate Investment Trust (REIT)
You'll need to invest at least €2 million for at least three years.
You can invest in one or more approved Irish stock exchange-listed Real Estate Investment Trusts. You don't need to nominate the specific Irish REIT in your application, just your intention to use this option.
Important: You cannot sell any shares for the first three years, regardless of the value of the investment. After that, you can sell 50% in the fourth year, 25% in the fifth, and the final 25% five years after the initial investment.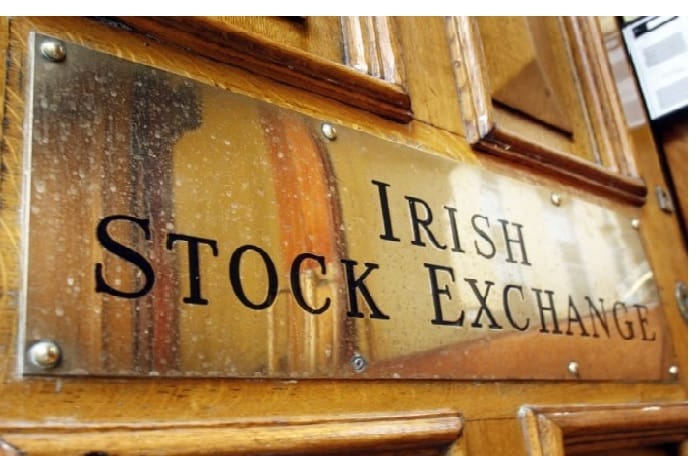 4) Endowment or donation
An individual donation of at least €500,000. If four or more donors contribute to the same project, this drops to €400,000. This is a non-refundable donation, so there is no time limit for this option.
Your philanthropy can be in any qualifying area. This covers sports, arts, education, culture, or scientific research.
NOTE: As this is a donation, you should not get any return for your money.
Options that are no longer available.
Please note that historical options of Bonds and Mixed (residential property and Bonds) are no longer available.
What is the Irish Investor Visa qualification process?
There are two steps to assessing your qualification for the program.
1) Irish Department of Justice
The Irish Department of Justice will do an initial character and financial assessment. They cover a wide range of areas, including:.
The sources and legality of all your assets
Anti-Money Laundering (AML)
Know Your Client (KYC)
Politically Exposed Persons (PEPs)
Sanction checks
Police and criminal records
NOTE: All the findings are shared with OECD Revenue Commissioners as a part of the OECD common reporting standards.
2) Independent Evaluation Committee
A qualified group of professional experts meets at least four times annually to review investment proposals. They ensure that all eligible investments meet the required aims of the program.
What are the benefits of investing in Ireland?
The country has a well-regulated economy, an independent central bank, and strong Democratic institutions. As a member of the European Union, Irish businesses have access to markets, expertise, labor, and capital.
The country also has a well-educated and highly skilled English-speaking workforce.
The Legatum Prosperity Index highly rates Ireland for:
Governance
Investment Environment
Economic Quality
Enterprise Conditions
Historical returns across various sectors have outperformed many other EU countries over the last 30 years.
What is the best investment option for the Ireland Golden Visa?
There is no simple answer to this question. Irish business and real estate investors have seen periods of exceptional returns over the last 25 years.
Given this, there are many excellent opportunities to choose from depending on your risk profile.
From 2012 to 2021, most applications have been in the Enterprise option (54%). However, the Endowment option is also popular (26%), followed by Investment Funds (15%), and the REIT (0.5%).
| | | | |
| --- | --- | --- | --- |
| Investment Option | Applications | Investment Amount | |
| Enterprise | 780 | 639,000,000 | |
| Investment Fund | 214 | 196,000,000 | |
| REIT | 6 | 12,000,000 | |
| Endowment/Donation | 375 | 152,600,000 | |
Irish Investor Visa Investment options and amounts 2012 – 2021 Source: KIladareStreet
What are the steps in the Program?
You should engage a quality Immigration lawyer to assist with your application.
The process from application to residency and citizenship is complex; any omissions or mistakes will result in rejection. Your first step should be finding a great lawyer to work with to ensure you have a successful experience. We've used our proven process to find an exceptional Irish immigration lawyer. Stephen and his team get excellent feedback from everyone we send. You can book a 30-minute consultation with them here.
Steps in the Ireland Investor Visa process
Step 1 – Identify your investment opportunity
You should start by finding the perfect option for your investment in the Irish economy.
Step 2 – Application
You will submit your completed application to the Justice Department.
A quality Irish Immigration lawyer should check your application before you submit it for the best chance of success.
Step 3 – Assessment & Approval
Firstly the Justice department checks your records and completes the character assessment. Then the Independent Evaluation Committee evaluates the investment proposal. This committee makes a recommendation to the Minister of Justice, who makes the final decision.
NOTE: Any lobbying or chasing during this process can result in rejection.
Step 4 – Make the investment
At this point, you'll need to complete the transaction/s for your qualifying investment.
Step 5 – Issue of your Residence permission
The Irish government will grant your Stamp 4 residence permit once your investment is complete. The residence permit is valid for two years. You can renew the permission every two years, as long as you still qualify.
Step 6 – Irish Investment Citizenship
You can qualify for citizenship if you reside in Ireland. Please see our detailed Irish citizenship by naturalization guide for more details.
How to apply for the Ireland Investor Visa
You'll submit an online application form and pay the €1,500 application fee. You'll also need to post the original signed form and proof of payment. The application includes your investment proposal.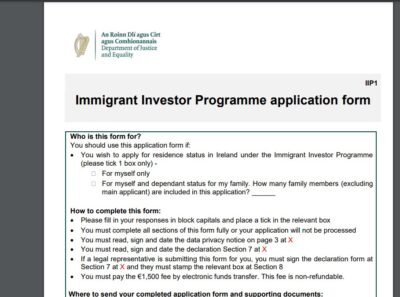 What are the Costs of the Program?
There is a non-refundable application fee of €1,500.
Supporting documentation for your IIP application
The documents you need for your application will depend on who you are and your investment option.
There are four areas that you'll need to show comprehensive documentation to support.
Identity and character
Net worth, assets, employment, and income.
Your investment proposal.
Evidence of relationships with any included family members.
Your expert Ireland immigration lawyer should help you with document collection and preparation to ensure accuracy and completeness.
What happens if the application is rejected?
Your rejection notification will explain the reasons for your rejection. You can reapply, but you must pay the €1,500 fee again.
What are the residency requirements for the Irish Investment Visa?
There are no requirements to live in Ireland as a condition of this visa. And you do not need to be a tax resident in the country as a condition of your visa.
Simply, you must visit Ireland for a minimum of one day each year. All family members included on your visa will also need to complete this annual visit.
Can Family Members join?
Yes, as you are granted a Stamp 4 residence permit, your spouse and dependent children can be included.
How to get Irish citizenship by investment
Remember: There is no direct Irish citizenship by Investment, so you cannot "buy" citizenship. The IIP is a residency-by-investment program that can lead to Irish citizenship by naturalization.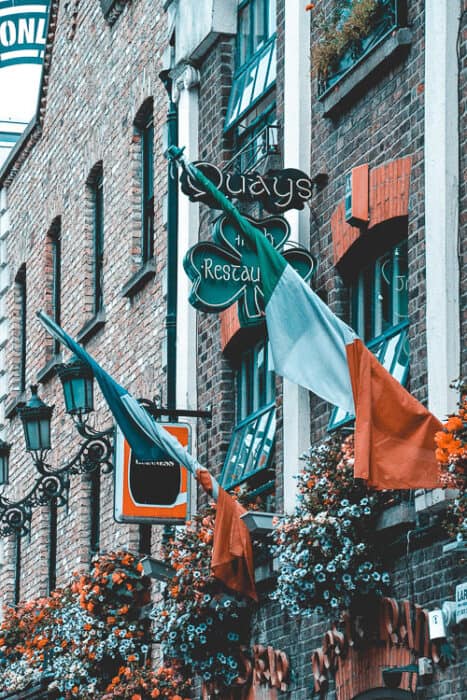 Important: Your residency can be taken away!
Your residency status in Ireland depends on you meeting the conditions of the permission. So, you'll need to ensure that you don't give the authorities a legal reason to revoke your rights.
You must maintain your Irish Investor Visa investment for the agreed time.
You must be able to cover your expenses and not require financial assistance from the government.
You cannot be convicted of a criminal offense anywhere in the world.
You must not be added to a sanctions list enforced by the Irish government.
You must visit Ireland for at least one day annually.
Disadvantages of the Ireland Golden Visa
The IIP is a well-managed program with exceptional governance and transparency. However, there are some drawbacks.
The minimum investment levels are well above other EU programs like the Portugal Residency by Investment and Spain Residency by Investment.
You need to prove your net worth as well as meet the investment levels.
Apart from the donation option, the time requirements to hold investments are longer than in some other programs.
Approval and processing time can be longer than is ideal. A good Irish immigration lawyer will ensure your application is processed quickly.
Living in Ireland is a requirement to qualify for citizenship.
Check out some other Investment Visa Countries in our detailed article.
Other options for Irish Residency by Investment
If you want to move to Ireland, we recommend consulting an expert to save yourself time and money. Our partner has deep experience with residency applications and will be able to assist you with the entire process. Click here to book a consultation with our Irish Investor Visa expert immigration lawyer here.
Irish Investor Visa FAQ