Research shows that 25% of professional US jobs will be remote in 2023. There is no doubt that some of those remote workers are going to head abroad. Provided you have a laptop and a stable internet connection, you can travel while you work. But how do you choose a country for remote work?
But if you want to start working remotely in another country, you must consider several factors. In this post, we'll explore how to choose a country to work in remotely. You'll also learn more about what you'll need to work abroad.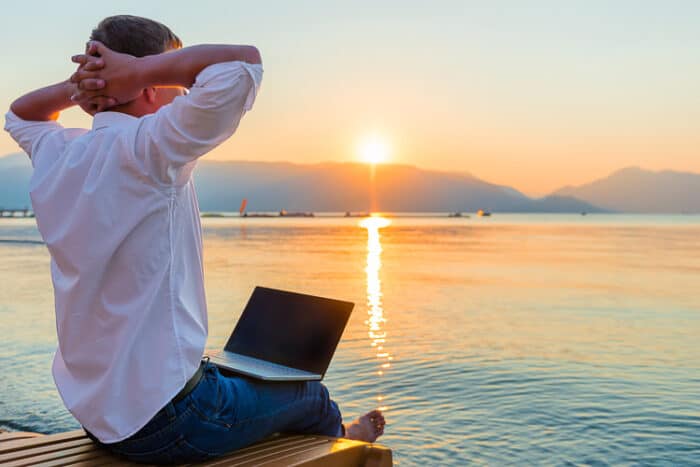 How to Choose the Right Country To Work Remotely
Many countries may seem like the perfect place to work remotely, but before you choose one, there are aspects to consider first. In this section, we discuss how to choose the right country to work in remotely so that it doesn't cause you stress when you're abroad.
Which countries have a remote work visa?
The first item you'll need is a visa that allows you to work remotely. This means you can legally live and work in your new home. There are many visas that you can use, check out our article for the best remote work visa countries. Some countries that offer these permissions include:
Bermuda
Argentina
Croatia
Costa Rica
Mauritius
Germany
Iceland
Mexico
Barbados
Portugal
You can also look out for immigration permissions like a digital nomad visa, income visa as well as dedicated remote work visas.
Can you get a reliable, fast internet connection?
You'll need stable and fast internet if you're working as a freelancer at home. Slow and unstable Wi-Fi connections can affect your workflow and put added pressure on you. You'll find a list of countries with fast internet speeds on the Speed Test website.
When looking for lodging, ensure it has unlimited Wi-Fi, and read reviews about it. You can also find areas that have plenty of internet cafés. Another option is to buy a portable router to have your own internet connection.
Power Infrastructure
Some countries have scheduled power outages. As a remote worker, you can't afford to lose work due to unstable power infrastructures. Countries like India, the Philippines, and South Africa regularly experience power outages, which means that you may not have electricity at crucial times for your work.
We recommend choosing a country with excellent power infrastructure, so you're never left without power.
If you land up staying in a country with unstable electrical infrastructure, you'll need extra tools. It could be as simple as a power bank or as complex as a portable generator.
Time Zones
Does your time zone sync with your clients or remote employees? Ideally, you want to choose a country that's not too far ahead or behind you in time zones. If you don't want to wake up at 3 am to start your work day, choose a country with complementary timezones.
On the other hand, if you like working early in the morning there is a different option. Select a country that has a time zone a few hours ahead of your clients or office. And the reverse applies to night owls.
Additionally, another advantage of selecting a country with suitable time zones is the opportunity to apply for part-time remote jobs, allowing you to have a flexible work schedule that accommodates your preferred working hours.
Affordability of Accommodation and cost of living
Finding the right accommodation is not easy, especially when you have to find one that is affordable and close to your university to avoid a lot of traveling every day for your classes, and finding it in a decent area might be difficult. These are just some of the things you must keep in mind while looking for a home in a foreign country. Living away from your home can be very intimidating, making you want to find a decent one. You can find plenty of accommodation services available online and elsewhere that will help you find appropriate accommodation. Amber is one such company that helps students find accommodation in their destined countries, making international accommodation simple and homely.
Want a pay rise? Then get your paycheck in a country with a lower cost of living. On the flip side, if you move to a country with higher costs, it is an effective pay cut.
Check out our article on the cheapest countries to live in the world for some Expat favorites.
Geo arbitrage is a way of thinking about where you live, work, invest, pay taxes, and earn money. If you can earn a high income, pay low taxes, and live well for less, you are ahead of the game!
Take some time to think of all your costs. Low taxes may offset high rents, or free healthcare may cover higher taxes.
How the Country Taxes You
Death and taxes… Even though you're a remote worker and not a citizen of the country, you still might have to pay taxes. Where you are living may not be where you are resident for taxation.
You may still have to pay income taxes to your home country regardless of where you're living. However, remote tax laws vary by country. Understanding where you pay taxes and which laws apply is vital. Our Portugal Tax partner advises many remote workers on the non-habitual tax resident status. It means paying 0% tax on foreign income for ten years.
Take time to research the tax laws in the country you want to work remotely in. Most countries have tax treaties to avoid double taxation, but you'll want to pay the right tax, in the right country.
Health and safety in the country you choose for remote work
Some adventure is good. However, low crime rates, political stability, and healthcare facilities are important too.
This is your new home, even if is a temporary one. So, you'll want to know that you can enjoy life and not be looking over your shoulder all the time.
What environment suits you?
Moving to a country for remote work is different from going on holiday. That means that the factors for choosing a country for remote work are different.
Will a bustling city be a major distraction, especially if you're working from home? Will a small village have the right infrastructure to keep you working? Do you need to be close to an airport to get to client meetings?
These are personal preferences that you'll decide depending on the requirements of your role.
Information to help you choose where to work remotely
First-hand knowledge is king in this area. Head to Expat Facebook groups, blogs, and forums. Just remember that the loudest voice isn't necessarily the smartest.
Reach out to remote workers in the counties you may choose. People are often happy to answer a few questions or have brief chats.
You can check out our article on the Best Countries to Live for more details.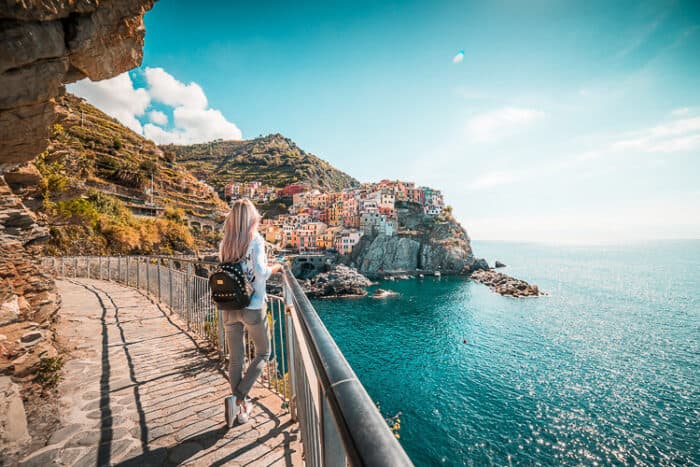 Our Top 5 Countries to Work Remotely
Are you still trying to decide which country is the best to work remotely in? To assist you, we've listed seven awesome countries that are a great choice for remote workers.
1. Portugal
Portugal is a great country to choose for remote work. It has excellent visa options, good infrastructure, and a low cost of living. And, there are excellent tax regulations for remote workers in Portugal.
2. Panama
Panama attracts many US remote workers. There's a wide range of options from cities, beaches, and mountains to choose from. Costs are low, internet speeds are good, and the coffee is world-class.
3. Japan
In Japan, plenty of cafés offer high-speed internet, so you don't have to work in your home all the time. The cost of living has come down in the last few years, as has the value of the yen. This means you can experience one of the world's great cultures. And co-working spaces, internet cafés, and other facilities are common and excellent.
4. Barbados
Dialing into meetings from a Barbados beach seems ideal for remote working. And, there is an excellent visa (Welcome Stamp) and infrastructure to go with it.
5. Costa Rica
Costa Rica has long been a favorite with travelers. So, it is no surprise to see it rank highly as a country to choose for your remote work base. While more expensive than other Central American countries, Americans will still find it cheap. Health and security are good and the infrastructure is excellent. Being in similar time zones to the USA is also a bonus for employees of American companies.
6. The United Arab Emirates
The United Arab Emirates is one of the most technologically advanced countries in the world. You get higher internet speeds for business that needs excellent connections. Lightning fast internet and good tax rates add to the attraction.
7. The Czech Republic
A good visa, beautiful cities, and good infrastructure. There's a lot on offer for remote workers who choose the Czech Republic as a base.
What are the Advantages of Working Abroad Remotely?
Remote work from abroad can be amazing if you choose the right country. You have all the benefits of travel with the security of employment. What's more, you can lower costs or taxes, and choose where and when you work. You dictate your work-life balance and manage your own time effectively.
Working remotely from another country also has many advantages, such as the following:
You get to meet new people from different backgrounds and cultures.
Amazing opportunities to see different parts of the world.
The chance to find a place that offers affordable accommodation.
Working in a calm and relaxing environment.
The chance to learn a new language.
Expand your professional network.
No more commuting.
What You Need to Work Remotely
In an ideal world, you'd simply hop on a plane and work remotely to your favorite country. And you'll need to do some preparation beyond your visa.
It will also depend on your job. The top remote working jobs all have very different demands.
Equipment and Devices
You'll need the proper digital devices to communicate with clients such as a laptop and smartphone. You may also need external hard drives for extra storage or digital sketchpads if you're a graphic designer. Make sure you have cameras in case you need to do video calls or meetings.
Software
You'll need software and programs for meetings and training content. Using videos to train staff is easier because they can go through the training as many times as they like. You can find the best free video recording software on the internet for the job.
Consider any other digital tools to make communicating with your network easier such as Slack or Asana. You can also schedule tasks and assign them to employees through platforms such as Microsoft's To-Do. For digital protection, ensure you have antivirus software to protect your computer from ransomware or Trojan viruses.
Are you ready to choose a country for remote work?
If you've always dreamed of traveling the world, here's your chance to do it. You can work remotely in any country that offers a remote work visa.
As exciting as the expat life sounds, you may find yourself in a situation where it would be too much. Also, bear in mind that most remote worker visas last around a year, so you may consider relocating or simply returning home. One year is a very long time away from home, and many things can change. Make sure you secure your home for the time being, to protect your personal belongings and avoid unplanned additional costs.
But, take your time to make sure you choose the perfect country for remote work.